A Political Poem for the Day up at Nice Cage, Field Guide on the Bram Stoker Preliminary Ballot, Alternative Viewing Suggestions, and Gratuitous Kitten Pictures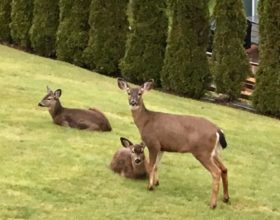 It's a rough day for a lot of us, so I'm starting out with gratuitous pictures of cute kittens and a family of deer, both courtesy of my "cheering myself up while I'm home sick" photography yesterday. Notice the kitten cheerfully ensconced on my pillow with my box of tissues at her feet; the mother deer was giving her two babies a bath in the rain when I took this picture.
A Little Good News and a Political Poem :
I mentioned in a previous post that I rarely write political poetry. But this is the day for it if there ever was. The Future/Tense issue of Nice Cage went up today, and with it three of my poems, including "Failure, 2016," which specifically calls out a few ways 2016 really sucked, mentions the election, and kind of ends on a hopeful note.
In positive news, the Horror Writers Association Preliminary Ballot for the Bram Stoker Awards went live today, and Field Guide to the End of the World was on the list for poetry books. If you're an HWA member and want to read Field Guide to the End of the World (and possibly vote for it,) contact me at jeannine dot gailey at live dot com.
Alternative Viewing Suggestions for a Few Laughs on Inauguration Day:
For at least a little laugh today, you may want to watch the very prescient episode of 90's animated The Critic, in which the main character is hired to be a speechwriter for a Trump-esque Southern Billionaire named Duke. (Here it is on YouTube.)

Another recommendation is the Futurama episode, "A Head in the Polls," in which an evil robotic Nixon runs for President of Earth. Available on Netflix.
On another, more serious note: Thank you to those who are doing things to make the world better, who are reaching out to help the less fortunate, who are buying poetry books and art. Who are creating messages of hope. Thank you to those who refuse the ugly man's messages of bigotry, sexism, and hate. We will be safe as long as we all stand together. I hope.