New Poems in Gingerbread House and Rogue Agent
Thanks to Gingerbread House literary magazine for publishing my fairy tale poem, "East of the Sun, West of the Moon" with the gorgeous art by Līga Kļaviņa: https://gingerbreadhouselitmag.com/2018/01/31/east-of-sun-west-of-the-moon/
And thank you to Rogue Agent for publishing my poem "In July, in the Garden, When I Feel Like Death:" http://www.rogueagentjournal.com/jgailey-3
(They also published my poem "Self-Portrait as Radioactive Girl" in their January issue if you want to check that action out: http://www.rogueagentjournal.com/jgailey-2)
Happy February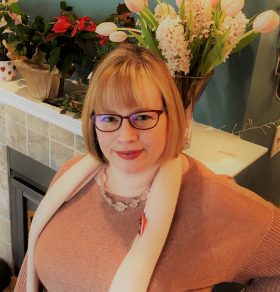 The super-blood-blue moon is past (it was cloudy here for the eclipse, but the supermoonrise was really pretty – pics above) and now we have finally made it to February. I'm not going to lie, this was a tough January to get through – wet windy cold weather, I had a cold almost the whole month that kept me cabin-fever-y, some anemia and dental work, but February is really the beginning of spring here – a few bulbs have poked up some green shoots, the camellias that we planted last fall have little buds on them. I'm soo ready for spring! I also went crazy and got a new pair of dark pink glasses – I thought they might be too much but I like them a lot – I seem to be having a thing for pink lately, pink hair, pink glasses, pink sweaters. Valentine's Day must be coming soon! I've been feeling hopeful about my new book manuscript as I've gotten ten (!!) poems taken from the book (some in places I've been trying to get into for years) since the new year began! I hope that's a good sign, but you never know. I've also gotten a lot of rejections – editors have been busy!
Next month is AWP in Tampa, which I won't be attending this year, but I hope I hear lots of bloggers report on. I've been stuck at home a lot lately, and when I do get out, it's for therapy for different MS symptoms, in specialists' offices and dentists offices way too much to feel like I have much of a "real" life going on. With this weird flu season I've actually had doctors tell me to avoid parties and movie theaters, so basically all fun til flu season's over. (Flu can bring about MS crises for some reason.) I'm trying to make an effort to put a fence around my life outside of being a patient of any kind, so that I still hold on to my sense of self outside of my body's various problems. Spending time in nature is pretty hard when it's 40 with hail and sideways rain outside, but that's one of my main ways to connect with the world – trees, flowers, animals, etc. At least I have my entertaining Sylvia, who has learned how to open doorknobs and pick things up off the floor with her amazing opposable thumb (See the pic at the top of the page – I swear!) I've been spending less time on social media, particularly Facebook, and more time with books, and started an exercise program (such as it is) on my recumbent elliptical machine which has helped my mood, I think. Still, I'm hoping for more sunbreaks and more chances to socialize (and fewer dentist offices!) in the coming months. Wishing you all a happy February!
My poem, "I Forgot to Tell You the Most Important Part…" is up today at Rattle's blog. Please go check it out and comment on it or otherwise make a fuss.
In other news, there has been so much rain here I think we seriously need to sharpen our ark-making skills. Last night, the rain on the roads was making our little car sedan squeal and complain. Belts got wet and tires spun. The rain pelted our windows so enthusiastically it woke me up at four in the morning. The train from here to Portland was closed for mudslides.
I am done with my Christmas shopping, we have seen the Christmas boats, and I only have a few cards left to send out. Now, if I could only get a similar jumpstart on my writing and writing-related tasks…