Disappointing Doctors, Villains, Notre Dame Review, and Looking for Fall
Hello my friends!
Notre Dame Review and a new poem
First of all, thanks so much to Notre Dame Review – I was so happy to get this acceptance after at least fifteen years of submitting – I received my Fall 2017 contributor's copy the other day, including my poem "On Being Told You're Going to Die, But Not Quite Believing It." Here's the poem and Sylvia posing with the Fall 2017 issue.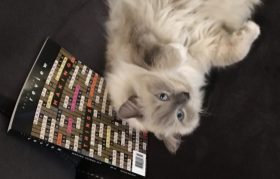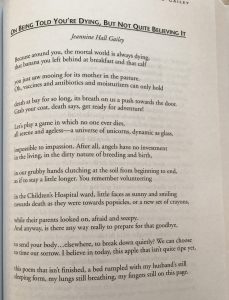 Villains and Disability
And thank you to Kelly Davio for her "reading loop" about disability and villains in pop culture, which features one of my poems 🙂 It's also just fascinating to think about how the disabled body is often presented in movies and comics.
A Report on How I'm Doing, and Wishing for Fall
I'm sorry to report I'm not doing any better yet, especially after I had so many hopes for my appointment at the Swedish MS Center last week. The doctor was either extremely unknowledgeable or extremely uncaring (literally answering almost every question with a shrug or an "I Don't know" – even for things that he definitely should have known something about as merely a practicing doctor, not to mention a neurologist )- or possibly both, and left me with no new information, no help for any of my problems, and a lot of frustration. (It was so bad I actually called back the office to complain, which I have literally never done before. They got me another appointment with a different doctor, but not til December. December!) If you remember my cancer stuff last year, you might remember I had a similar appointment with a "top" oncologist at UW, so I guess this is par for the course – you can never rely on the first doctor you see after a hospitalization, I guess. So I'm still unable to eat or walk much, mostly stuck inside, and frustrated by my lack of getting better. So many sweet friends have offered support, which I really appreciate, and at least my reading ability – which was knocked out by vertigo for a while – has some back, so I finished up work on a book review and my newest book manuscript draft and sent it in to a third publisher. (If any of you publishers are interested in a book about being diagnosed with terminal cancer and then MS, but you know, with a funny spin, please let me know. I could really use the pick-me-up!) The dizziness has improved with home therapy exercises but the nausea and gastroparesis stuff persists, unfortunately, along with the weird leg weakness and some other weird symptoms. I'm sorry I can't report dramatic improvement yet, but then again, I've started no new treatments thanks to deadbeat doc neurologist #1, so…I guess it would be overly optimistic to hope this goes away on its own. But you can send good thoughts my way if you want, I feel so bad for my poor husband who has been taking care of me since  a month before the hospitalization, just to watch me becoming increasingly sick and weak – I don't like it, I wish he didn't have to watch it either.
We have wildfires on all sides of us right now and they're predicting weather in the nineties today and tomorrow. MS flares happen more often in the heat, so maybe things will settle down when our weather changes, at least I hope so. I've always liked the fall but never really craved it the way I have this year, this year of record-breaking heat and scorched earth and fires in the usually mild Northwest. Looking at the news – wildfires down the coast in California, Houston's flooding, North Korea's nuclear warheads – isn't particularly hope-inspiring right now, is it? I'm hoping for something better for me, for the weather, for the world, soon. I think we could all use a break.