First Day of Summer and Summer Reading Resolutions, Poems in the lovely F(r)iction and Redactions
Welcome! It's the first day of summer (it hasn't felt much like summer here – while the rest of the country has been pelted with high heat, we've been putting on sweaters for 60 degree grey days here in Seattle) and the beginning of my summer reading resolutions. One of the goals I have for the summer is to watch television less and read more books. I've already started doubling up on books by the bed and audiobooks in the car, on my phone, and everywhere else it would be convenient to grab a book. When the weather's nice here, you have to take advantage of it, hence my cancelling of Netflix and avoiding the temptation to keep the television on at random. Seattle's summers are usually splendid – lots of wildlife, finally clear views of mountains, green trees unshrouded with mist. Just this week, we've seen deer in the backyard, baby bunnies on the street, eagles and herons in the air and an otter in Sammamish river, along with plenty of ducklings. You sort of have to grab the ability to walk outside without heavy clothing while you can.
Anyway, in keeping with my reading goals, I took several bookstore buying sprees, including one at local poetry store Open Books, and another at University of Washington's bookstore, which really has wonderful poetry and fiction and local non-fiction sections. This is a picture of visiting writer Julie Brooks Barbour with me in the poetry section of the UW bookstore! (She also really liked the manga section!) And then after we dropped Julie off, we discovered the beautiful Renton Gene Coulon Memorial park – right by Boeing's R&D building, hence the plane in the background! And a picture of my kitten Sylvia with other cat Shakespeare with my Open Books purchases. (Hothouse by Karyna McGlynn, There are More Beautiful Things than Beyonce by Morgan Parker, and Jane Satterifeld's Apocalypse Mix.)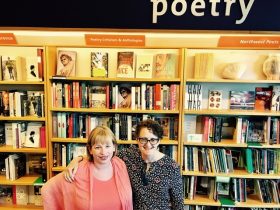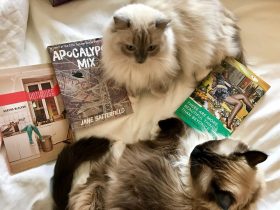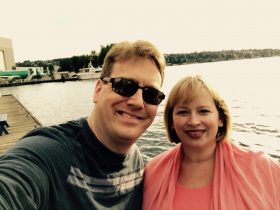 And it also seems to be the season for contributor copies! This last week I got a copy of the beautifully designed F(r)iction, as well as the Gambling/Surrealism issue of Redactions. Here's the kitten Sylvia modeling both, and a page from my own illustrated work in F(r)iction. (Did I mention Sylvia has started a literary Twitter feed – @literarykittens? She welcomes pictures of other literary kittens and promises to retweet and like!)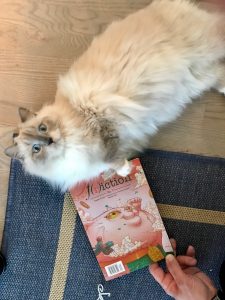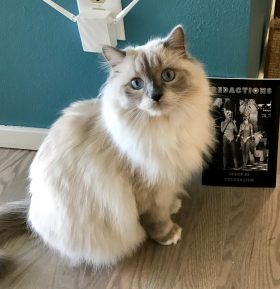 I also finished up most copyedits of my PR for Poets book, almost ready to turn in to my editors at Two Sylvias! Now I've got two book reviews in front of me, Beth Ann Fennelly and Victoria Chang's new books. So, do you have any summer reading/writing/submitting goals you'd like to share?