Happy New Year! Year in Review + some recent fun stuff
Happy Approaching New Year, everyone! Yes, everyone is taking stock of 2013, which was quite hard for a lot of people for a lot of reasons, including a down economy and some just weird bad luck. Everyone is making lists and resolutions. Before that, I had two little pieces of news I wanted to share about my third book: Serena of Savvy Verse and Wit was kind enough to place Unexplained Fevers on her best books of 2013 list; a new review of Unexplained Fevers appears in the new issue of The Pedestal.
Some good things happened for me in 2013: my third book, Unexplained Fevers, came out in the spring from New Binary Press; I worked as Redmond's Poet Laureate, and I got to be a Jack Straw Writer, all pretty cool. I was lucky enough to be published in some really exciting places, including Poet's Market 2014. Creatively, I wrote my first real short fiction pieces, worked on finishing a fifth poetry manuscript, and seem to be close to finding a home for my fourth, The Robot Scientist's Daughter. (Fingers crossed!) I made new friends as part of the outreach I did as Poet Laureate, too, which was probably the best thing about that job, including poets, editors, teachers, and artists I would never have met otherwise.
The bad? Well, trying to build a poetry community on the fairly stubbornly non-literary East side of Seattle was harder (and way more discouraging and energy-consuming) than I expected; I spent at least six months tracking down and getting tested for autoimmune/neurological issues, including un-fun things like blood tests, expensive MRIs and shock tests and discovered I had some permanent neurological problems that I have to deal with (although I am on intensive b12 therapy, which seems to be helping); spent lots of time in physical therapy painstakingly trying to build back up my brain's connections to my tendons and muscles (still a work in progress) so I wouldn't keep tripping, spraining, falling, and tearing things and would be able to walk without a cane or a wheelchair; I didn't have much time to write or see friends, both of which are very important to my inner self's happiness.
So, for 2014, my resolutions are fairly low-key: I want to refocus on writing, on friendships, on feeding my creative self and treat myself in general with more respect and care (re: autoimmune issues, which are a real bitch if you don't have an "off" switch – I'm still trying to find mine!) I'm thinking about going back to doing freelance writing as a way of bringing in income, rather than doing as much editing (see this article on why being a freelance editor can be tremendously trying rather than rewarding) and of course I'd like to do some preparation for upcoming big Seattle events, such as Seattle's hosting of AWP and the Skagit River Poetry Festival. I think I'd like to start getting paid on a regular basis for my book reviews and maybe some essays (also see this fine interview with Stephen Burt on poetry book reviewing.) I'm thinking hard about how to do the most effective book promotion for the next one, as book promotion has changed so much in the last few years. I want to read a little bit more for fun. In general, I feel like I'm hoping for unexpected good things to happen in 2014. That's what 2014 will be about: writing, friends, and hope!
In the spirit of celebrating fun and friendship, some photos from the last few weeks hanging out with poets and artsts I really like, holiday lights,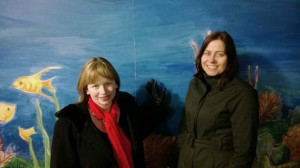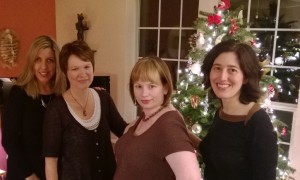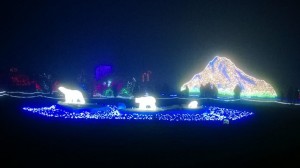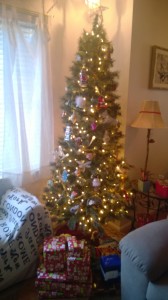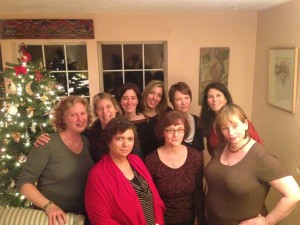 trees, merrymaking, etc. Happy New Year! May it all be merry and bright!