Midge Raymond Q&A – Everyday Book Marketing
Have you ever wanted to know a little bit more about how to market your book of poetry? I did, so I recently read Everyday Book Marketing by Midge Raymond to find out how, and thought you guys might also enjoy a little interview with Midge.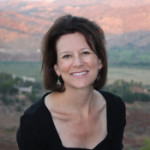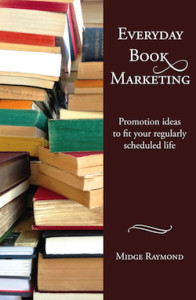 The book is full of practical tips on things like a writer's web site, social media, and readings. It's a really good, non-intimidating guide for people like me who aren't professional marketing types but do want to help their books' sales.
Midge Raymond's short-story collection, Forgetting English, received the Spokane Prize for Short Fiction. Her work has appeared in TriQuarterly, Bellevue Literary Review, American Literary Review, North American Review, and the Los Angeles Times, among other publications. After working in publishing in New York, Midge taught journalism at Boston University, and she has taught creative writing at Boston's Grub Street, Seattle's Richard Hugo House, and San Diego Writers, Ink.
JHG: I loved your Everyday Book Marketing, which broke down the basics of book marketing techniques and provided inspiration for my next book launch. So, what would you say was the most surprising, inventive (and effective) way you promoted your book?
MR: The most surprising way, to me, was the buzz generated by social media. I was amazed and very happily surprised by how many people shared my book via Facebook, and the great thing about social media is that once a few people get interested, it snowballs into a much bigger thing. I was initially a reluctant social media user but have ended up enjoying it (probably a bit too much!). And I am certainly sold on its ability to connect readers and authors!
I'm not sure how inventive this is, but most effective for me as a new author was offering something more than just readings at events. As an unknown writer with a story collection from a university press, I knew it would be a challenge to draw crowds to the venues that generously hosted me, so I offered travel-writing workshops rather than just straight readings. These appealed not only to readers of fiction but travelers and fellow writers—so I got much bigger crowds than I would have by offering only a reading, and best of all, attendees learned something more than what my book is all about.
JHG. Most of my friends and readers are poets, who are even shyer and less likely to be confident in self-promoting than most writers, in a genre that is known for lower sales figures than other genres. So, what would you recommend as the best way for poets to get out of their shells and sell their books?
MR: A lot of writers are shy about promotion—and we all have to find our comfort zones. It's important to push past our comfort zones a little bit for the sake of our books, but on the other hand, if you're not having a good time, it'll be obvious to potential readers, so you still have to be fairly comfortable with what you're doing! I'd suggest that if you don't like doing in-person events, do online events, such as a virtual book tour. If you prefer a small group to a large one, ask a friend to host a literary salon—a causal get-together of friends and fellow readers who can share words and thoughts and a little food and wine. Find things that sound fun and engaging to you, and remember that even if you only reach a few new readers at a time, if it's a great connection, those readers will share your work with others.
JHG. As a book reviewer myself, I'm always dismayed at how many great books I get and how few spaces there are to review them these days. How much do you think reviews impact sales? And are there any ways for authors to increase their chances of getting reviews? How do you think NetGalley impacts reviews?
MR: I think reviews are generally very helpful, though of course most of this depends on where the review appears (a New York Times review is clearly going to have a much bigger impact than a review by a blogger with a small following), but what's most important for sales is word of mouth—and reviews can help generate buzz. Authors also need to remember to share reviews—on social media, on their websites, with their friends and family; if reviews don't get read and shared, they won't have much of an impact, and it's partly up to authors to share their great reviews.
Authors can increase their chances for review by working closely with their publishers to ensure that review copies go out when they need to (for example, the industry trade magazines such as Publishers Weekly require galleys 3-4 months in advance). Authors should learn as much as they can about the industry so they can work with their publishers and publicists to make this happen—for many publications, you only get one chance to send a review copy. Authors can also approach bloggers and local media on their own, and I highly recommend this; it's usually better to make contact first, before blindly sending a review copy, so that you make sure it actually reaches someone in a position to review or assign it.
I think digital review copies are wonderful—they save time, trees, shipping and postage fees, and overall are a fantastic way for authors to reach out a bit further with their books. NetGalley makes it easier for more book reviewers to access more books; as a reviewer myself, I use NetGalley and think it's a great idea. PW has recently begun accepting e-galleys as well. All authors should, if they can, offer digital review copies as an option, especially if a large share of book promotion is going to be up to them—it's so much less expensive and more efficient for an author to send e-books rather than printed books.
JHG: What have you seen to be the differences between your Virtual Book Tour experiences and your in-person book tour experiences?
MR: For me, it's always so much better to connect in person—I enjoy doing events and am generally happy to travel if I'm able to; for me, it's just more fun. I also think a more personal connection helps readers take that extra step and buy your book. When I go to events as a reader, I always find that if I like a writer and what she has to say, I absolutely must have her book—so in-person events can be great opportunities to make these connections.
That said, my schedule doesn't always allow for traveling—and this is true for so many busy writers—and I love having the option of doing an interview or writing a guest post and connecting with readers online. It can be a bit less personal, but it's a great way to keep talking about the work, and the comments section of a blog allows for a bit of online conversation as well.
JHG: In the book, you recommend that writers maintain a blog. What's your favorite tip for bloggers with books?
MR: If you're a blogger with a new book, I'd suggest writing about your experiences in publishing—writers really enjoy hearing about (and learning from) the experiences of other authors. Always keep it positive, though—as many disappointments as there can be in publishing a book, it's better to write about what you've learned from something rather than simply complain about it! I'd also suggest hosting other authors as often as possible—invite an author you like to do a Q&A or to submit a guest post, and this author may invite you to do the same on her blog. The author Cari Luna has a great series on her blog called "Writer, with Kids," about writers who are also parents, and these posts are wonderful—they're interesting and informative even for non-writers and non-parents. [link: http://cariluna.com/blog/]