National Poetry Month, Cherry and Magnolia Blossoms, and an April Apocalypse Poem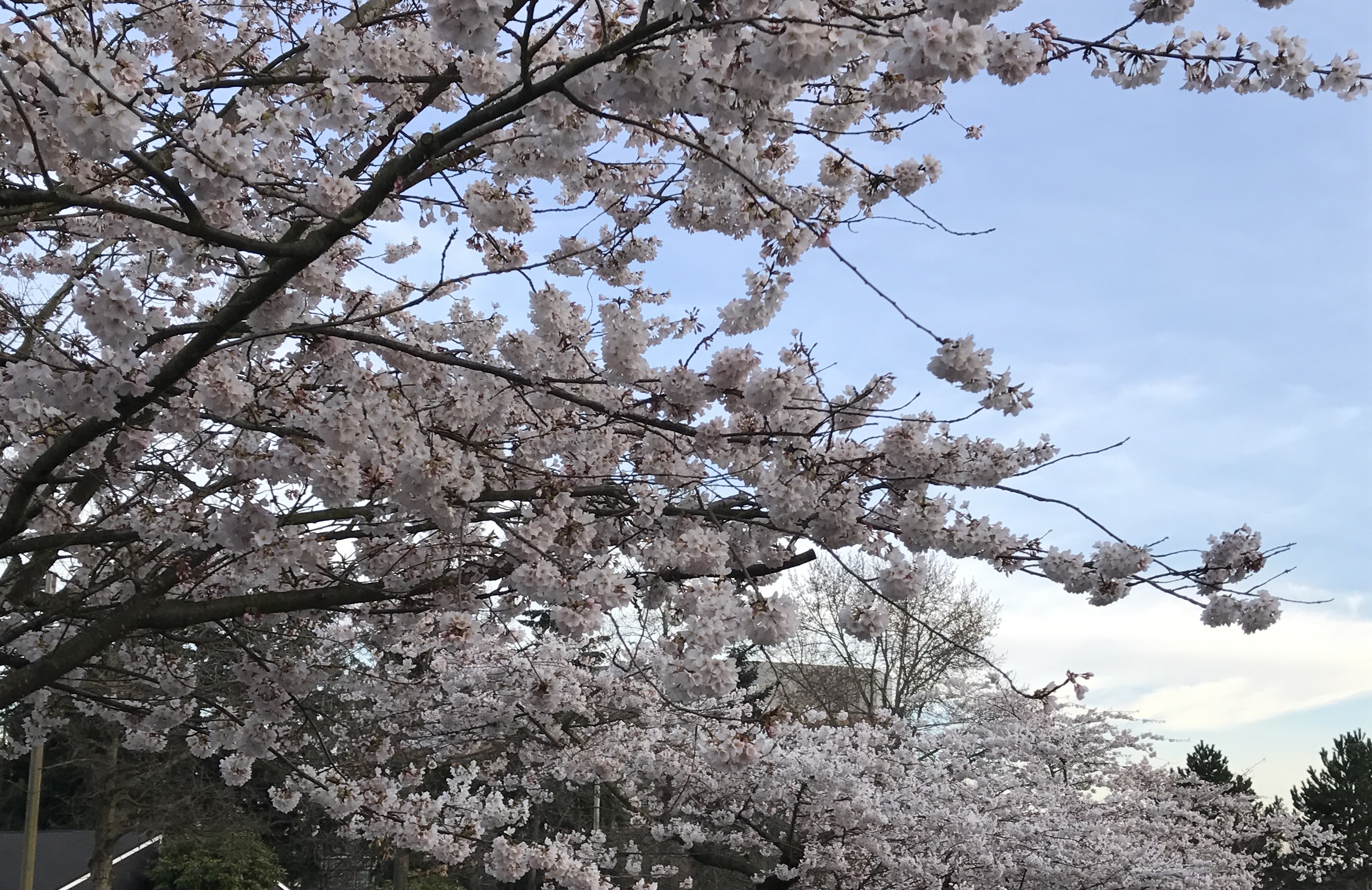 It's the beginning of National Poetry Month (and my birthday month,) so even though we're still in a weather-whomp of rain and lower temps, I've been cheered by the appearance of more singing birds (one that insists on singing outside our bedroom at 6 AM every morning,) more trees blossoming, and finally. a few bulbs in my garden blooming – the pink hyacinths in my boxes have appeared healthy and hearty after our cold, wet winter. These are the cherry blossoms down the street from our house, our in full snowy blushy splendor. The Japanese call the time of the advance of the cherry blossoms "sakura zensen." To the right, you can also see Glenn and I posing with some new magnolia blossoms in the Kirkland neighborhood, where Google and Facebook employees wonder by, bearded and ensconced in their phones. This was also a day I got a bunch of medical tests done, all of which came back with mostly good news. No liver cancer, for one, which was a concern, and a negative tumor marker test on a rarer kind of carcinoid, plus only minor problems with liver function from all the tumors in there, which was also a concern.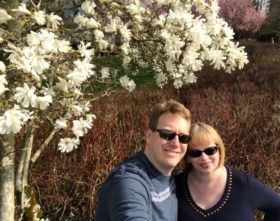 I started the month by getting another round of a cough and sinus thing (probably from going into two different doctor's offices for the lab tests above) but I did manage to squeak out a poem yesterday, so we'll hope for the same today! I've been inspired by reading Siri Hustvedt's new book, A Woman Looking at Men Looking at Women: Essays on Art, Sex, and the Mind. Fascinating stuff! I love reading about art and gender, and Siri has such a fierce intellect, she just automatically makes me want to write something. I also really am loving Aimee Mann's new album "Mental Illness," and tweeted that my fave rhyme so far this month is her rhyme in the song "Good for Me" of "smoke machine" with "taste of dopamine." I love art and music, and learning more about them, but am terrible at singing, instruments – I can do a little piano and guitar, neither all that well – and making art. It's a good thing I have poetry!
So I wanted to post another April poem, this time apocalypse-oriented, from Field Guide to the End of the World: