New Poems in Jet Fuel Review, a feature by Natasha Moni, and a day out at Open Books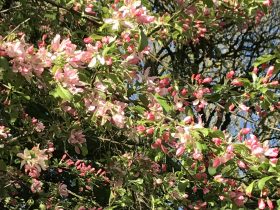 The apple blossoms and pink cherry trees have been blooming despite our record amounts of rain, and there's more poetry news to report!
First of all, thanks to Natasha Moni who featured my poem from Field Guide to the End of the World, "Martha Stewart's Guide to the End Times," on her 30-poems-for-poetry-month feature on her blog.
And the new Spring 2017 issue of Jet Fuel Review is out, complete with two poems from my new manuscript in them, "Self-Portrait as Final Girl" and "In the Movie of My Life'. This issue also features great work by my friends E. Kristin Anderson and Martha Silano, so be sure to check out the whole thing!
I wrote a poem last night about Van Gogh's "Almond Blossom" series of paintings, as I was reminded of them as I was taking pictures yesterday. We had this really beautiful late afternoon light after a grey drizzly day. Van Gogh was really interested in how the light in the south of France might be more like the light of Japan, and was very entranced with the styles of Japanese painters of ukiyo-e, or the Floating World. (I wrote about that concept a bit in my book, She Returns to the Floating World.) He painted pictures of branches that began blooming while there was still snow on the trees is Arles, trying to imitate Japanese woodblock prints.
Some more pictures of blooming trees yesterday around our Woodinville wineries:
Speaking of inspiration, I managed to sneak out Sunday night to Open Books, our all-poetry bookstore, for a "conversation" between Katie Ford and Molly Spencer. Here's a picture of me with Molly Spencer and friend afterwards. It was great to get to chat and left me feeling inspired the rest of the night.