New Rumpus Review of Field Guide and an International Podcast Tomorrow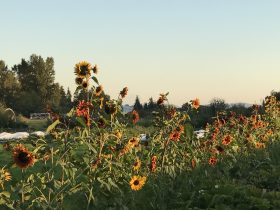 Thank you to The Rumpus and to Julie Marie Wade who wrote both a thoughtful and highly entertaining new review of Field Guide to the End of the World. It was a great review to wake up to, both content and style-wise!
Tomorrow at noon Pacific time I'll be chatting all-Millennial-style in an International Google Hangout podcast with host Robert Peake all the way from England along with fellow guest, my poet friend (and fellow Elgin Award winner) Neil Aitken here! http://www.transatlanticpoetry.com/readings/48-neil-aitken-and-jeannine-hall-gailey/
Come check it out! We'll talk speculative poetry and all sorts of internationally-appropriate subjects!
And, another shot of orange sunflowers (with Mt Rainier faintly in the background) for good measure, just to up the "fall" quotient of this post!
Today I am dragging out my sweaters and boots, and trying not to think at all about my new MS diagnosis, all the upcoming anxiety-provoking tests. I'm not doing any research today on what therapies work best, or think about all my weird stuff, besides doing my required hour of physical therapy. I have to work to not let my whole life get taken over by this stuff. Today I will read fun books, think about myself as a writer, bring home some sunflowers for the house to celebrate this beautiful review, and get ready to chat poetry tomorrow! I am ready to create some happy space in my life,  to open up that tight feeling I've had in my chest since my hospitalization, like the hot air balloons that have been rising up in the evening around my house.