On Illness and Ambition
Hello, readers. Sorry I haven't been here much during July – as I may have mentioned in previous posts, my immune system has completely rebelled on me this month and I've spent the whole thing sick as a very sick dog. On the plus side I lost fifteen pounds.
But this has given me some time – when I am not on so many antihistamines and anti-nausea drugs I can't think – to do other things. Catch up on my gardening  – my garden which has finally, after some months scratching at a front patch with not much in it – paid off with a marvelous production of sweet-peas, lavender, roses, lilies, dahlias, fuchsias, and the tiny hummingbirds and bumbling bees that accompany them. Catch up on my reading – several poetry books including Jennifer Whitaker's The Blue Hour, a lovely collection of fairy tale poems with cover art that I literally almost bought at a gallery because I loved it so much (just lacking the spare several thousand dollars necessary), Victoria Chang's Barbie Chang, Beth Ann Fennelly's mini-memoir collection Heating & Cooling (for which I am working on a review). In fiction and non-fiction. Allegra Goodman's The Chalk Artist, a combination of video game narration and poetry teaching that should have been slightly more fun for me than it was, given the subject matter – and lately, the collection of essays, Double Bind: Women on Ambition, edited by Robin Romm – with pieces from fiction writers and television showrunners, scientists, athletes, and writers from Francine Prose to Roxane Gay.
It's this book that makes me think about how my body and its various illnesses have influenced and controlled my ambition. I wanted to become a doctor, but as I struggled to stay healthy at nineteen and twenty getting my pre-med degree, a well-meaning professor advised against it, telling me my constitution was simply not a good fit for the rigors of medical school. As a young twenty-something, I worked a lot of hours and made a lot of money in the tech industry – not an indecent amount, but enough – until my immune system failed so hard on me that I ended up almost dying. It was at this point that I went back to my childhood ambition – not to make money in tech, not to be a doctor, but to be a writer. Not just a writer, but a poet. Not practical. Not a money-maker. But it turned out to be something I was fairly passionate about. I spent time every week reading, writing, reviewing, sending out work for publication. I would never have had this dedicated time had I not been forced into failure by my physical body at two other things – I think about that. I had worked full-time in tech while I was getting my MA in English, so I went into an MFA program dedicated to idea of spending time actually writing. Halfway through the program, I had my first book, Becoming the Villainess, accepted for publication. I was serious about this.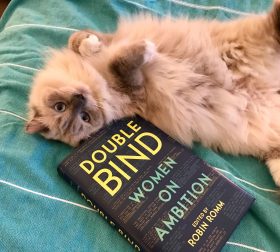 In some ways, my ambitions have been thwarted by my system's unreliability, by its fragility. In other ways, my illnesses forced and shaped my ambition into something that could be practiced outside of an office, outside of regular hours, even while lying in a hospital bed on an IV full of chemicals. I have not become less ambitious as I got older, as I've faced more and more health challenges, a lot of them, lately,  pretty serious. My brain is full of lesions, the neurologists can't explain, that are affecting my memory, language and motor skills. My liver is full of tumors, which for the time being we're waiting and watching and hoping don't kill me. That's on top of the hereditary bleeding disorder, the mutations like being born with one kidney, the asthma, the weird allergies, the primary immune deficiency. Yes, it's a lot. Sometimes it gets to me. I don't travel as much as I'd like; my days are often planned around how much energy I have, if I'm too sick to get out of bed, if I'm able to manage to leave the house. I'm a social girl who can't socialize very often, a driven workaholic who has to limit how many hours I do anything in a row, including sit at a computer. It's often a life that leaves me frustrated, confined.
What is my ambition now? To write as much as I can in the time that I have left. To get those poems out into the world the best way I know how, as fast as I possibly can. Robin Romm quotes Anna Fels in her introduction to Double Bind, that the idea that ambition is "the desire to do good work in the field and have that work recognized by people who understand it." That seems like a mature idea – not pursuing fame or fortune, but simply the ability to create work I can be proud of, and perhaps – and only perhaps – have some people understand and recognize it. I hope this doesn't make you like me less, because one of the big things about being female in this culture – something the book explores and that we saw demonstrated in front of us in Hillary Clinton's demonization as she ran for President, Trump's fans chanting "bitch" in unison – is we as women are not really allowed to admit that we're ambitious. It looks selfish, or striving, or whatever the hell else the culture tells us is unacceptable for women. "Be anything you want, honey, be the best you can be – but make sure first you're selfless and sweet, humble, keep your mouth shut when people treat you like you are less than you are, work hard to be as thin and beautiful as you can be, and never put yourself forward in any way or admit that you're better than your brothers or male compatriots at math or baseball or whatever, because you don't want them to feel bad." Bah. I'm pretty sure my whole generation, and for sure the Millennial girls, can see that the dream of being the Disney-style princess is its own kind of prison, and besides, weren't the villainesses the interesting characters anyway?
But at this point in my life, I care less than I used to. My drive to write more has resulted in a whole book being created in the last year, a book I'm proud of that's quite a departure from my previous books – if I lacked this drive, I really don't know how I would have coped with the bad news, the bad days, the bad medical tests, the dark and dismal prognoses I've been given. I am thankful for my ambition. I've told this story before on the blog elsewhere, but I remember in California, being plugged into a bunch of machines in the hospital, with double pneumonia and pleurisy and goodness knows what else, on the second day after my admission, choking and unable to breathe, seriously thinking: "I can't die – I've still got three more books that need to be published!" The three books that became Unexplained Fevers, The Robot Scientist's Daughter, and She Returns to the Floating World,  were published in pretty quick succession after that hospitalization When I was told last year that I had six months to live, that the doctors couldn't do anything, that the doctors were absolutely sure – I just froze and thought – I'd better get on to the business of getting the next book out of me before anything happens, I'd better do all the fun things I can before I can't any more, and some of those fun things included going to poetry readings and AWP. Our ambitions can literally save our lives, or at least motivate us to live them as meaningfully as we can. My life of the body has been pretty unpredictable – in and out of hospitals and wheelchairs, doctor's offices, etc – but my writing life remains rewarding and reliable, at least, so far.