Search results for "label/mythology and comic books"
No results found. Try a different search?
Jeannine Hall Gailey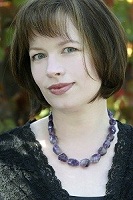 Jeannine Hall Gailey is the Poet Laureate of Redmond, WA and the author of
Becoming the Villainess
,
She Returns to the Floating World
, and
Unexplained Fevers
, available spring of 2013. Her work has been featured on NPR's The Writer's Almanac, Verse Daily and The Year's Best Fantasy and Horror. Her poems have appeared in The American Poetry Review, The Iowa Review, and Prairie Schooner. She teaches part-time at National University.
Search this site
Archives
...to Jen Fawcett Gailey
for banner design
...to my husband
for keeping the site running.
© Copyright Jeannine Hall Gailey - Designed by Pexeto