Still Summer, Still Struggling, MS Center Tomorrow
Hey guys, thank you so much for your support, which means so much in these long hot mean days of summer, which just keeps holding on, it seems. Just this week, I received a vase full of pink flowers from some of my speculative writer friends (thanks Nancy, Kelly, Lesley, Molly, Sally!), some really beautiful get-well-soon cards from various friends, an offer to visit which I hope to take on soon from one poet. I've ordered (on orders from occupational and physical therapists) a rollator/walker thing in pink, a pink travel chair, some "cooling" accessories, books on MS…a lot of fun shopping, you can tell. Apparently MS hits you harder when you get hot, so traveling with ice packs is a must, especially on these weird late summer hazy 90's days we've been having. I've never been so ready for fall in my entire life!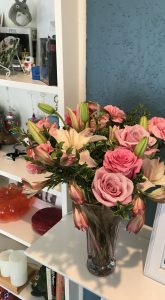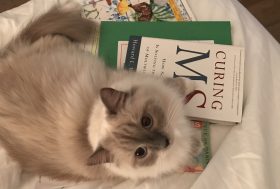 I'm due at the MS Center tomorrow for my grand rounds and intake and such, and hoping against all hope I walk out with a decent treatment plan, so I don't feel like vomiting round the clock, and maybe my legs will start working again, etc. Please think good thoughts for me tomorrow starting at 3:30 PM.
I've been asked how I'm doing, so I'll be frank – everything still sort of sucks, as you might imagine as I'm only on symptom control as of today, and really it's been hard not being able to speak easily, swallow pills easily, remember things, dropping stuff, and oh yeah, remembering I might throw up or fall at random times and staying on some absolute knock out pills for the nausea and dizziness round the clock. I haven't been able to put on any weight yet. I don't really feel better yet. I'm hoping that'll change as of tomorrow.
I did start being able to read in teeny doses – otherwise I've been on a steady diet of TCM and HGTV to entertain myself, while everything else does weird stuff to my eyes to make me dizzy. It's hard to type, (SO CLUMSY!) but here I wanted to show up for a quick update while I was up for it.
I'm also going to beg my Science Fiction Poetry Association Friends to please vote for Field Guide to the End of the World for the Elgin Awards – votes are due for members September 15! Here's the link: https://docs.google.com/forms/d/e/1FAIpQLScC4YJ4eDbRAXqpEMPcEpIsrqPl19k_fjQtFG_J7-c5OZj2ZA/viewform?c=0&w=1
There are a lot of great books and chapbooks up this year, including many by friends like Nancy Hightower, Margaret Rhee, Jessie Carty! And I think we could all use a pick me up. It's been a rough year for a lot of us.
I hope to have some good (or at least better news) next time I post. In the meantime, send me your positive vibes! I hope fall gets here soon for all of us. (And of course, prayers for my Texas friends!)