The Big Poetry Giveaway
Okay, at the last minute, not only have I created a Goodreads Giveaway for my new book (see sidebar on the right to enter) but I'm also participating in this year's Big Poetry Giveaway, started by Kelli Agodon and hosted this year by Seattle poet Susan Rich.
Here's a link on how to participate:
http://thealchemistskitchen.blogspot.com/2013/03/sign-up-now-to-participate-in-big.html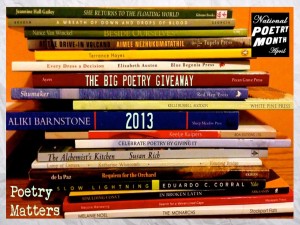 This year 'll not only be giving away my third book, Unexplained Fevers, an exploration of the dangers of the fairy tale world and the lives of contemporary women but a copy of one of my favorite journals, the Spring 2013 issue of Rattle.
To enter, leave a comment here with your e-mail address so I can contact you if you win! Winner will be chosen by random number generator on May 1! Good luck!