Tulip Fields, Two New Review for Field Guide, and Reading in Redmond with Friends!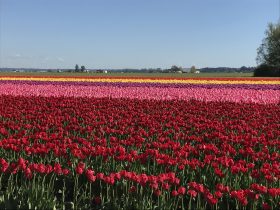 It's been a crazy few days – tulip fields, hosting visitors from Japan, reading at Soul Food with friends from Two Sylvias Press – whew! Did I mention two new reviews for Field Guide to the End of the World? Today is the first day I've had a chance to download the pictures and recover enough to write a post!
First of all, the new reviews.
–Star*Line reviewed sixteen Elgin nominees, including Field Guide to the End of the World. Excellent (and kind) review by Diane Severson. (It's in the very middle of the sixteen reviews, so scroll down a bit to find my review.)
–Kathleen Kirk focuses (appropriately, since today is Earth Today and the March for Science) on the environmental issues in Field Guide to the End of the World in her review for Escape Into Life. Thanks Kathleen!
Two new reviews for Poetry Month – who could ask for more?
The Soul Food Books reading for Two Sylvias Press was a wonderful opportunity to see my friends Natasha Moni, Michael Schmeltzer, and Molly Tenenbaum (who played banjo as well as reading poetry!) I always love reading in my own stomping grounds, in Redmond on the East side of Seattle. Here's a quick pic of the four of us at the reading. I think all of us sold books, too, which is a nice plus at a reading!
We hosted our friends from Japan Dr. Ayako Ogawa and her husband Tadaaki while they visited here in Seattle. Dr. Ayako is very special to us because she was my little brother's Japanese professor in college and later became a family friend. She edited my manuscript for She Returns to the Floating World, making suggestions, correcting and proofing cultural references and Japanese words, and she sent it to her friends and family so they could look at it too. Anyway, she's become a good family friend, was tremendously supportive when I got my scary cancer news last year, and is just one of my favorite people. Glenn and I were happy that we had one sunny day so that we could take them for a brief tour of the Skagit Valley Tulip Festival in La Conner. We saw one seal but fewer birds (during our March visit we saw five bald eagles, numerous herons, and both trumpeter swans and snow geese, just for comparison.) But the tulips were gorgeous and the weather was a sunny 66 degrees (I believe I've mentioned we've had a record number of days in a row of rain and cold this year, so..) So a few pictures here from our Skagit Tulip Festival adventures: