First Blooms, New Poems in Gargoyle, Hoping for Better Days Ahead
First Blooms of 2021
How has your week been? I got to visit (outdoors, distanced, with masks) with my little brother and sister in law, which was nice, to exchange Christmas presents late, my uncle was in the ICU with carbon monoxide poisoning, which was very worrying although he is getting better, and I'm slowly healing from my latest boxing match with a stomach superbug, which involves strong antibioics, lots of rest and fluids.
I've been trying to keep my mind off troubling FBI reports of white nationalist terrorist threats leading up the the inauguration, and focusing on the cheerful fact that the youngest poet ever chosen will be reading at the inauguration, and soon Trump won't be able to hurt us anymore. One hopes. I've been noticing strangely unseasonable things, like the first bloom on my camellia, long before it should be blooming. We've been having wet, cold winter, so it's very odd but I will take an out-of-season flower where I can.
New Poems in Gargoyle
I had a nice reminder that oh yes, I'm a writer and I have a life outside of worrying about covid and terrorism – a contributor's copy of the latest issue of Gargoyle, which contained two poems, "I Worry I'm Falling Into" and "Honestly I Should Be a Lot More Paranoid." Here's a sneak peek at the second poem: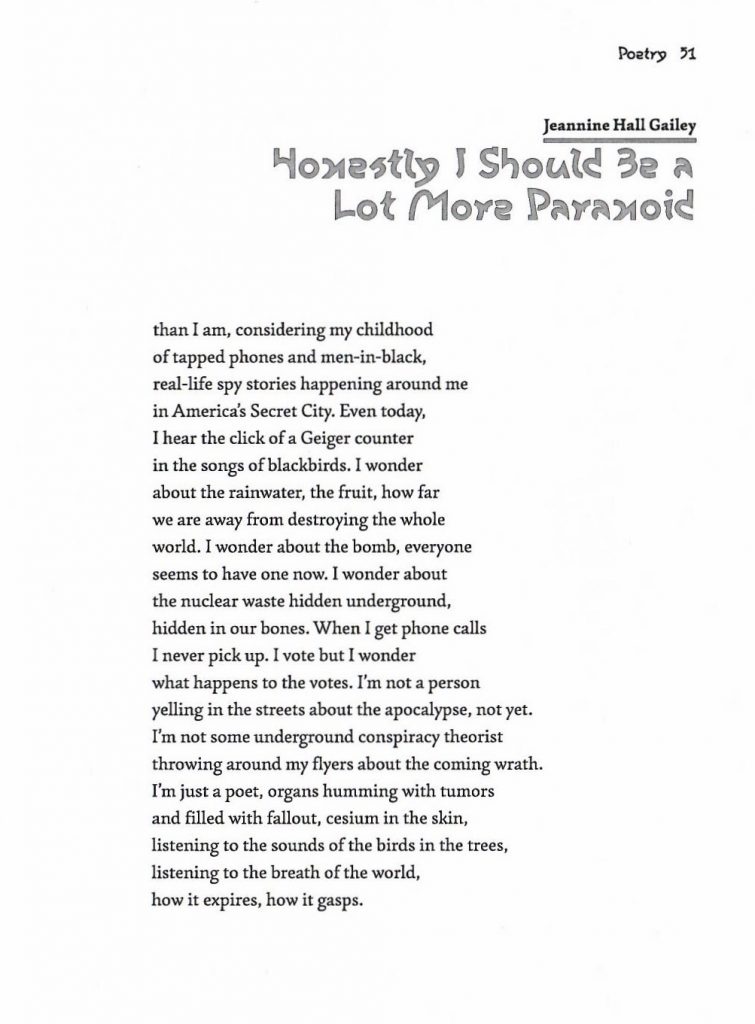 Hoping for Better Days Ahead
With the change in leadership for our country, a newly reinvigorated plan for getting us vaccinated (hopefully sooner rather than later,) and hopefully lessening rates of covid, I'm hoping for better days ahead in 2021 that what we've seen so far, which just seemed like 2020, the much worse sequel. I hope the terrorism will soon be a distant memory and the terrorists in jail for a long time. I hope covid will stop being a deadly threat to our country and the world. I don't know if we're heading for that hoped-for "normalcy" soon, but at least there will be…an improvement? I am cautiously optimistic.
As far as the writing stuff…I've been trying to work on a third manuscript, writing a poem a day in January, reading new books (My American by Stella Gibbons, currently, a re-telling of the Snow Queen in early 1900's England,) and I've ordered four new books of poetry from Open Books. Not as good as going there in person and browsing myself, but at least I'll get a chance to read some new work, some by friends, some by poets I've never read before. I've been watching film noirs on TCM in the evening – yes, I find them very relaxing, strangely, in the same way that I read murder mysteries when I'm in the hospital. The real world has seemed like a very grim noir or futuristic dystopia for the last four years and especially the last eleven months. I hope I'll be posting sunnier posts – with sunnier news – in the near future. Until then, stay safe and take care of yourselves.