Love in the Time of Coronavirus on Salon, Two Poems in EcoTheo, and Getting an MRI with Flowers in the Epicenter
Love in the Time of Coronavirus – a Portrait of a Marriage in the US Epicenter of a Pandemic – My Essay on Salon.Com
As a poet, I'm used to being a little bit low-profile, but today I had a front-page story on Salon.com, "Marriage in the Time of Coronavirus," a place I've wanted to publish in since its inception. The story in my perspective on living with my husband in a stressful quarantine situation, with several chronic illnesses, in the epicenter of the Coronavirus Pandemic. I've put some of the details of how it's been coping with ER visits and empty shelves here right next to the hospital where the majority of the US deaths from Coronavirus have occurred on this blog, but this is in the form of a lyric essay hybridized with journalism. I hope it is helpful and gives you some perspective on how it may be in other US cities in the next weeks to come.
Just for some perspective, in my state, there have been 40 deaths and 642 confirmed positive cases of coronavirus, most of them in King County. Most of the deaths have happened in my neighborhood. It's not an abstraction for us. This week, the zoo, the Japanese garden, and 50 restaurants closed, as well as the winery next to my house, the beautiful Chateau Ste Michelle. All public and private schools were closed, and universities, and churches. Meetings of over 250 are forbidden.
Two Poems in the Spring 2020 issue of EcoTheo
My thanks to the folks at the beautiful ecologically-themed literary magazine (complete with beautiful color art work) EcoTheo, who put two of my poems in the Spring 2020 issue. I bought a subscription with my fauxAWP dollars. I think you'd like it.
Here's a sneak peek at one of the poems in there, "Horse Chestnut Trees Are Going Extinct:"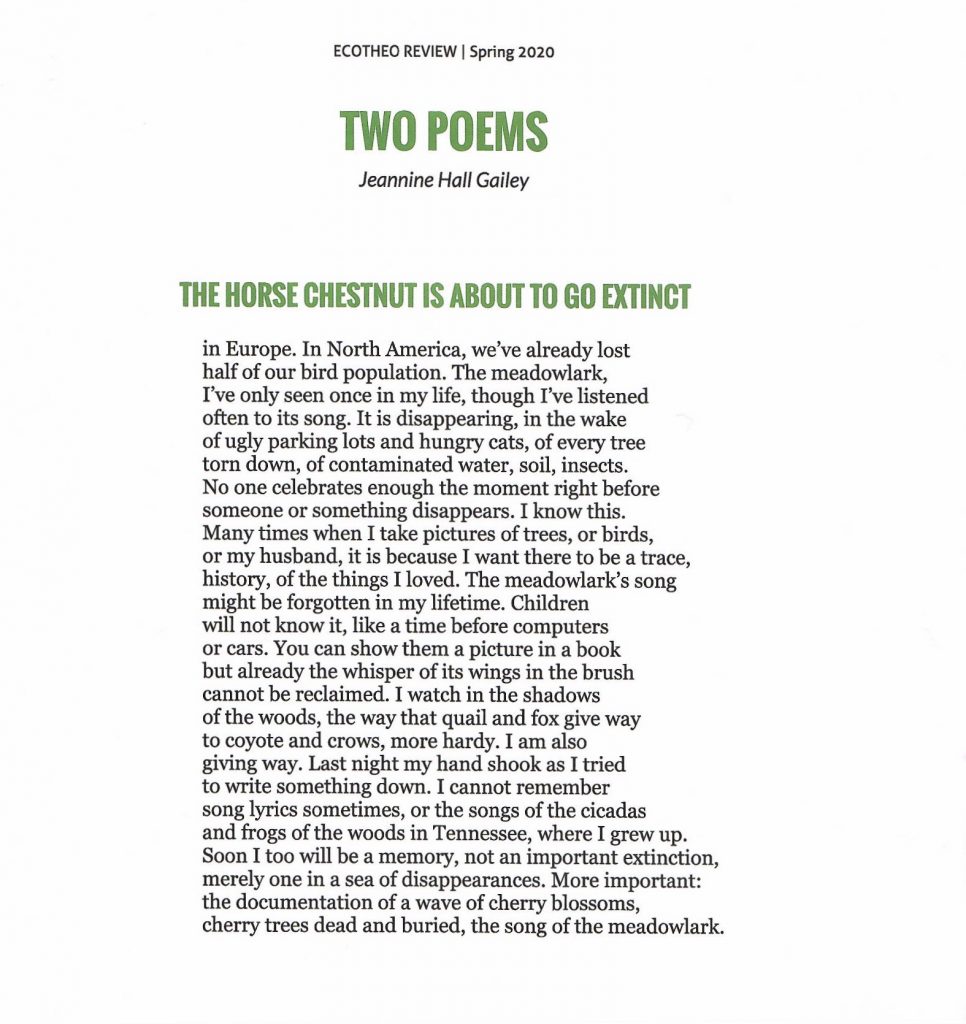 Getting an MRI and More Flowers, Despite the Pandemic
Had to get an MRI this week, so despite my fear of germs and being immune-compromised (this was checking for a life-or-death thing, so I still had to get it – believe me, I've cancelled a number of medical appointments in the last two weeks) I put on a mask and gloves and went to the medical testing center. The tech was wearing neither a mask nor gloves. I bet he will be soon. I don't like getting MRIs at the best of times, and this was much more anxiety-producing than usual. But when I got out of the test, I noticed the most beautiful apple trees right outside of the medical center, and took this picture. Even in the midst of pandemic and anxiety, the flowers go right on blooming.
And for those who want to make sure Glenn and I are still alive, here is a picture we took today, along with a snapshot of a canopy of cherry blossoms, the Worm Supermoon, and some March narcissus blooms. Wishing you a well and happy week.