What a Week! Some Fall Poems, More Info about the Woodinville Wine and Book Club, Woodinville Wildlife and Flowers, and More
What a Week! Some Fall Poems and More…
It's been a week, right? Ex-President's houses searched by the FBI, Salmon Rushdie's horrible attack, polio in the wastewater in NYC, celebrity deaths—I mean, I wouldn't have blamed you if you'd turned off the news. I had my own little dramas too—an unexpected allergic reaction to fruit (a rare cross-pollen reaction?), a triage nurse yelling at me to go the hospital, a flat tire.
But among all those things, the dahlias go on blooming, a Sturgeon supermoon rose beautiful and orange, the Pleiades appear overhead. Despite the stress, I tried to pay attention to the small wonders of late August.
More Info on the Woodinville Wine and Book Club
So, the Woodinville Wine and Book Club will officially start on Wednesday, September 14, and our first book up for discussion is the brilliant Fake Like Me by Barbara Bourland. It's an art mystery combined with a clever contemporary retelling of the Daphne du Maurier classic thriller, Rebecca. It's happening from 6-8 PM at J. Bookwalter's Winery in Woodinville. (The owner is a lover of all things literary, and the wines all have literary themes!) I'm going to lead the discussion, and wine and snacks will be available from the winery. The first meeting should be outdoors, if weather permits.
I'm really excited to start talking books and (hopefully) meeting up with friends in my own neighborhood. So many of my writer friends have either moved far away or live far away, and I feel like Woodinville, though it has lots going for it, has been lacking in cultural venues and opportunities for hanging out with like-minded book lovers. Hope this will make that better!
Supporting Local Businesses – Wineries and Flower Farms
Speaking of things that make life better, after a very stressful day – I had a sleep study this week (that I failed—remind me that I don't sleep well hooked up to wires, ha), an allergic reaction, a triage nurse yelling at me to go the ER (I'm fine, thanks), and a blown tire that required a visit to the dealership to fix – I decided to take Glenn to a local winery, Otis Kenyon, here in Woodinville, to try a rare wine, Carménère, that's extinct in its native France but still survives here in Washington, as well as Venezuela and Australia. I can't actually drink much wine (histamine reactions), but Glenn definitely deserved it after going downtown to pick up and drop off the sleep study at the hospital, fixing a flat and putting on a spare tire in about fifteen minutes, and finishing up a very challenging class in his Masters program. And I love the idea of an extinct wine finding new life. And it's always fun to pop in to the neighborhood small wineries and chat with the folks there – probably Woodinville at its friendliest! Everyone has an opinion about wine, the neighborhood, the flowers…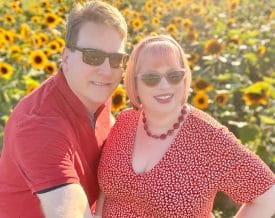 And then a visit to the new flower farm for some time in nature – and more pictures. Corn will be there next week! Once again, the new JB Family Grower's lavender farm has acres of flowers to explore, photograph, inhale. It's primarily a lavender farm, but the lavender plants are young. (But lookout Sequim when the plants get older—we'll have lavender to rival yours right here in my neighborhood!) That's okay—lots of different varieties of sunflower, dahlia, zinnia, and wildflower provide a lot of beauty—and this week the goldfinches had found the sunflowers, so they were darting and singing all around us. Magical! This time I brought home a bouquet of pale white and red sunflowers, and matching dahlias. It was a good ending to a difficult and stressful week. And I finally slept "normally" last night. (No sleep study gear really helps!)
Finally, a Few Fall Poems…
Live Encounters kindly reposted a few fall poems of mine from a little while ago…maybe it will remind you that many writers' favorite season is on the way! I hope you enjoy them. And enjoy this pileated woodpecker—we also had deer visitors who ate the last of my roses. I hope that August will be kind to us the rest of this month…
The poems, "Last Flowers," "Charmed," "Halloween 2018," and "November Dark" are available at this link.