Thanks to The Collagist! My poem "Are We There Yet?" (from my upcoming book, Field Guide to the End of the World) is featured in their wonderful new issue 85. (Check out work from other notables and friends such as C. Dale Young.)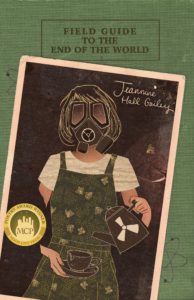 And speaking of Field Guide to the End of the World, my publisher has finally gotten in the ARCs (advanced review copies) so if you want to review it and want either an e-galley or a print ARC contact Moon City Press or let me know at jeannine dot gailey at live dot com. You can also leave a comment and I'll get back to you!
I wanted to write a little bit about poetry and ambition, in the context of finding out you have a terminal illness. You may remember an anecdote I've told before on the blog about me waking up in the hospital in San Diego, about seven years ago, with a very severe case of double pneumonia and pleurisy. I could barely breathe and definitely couldn't sleep due to a loud roommate and the constant waking for blood pressure checks. I thought then that that might be the end of me (in fact, the same weekend, another girl who had swine-flu-related pneumonia, same thing that I had, did die – and she was 15 and healthy, at the same hospital I was staying in.) My mind raced with all the things I still wanted to do. My strongest thought was "I can't die yet! I still have to publish three books!" This was before my second book had found a publisher. My next three books were published in rapid succession shortly after this revelation – She Returns to the Floating World by Kitsune Books in 2011, Unexplained Fevers in 2013, and The Robot Scientist's Daughter in 2015.
None of these publications changed my life. My work hasn't been widely distributed, given big prizes, nor have any of them made me a household name. But I felt satisfied, after The Robot Scientist's Daughter came out, that I had fulfilled my promise to myself to get the books out there.
Now, as I returned yesterday from a bunch more boring yet stressful and unpleasant cancer tests, I was looking through a similar lens as that hospital bed – a limited time frame, and a sense that I need to focus on what's most important. This time around, I had strong urges to reach out to the people most important to me, to spend time outdoors appreciating the beauty of the world around me, to spend time with friends and family. (Hence the nature picks – lots of exploring our new neighborhood, especially at sunset and dusk when it's cooler..) But I do have a sense of urgency about this upcoming book and the one I'm in the middle of writing about my journey with cancer. Cancer is ugly and scary to people, I think – and I think one way to diminish the fear is to speak about it as clearly as possible, to share experiences with it. So I'm trying to trick myself into writing poems even though we're not all the way settled into to the new house yet (usually it takes me a few months after a move to be able to write again) and I'm trying – despite somewhat scattered energies – to focus on doing what I can to promote Field Guide to the End of the World, which is coming out in September. Poetry takes on a weird form of importance – even though so few people read it or respond to it – when you're thinking, OK, this might be my last shot. What do I want to leave people with?
So I'm planning a book launch party (Sept 18!), a reception in October at local poetry bookstore Open Books (Oct 15!), some other local readings, getting ready to send out book cards and a newsletter and design a flier for the book..all kinds of "busy work" things that are important if you want to get your book into people's hands. Remember that notes to authors, book reviews, and buying books – all things that support a writer in their lives' work – might have a lot of impact. We never know what writers are going through when they're writing, when they're posting little PR blips about their books. Your support may mean more than you think.