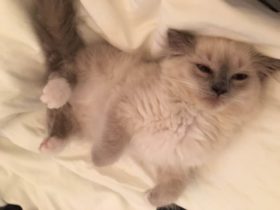 So, what do you do when you get a cancer diagnosis and have a move planned? You get a kitten, of course!
I'd actually been writing around to shelters and breeders around town for the last six months because I'd been looking for a kitten to keep Shakespeare company (he's been a little needy and despondent since our 20-year old blonde cat passed away last year.) So imagine my surprise when I get a text out of nowhere from Shakespeare's original farmer/owner, who had two kittens she was trying to "re-home" as they were not getting along with her dog and generally causing mayhem. Would we be interested? But they had to be picked up this week. In the middle of packing up our house and moving. Ideal timing? No way. But we decided to jump because the kitten was so adorable.
So, out to the farm and then to the vet we went. We have to keep the cats separated a few days (!!) – which as you can imagine, is no easy task when we're trying to pack up the house – and trying to acclimate the kitten (a silver-point ragdoll we have named Sylvia) AND Shakespeare to each other and the new place at the same time.
At the same time, I scheduled my octreotide test, the next step in the no-fun "cancer journey," blithely believing it to be no worse than my previous SPECT nuclear test. Sorry, Charlie. The scheduler blandly explained the terrible procedure – involving colon prep, then a giant needle "too large and painful for the arm" which would inject a radioactive dose of the chemo drug (which "most people tolerate well" – which means 10 percent do not tolerate at all) and then three days of multi-hour scans with no movement allowed. Yeah, I get twitchy during a 30 minute MRI, so this was going to be worse. Much worse. And then I read that it probably wouldn't turn up – as doctors had said it might – anything the MRI with contrast from head to toe I had a few months back hadn't already caught. Hmmm. Painful, difficult, time-consuming and little chance of giving new information? Terrific!
Then I read up on the chemo itself – side effects, efficacy, stuff that was pretty alarming. For one, the standard treatment isn't really that effective – it doesn't shrink or disappear tumors, and can't really even prove that it slows them down, apparently – and for some people has a load of unpleasant side effects, from weakness to flu-symptoms thyroid trouble to extreme stomach trouble. As a scientist, not just a patient, I ask myself: Will the benefits – which seem shakey at best – be worth the pain and sacrifice of time, giant needles, and possible side effects? Did I mention the need for frequent explanations to nurses, who can't seem to administer the tricky chemo correctly (has to be done in the right place in the hip, at the right angle, and the solution mixed to the exact right temperature and texture (it clumps, hence the big needle) to work. Suddenly I don't feel in a hurry to get either the test or chemo any time soon. (Did I mention the fact that each injection could leave a permanent, painful lump? And that's for people who do NOT have bleeding disorders. Neat!)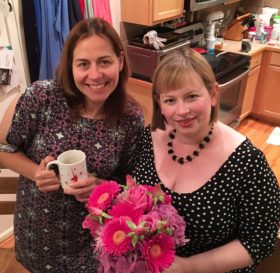 Speaking of welcome distraction, I've had lots of visitors – artist Michaela Eaves (she did the cover of Becoming the Villainess) came over for dinner and a quick catch-up, and my brother and sister in law came over for a "meet-the-kitten-and-pizza/packing party" complete with the gift of boxes! Our phone and internet, predictably, have not been working reliably but Comcast can't get the technician out before we move. Better luck in the next place? It's been great to see everyone, despite the fact that the house is a wreck and I've been as scattered as a person can be. The weather has been beautiful, despite the fact that Glenn and I have been mostly missing out on it due to 1. packing 2. projects at the new house 3. doctor appointments. Bah! I'm hoping I get to catch more of summertime's relaxing vibe in August…
Post more after the move! Happy end-of-July to you all! (Despite the politics, terrorism and horror in the news, vitriol in our papers…) I also recommend kittens for all dental and doctor's offices from now on. Great therapy.