The holidays can be rough all by themselves. This year I have a cancer diagnosis (and a test to see if it's spreading or not in a few days) to contend with, a nonsensical President elect who seems bent on making people ashamed of America, attacks on college campuses and today, a forest fire in my beloved childhood roaming grounds in Gatlinburg, Tennessee. Tomorrow, Hanford workers are talking on the news about the various illnesses they've experienced due to nuclear waste leakage around the Hanford area in Washington. Did I mention being sick for the last ten days and a weather report of constant 45-degreeish grey rain?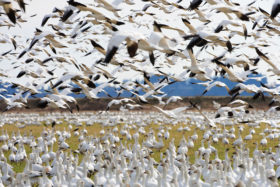 Today I took a walk during a rain-break. It was the first time I'd been up to being out of the house in a couple of days. I looked up from my walking trail to watch a bald eagle soaring about fifteen feet over my head. In the adjacent field, a flock of snow geese took flight at the same time, a soaring white cloud. Fifteen minutes of being outdoors, and I felt renewed. I have to constantly be vigilant against despair. You, too? Not just with the world's news, but with my own life, with writing, with going to the doctors and going through tests over and over again. It is easier to feel overwhelmed and helpless. It is harder to try to see the good you might be able to do the world.
Over Thanksgiving holiday weekend, I took a few political actions of the calling and writing letters variety, I bought subscriptions to newspapers and writing and literary magazines, I read books that inspired me to feel ambitious. I wrote a poem, not a great poem, but I wrote. I sent out a submission of poems. I got a rejection. Did I mention I was flat-out so sick I couldn't get out of bed most of the time? But I am reminded of what we can do when we're discouraged. We remember WHY we try to do these things in the first place. Why I try to resist things I see as wrong. Why I write about things like the environment being poisoned or women being made to feel like objects of scorn rather than heroines when they try to stand up for themselves. Why I write, period. Why I bother fighting for my life, my health, through a labyrinthine health care system that often feels like it's against patient health rather than for it.  It's because there is something worth fighting for, if I may sound so bold – equality for women, fighting for equality for all people regardless of color, religion, or creed, fighting for a cleaner earth and the right to exist and have a voice in a world that often feels like it's trying to shut women – especially educated, feisty, feminist women – up. Today is "Giving Tuesday," when we are reminded to give to causes and organizations we believe in – so if you love animals or poetry, value women's shelters or cancer research, give a few dollars to a cause you believe in.  We fight because individually, we may not feel we have any power, but if we refuse to shut up, if we refuse to give up, then we may have a collective impact that creates a better, more beautiful, more just world.
Sometimes, when we are focused on the muddy path and cold wind, we have to remember to look up. The air might be full of wings.
Note: Check my previous blog post to see how you can buy one of my books on sale, leave a comment and be entered to win a cool tote!
Second Note: Thanks To Atticus Review for nominating a poem from the new book, "Introduction to Spy Narrative as Love Story" for a Pushcart Prize!