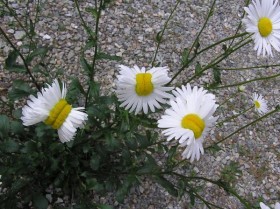 Yesterday these images of mutant daises from around the area of the Fukushima disaster made the rounds on the internet. Almost instantly, sites popped up to say the mutation, called "fasciation" is "totally normal" and "happens all the time." Sure. Maybe it happens all the time. Or maybe these mutations are signs of the damage we've caused through radioactive pollution. Because as soon as I saw that picture, I thought of a poem I'd written about a story my father had told me twenty years ago – about a janitor who grew a garden on the grounds of the Fernald Superfund site in Ohio, a garden with flowers mysteriously displaying this same kind of mutation. The janitor died of radiation poisoning soon after telling my father this story.
Chaos Theory
Elbow-deep in the guts of tomatoes,
I hunted genes, pulling strand from strand.
DNA patterns bloomed like frost.
Ordering chaos was my father's talisman;
he hated imprecision, how in language
the word is never exactly the thing itself.
He told us about the garden of the janitor
at the Fernald Superfund site, where mutations
burgeoned in the soil like fractal branchings.
The dahlias and tomatoes he showed to my father,
doubling and tripling in size and variety,
magentas, pinks and reds so bright they blinded,
churning offspring gigantic and marvelous
from that ground sick with uranium.
The janitor smiled proudly. My father nodded,
unable to translate for him the meaning
of all this unnatural beauty.
In his mind he watched the man's DNA
unraveling, patching itself together again
with wobbling sentry enzymes.
When my father brought this story home,
he never mentioned the janitor's
slow death from radiation poisoning,
only those roses, those tomatoes.
I also thought of the role flowers have played in nuclear cleanup – for instance, sunflowers were grown in both the Chernobyl and Fukushima sites, as it is known that sunflowers can draw radioactive cesium from the ground. However, the flowers, of course, themselves become dangerously contaminated.
Two poems about the Fukushima sunflowers:
A Morning of Sunflowers (for Fukushima)
Two hundred thousand sunflowers
drink the cesium from the grounds
of the temple where they burn lanterns
made from the names of the dead.
This invisible snow, says the temple's monk, brings us a long winter. A village woman mourns the loss of her blueberries.
In Chernobyl they grew amaranthus,
field mustard, sunflowers. But how to dispose of poisoned flowers in spring? We build lanterns. We plant seeds. We set things alight.
Fukushima in Fall
A field of sunflowers grow where rice
should stand, to draw cesium from the ground. The water lilies bloom after years of lying dormant. Something here about the resilience
of earth, about renewal; something hopeful
in the faces of those yellow sunflowers,
turning towards the last beams of light. Children hesitate before tasting plum jam, before sipping tea: how can they know
what is offered? And everyone says safe.
Metal faces of new radiation detection signs appear next to the crumpled worn idols of stone. Sunflowers planted in hope, in the names of the dead fail to purify the earth,
say scientists in September. Still, they are tended. They stand guard with origami cranes left on the beaches, to be carried away with the tide. As winter approaches, many roofs
carry the crushed bodies of cars as people
try to repair, rebuild. Children's thyroids
tested and scanned. Strontium, cesium, iodine in the soil. In the fish, the fowl, the fruit –
in the flowers burning in the fields, aglow against the late setting sun.
Another mutant story out of Fukushima was about mutant butterflies. This story made it into the show "Vice" on HBO when they did a special on Fukushima. Some butterflies were fed exclusively plants from Fukushima, and their offspring showed significant negative mutative changes.
I try not to be an alarmist, but from studying ecology, environmental toxicology and environmental law while getting my biology degree at UC, plus helping my dad edit countless papers about radiological pollution and its harms, I would say with certainty 1. We don't know the extent of the damage we cause with radioactive pollution and 2. we have no safe ways to contain radioactive waste. Concrete caps crack over time, and leak (as we've seen at Hanford and other sites, such as Fernald.) Don't be too quick to discount the dangers, don't brush them off, but don't despair. We still can vote, we can make our voices known. We can maybe make a difference in the state of the world we hand over to future generations. But I know this; ignoring or brushing off this news will not make it better. Keeping secrets, like the ones I grew up with in "America' Secret City," is harmful.
"Fukushima Mutant Butterflies Spark Fear"
—Title taken from a news headline
Blue grass butterflies born eyeless
wings misshapen, legs hapless,
bring doubts, invite speculation.
They whisper: cancer, mutation, third generation—
like a butterfly wing's path on the skin
each unraveling molecule
blossoms into its own miraculous monster.
Don't wait for the poisonous wind
or the downstream effects. Under the ground
our monsters sleep and form poisons inside us,
curling our fingers, graying our hair,
forming tumors quietly in the night.
The Robot Scientist's Daughter, which contains all these poems, is available from me,  from Mayapple Press, and from Amazon.