Back in Seattle from AWP, and time for the post-AWP reckoning! Here are a few pics from my first day back in my hometown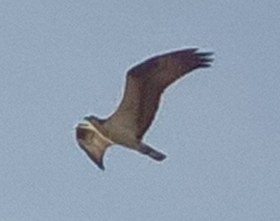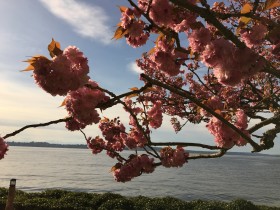 , during which an osprey hung over my head for a few breathless moments, and the pink cherries came out to say hi. It was a very nice welcome back. Tomorrow we might sneak off to see some of Skagit Valley's tulips before they're gone.
First of all, I wanted to let you know that thanks to my husband Glenn there is an audio recording (with visual cues like the panel slides and photos from the panel) available from the AWP Panel "Women in Spec" (with me, Lesley Wheeler, Sally Rosen Kindred, Margaret Rhee and Nancy Hightower talking about women in speculative fiction and poetry publishing, inspirations, and more ) available now on YouTube.

Second, the AWP 2016 reckoning: how do you decide if a conference like AWP is "worth going to?" For me, I've been paying my own way since the first AWP I went to (ahem, over 15 years ago,) so there is a financial cost (usually around $1500 for tickets, meals, hotel, registration, etc.) and there's a personal cost, for everyone – we all have limited energy and time – and for me, due to my health and mobility problems, a little bit of an extra pain factor there. For instance, I woke up with yet another respiratory thing yesterday, probably picked up on the plane home, and my physical therapy eval yesterday indicated being on my ankle so much – mostly from springing up and down to hug people – probably set that sucker back at least a week in terms of healing. I'm under strict orders to put the ankle up and ice it and wrap it. (But will I stay wrapped and prone long? Probably not!)
What is worth it? I was so enthusiastic about this particular panel (watch to see why) this year I probably would have tried to make it there even in worse circumstances. I was happy to meet and say hi to many of my publishers and lit mag editors – it's good to actually meet the people publishing your work in person.  I think one of the main reasons people go to AWP is to see old friends, friends from other parts of the country you'll never see otherwise – and I did, which was great. I was really happy to be invited to so many wonderful parties (I made it to only one, due to travel snafus on both ends of my journey to and from LA, but I got to hang out with some of my favorite people and have actual conversations there, which was really nice.)  And I'm familiar with and like (parts of) LA, which makes the trip a little less onerous. (I always recommend people get out in the city they're visiting for AWP at least once – a museum, the local food, a cool neighborhood with galleries and shops to visit, and in the case of LA, the blue sunny sandy ocean.) I actually wrote a poem at this AWP, which might be a first.
Here's things I wish – I wish I'd been able to say hi to more people, spend more time in the bookfair and pick up more books (and how is the bookfair always so exhausting? They need fifty times more hydration centers than they ever have, like iced coffee fountains, maybe), go to more readings. There were a few panels I wished I'd attended. I wish I'd had time to visit more galleries (LA's art scene is actually pretty cool) and spent more time relaxing on the beach.  Was it perfect? No (See previous recap.) But I think it was worth it, after all, as Prufrock would say.