Easter Weekend: Balance, Bliss, and the Art of Being Grateful During an Imperfect Life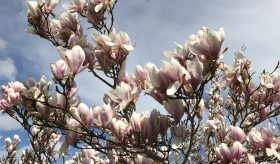 It's National Poetry Month, which is one of the busiest for me (and for most poets) – more readings, more requests, more everything. One of my friends, Natasha Moni, is featuring a poet a day on her blog. In the midst of busyness, I try to find a way to achieve balance, to stop from getting too frazzled  – or worse, sick.  It's Easter weekend, too, which for many of us, means extra activities, maybe family visits or a special dinner, or at least extra chocolate bunnies.
April's also a month that offers a lot of opportunities for bliss and beauty. From daffodils, cherry blossoms, tulips, and here in the Northwest, the first promising days of sun, to the fun that comes from sharing poetry with others, April has always struck me as a hopeful month.
Last year at this time I was going through a lot of stressful and difficult medical testing and dealing with a terminal cancer diagnosis. This year, while I'm still undergoing a lot of medical testing, but the "terminal" part, if not erased, at least has been put off or given a giant question mark over it. I am feeling more hopeful, but also have the halo effect of the life-or-death tension of the whole last year, which is to notice the things that seem so important but aren't, or the small things that make me feel grateful for my life.
This last year has helped me rediscover an enthusiasm for things I had forgotten or has made less a part of my life – art and music, being in nature, the joy of adopting a new animal friend, and also the feeling of "nothing to lose" in embracing my writing and also a certain amount of artistic impatience – the sense of trying to capture as much of my life as possible in words before losing them – the words or the life. And also sending my work out into the world as fearlessly as possible.
I am feeling grateful for a certain abundance I've experienced in 2017, in the middle of banal things like medical appointments and political anxiety, in the midst of navigating a middle age I thought I might not live to see. I feel like the universe, if not generous in all things, has been sending me friends, adventures, and experiences that add up to me feeling a new sensation – a feeling of gratefulness in imperfection, a feeling of, if not joy, a kind of abundance. The experience of going out (or even staying in, via Skype) and reading or teaching and interacting with students makes me always feel more grateful, if a little worn out. So much of our lives as poets can feel like a life of scarcity – not enough money, opportunities, publishing, prizes, etc. The only thing we often seem to be overabundant in is rejections and submission fees! But really, even if the President/Republican congress decides to take away support for the arts, poetry will still be there.  This year, I am focusing on what I have: writer friends, artist friends, at least a couple of family members nearby, some really exciting writing opportunities, a new writer's group, a new book to take to publishers, and my first intern (as a writer – I worked with interns as a tech manager and also when I was a lit mag editor, but it's different!). I'm planting things outside my new home, where I hope to stay long enough to see everything bloom next spring. Already, the bulbs we planted last fall have started to bloom, and the kitten loves to help us garden. I feel like in our imperfect worlds, with so many things out of our control, we have to focus on the things that bring us happiness, great and small, the gifts that arrive as a surprise on our doorsteps.