Happy New Year! Visions for 2018, Things to hope for: Art Friends Flowers Fun
What are you hoping to put into your life in 2018?
More health, more happiness, more hope? More art, more time for simple pleasures, more friendships? Every year for the past decade I've messed around with art collage to create one of those vision boards. This year I did the fastest one I've ever done, which resulted in more intuitive results (and fewer straight lines, perhaps.) I like this exercise because 1. it forces me to recognize the amateur levels of my art skillz, 2. it makes me think about the things I want more of in my life.
What do you want the in your vision? 2017 was certainly nothing like I planned. It's part of why I stopped doing resolutions in my thirties – with chronic health problems, I knew that any resolutions – even small ones – could be easily disrupted, thrown off – our illusion of control over five pounds, or even, say, the ability to type an e-mail or to remember the last five minutes – really IS an illusion. We do not have that much control over our lives, even though when I was younger (and more optimistic? and more arrogant?) I believed that we did. The things we CAN ultimately control are the way we respond what life throws our way. We can also make small moves to include more "blank." I call these my aspirations. In my case, in the coming year, I want to include more of the following: laughter, fun, friendship, flowers, inspiration, art, poetry. If I could get a little break from dramatic health stuff, that would be great too, universe!
In the vein of including more art AND more friends, we had a little pre-New-Year's-Eve celebration with our friend Tacoma artist (and animal rescuer – she's a professional rescuer now, the person who goes out on cliffs to save dogs and horses! What an inspiration!) Michaela Eaves. Glenn made about fifteen courses for dinner. Here's a picture of us where she pretends to be my height (she's actually much taller) – with her beautiful fox painting in the background: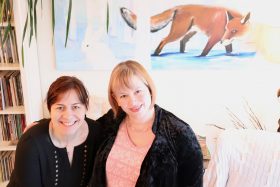 What are your aspirations for 2018? Sometimes, just like making a collage, simply writing down our hopes can help us articulate what we want more (or less of.) Tonight we'll go out on the town briefly and then ring in the New Year with grapes (good luck? wishes?) and black eyed peas (which I think represent prosperity) and greens (same?) I'm a little cloudy on all my New Year's eve traditions, but we'll also have something bubbly and try to steal a kiss at midnight.
Anyway, I'm hoping for a healthier and happier 2018 for us all! This year's New Year's Eve Supermoon seems like a good omen, doesn't it?