Happy St. Patrick's Day, a rainy reading, and Poetry and Science
Happy St. Patrick's Day! I hope you are enjoying some spring weather wherever you are. I always like to take today to remember to read a little Irish poetry and some Irish fairy tales. I found out recently through DNA that I am almost 70 percent Irish genetically, though neither set of my grandparents really knew much or talked much about their Irish heritage. (I may also watch The Secret of Kells, which, though set on the ancient Scottish island of Iona, depicts beautifully pieces of ancient Irish folk culture, including a Miyazaki-esque spirit-fairy-type character who can change into a white wolf, and follows the history of the famously illustrated and historically-important-to-Ireland Book of Kells, which you can view online here.) You can also support a genuinely Irish poetry press by buying a copy of Unexplained Fevers
(published by New Binary Press) today!
I'm blogging elsewhere today – on Tahoma Review's blog about Poetry and Science!
We had a lovely reading on Bainbridge on Sunday and got to see some good friends there, though we had a nasty storm that day (that made the three-hour round trip commute, complete with hydroplaning on waterlogged roadways, a bit dicey). I am thankful for my poetry community that turned out despite the deluge and it was nice to see Eagle Harbor Books, a charming Bainbridge Island bookstore. Here's a pic from the event, with my fellow reader Carol Levin and some local poets and spouses – you may recognize some current and former Crab Creek Review and Two Sylvias editors in there!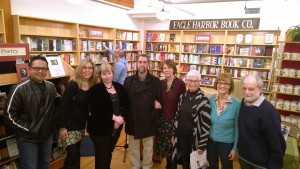 Speaking of Two Sylvias Press, I think you should sneak a peek at April's issue of Oprah Magazine, which features the fab local women-run press on one of its pages!