Happy Valentine's During an Apocalypse! And More Disturbing Things: AWP Disability, Politics, V-Day Bronchitis, and Fighting For the Right Mindset
Hey kids! Does it feel like the apocalypse yet? How do I wish you a Happy Valentine's Day today? How about a poem, "Post-Apocalypse Postcard (with Love Note,)" from Field Guide to the End of the World?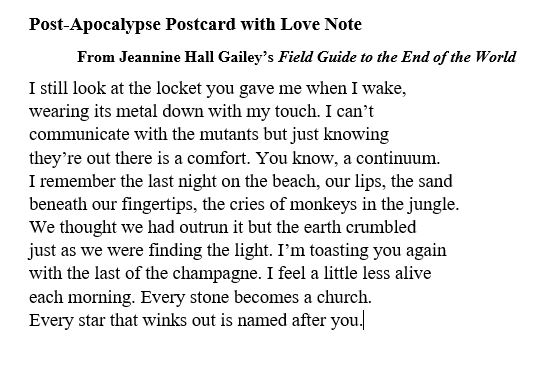 Or how about some pictures of my views of February nature and a recommended playlist of songs?
My playlist today? "We Found Love (in a Hopeless Place)" by Rihanna. "Love Love Love" by Avalanche City. "Wish That You Were Here" by Florence & the Machine. I recommend you play all three while reading this post!
Struggling with Mindset, Mid-February
I'm feeling a little down lately. Partly because I am really sick again, this time with pretty bad bronchitis and a sinus thing, and it's hard to be cheerful when you're sick. Partly because 1. I missed AWP (by the way, if you picked up either Field Guide to the End of the World or The Robot Scientist's Daughter at AWP and post a picture for me, I'd be really grateful and mail you some swag if you want!) and 2. I heard from so many friends with disabilities that this AWP did a terrible job with accessibility (a disability caucus that required stairs? Non-accessible Accessibility Desk? Power doors that didn't work? A lukewarm response to these problems from those in charge?) and that makes me very nervous about attending in the future, as I am mildly disabled due to those pesky neural lesions I sometimes talk about. (Sandra Beasley has a more encompassing post about this issue here.) It's just a reminder that some things should change, but don't. Speaking of that…
Then, you know, politics has invaded my dreams. I have actual nightmares about it almost every night. A person in charge of national security stepped down today because of possible treasonous dealings with Russia,and Trump blithely does his nuclear strategy talks in front of tourists at Mar-a-Lago. This President and his dirty team are sure unfun to watch, and I am ashamed of the Congressional Republicans unwilling to do anything about it. I used to be proud of my country. Now I feel less so, and this does not make me happy. Meanwhile, a dam actually burst in northern CA yesterday, a literal symbol of our country's crumbling infrastructure (don't worry, I'm sure a ton of stuff built in the sixties and seventies is in great shape! But a lot maybe isn't! Including a lot of important stuff, like nuclear waste storage. Concrete fails after a certain amount of time…)
I also lost a beloved Uncle this week, and won't be able to travel for the funeral – it's on the East Coast and I've been given strict orders for some bedrest til I'm better so this bronchitis doesn't turn to pneumonia again, as it did last September. He was really a lovely guy and his wife, my Aunt Charlotte, is one of my favorite people. I'm very sorry not to be there for them right now.
So I'm struggling to keep up a cheerful mindset on today, this pink-tinged holiday. I'm also attempting to write two articles, working on the edits of PR for Poets book draft that's going way more slowly than I was hoping, and worrying that Field Guide to the End of the World isn't selling well enough or I'm not doing enough for it because I've been sick pretty much the entire winter or that it hasn't gotten enough reviews. (By the way, if you're interested in reviewing, even just on Amazon, please let me know! PDFs are available!)
As far as writing, I've been writing up a storm, it seems – that day of the superbowl, I put together a first draft of my sixth poetry manuscript, and was surprised to find 50 pages there. The poems are pretty stark – cancer, of course, and death are pretty consistent themes, since those are pretty much what I was thinking about for the last year. I remember, too, it was last February around this time Glenn took me to the ER for what turned out to be food poisoning but could have been appendicitis, and then the scans turned up the liver tumors that were diagnosed then and there as terminal metastasized cancer. I got an MRA (a kind of specialized MRI) for my brain lesions last week and am awaiting more blood work for cancer markers this week (or whenever I'm up to a trip to the lab!) This kind of thing does not, just FYI, make you feel better or more cheerful. Spending a lot of time in medical offices lately – always a recipe for less cheerfulness. I tell people that having chronic health issues is a full-time job, and I am not kidding – it literally takes all the energy, time, planning, intellectual and social skills that a job does.
Meanwhile, Glenn is making a fancy Valentine's dinner for us tonight (despite the fact that I can only sort of taste food right now) and my kitten Sylvia is snuggling fluffy by my side in bed. When I get better I'll get to planting some blueberries and roses now that the snow (!) has melted and the weather has gotten back to somewhat normal temperatures for this time of year. I have things to be thankful for. But I'll admit to struggling a bit with mindset and keeping a mind that isn't filled with catastrophe. I try not to watch the news – I literally absorb too much of it without even trying, on Facebook and Twitter, and when I glance at BBC's site each morning. "I can't fix everything, I can't even fix myself" says my internal voice. I try to do things that feel like they might have a positive effect on the world, on the people around me. Maybe right now that's the best I can do: rest, restore, do what I can. So here's wishing you Love in a Hopeless Place this Valentine's Day. (Thanks Rihanna!)