July 4 Weekend – Apocalypse Poetry, Poetry and Kittens, Summer Submission Doldrums
Well, happy holiday weekend! And how better to celebrate than with a discussions of Apocalypse Poetry!
Trish Hopkinson hosted me on her blog to do a guest post where I talked about the trend towards apocalypse poetry. Books by Dana Levin, Jessie Carty, and Donna Vorreyer are discussed (I got Apocalypse Mix by Jane Satterfield too late to include, but it certainly falls into this category as well, and is a really fun read!) I discuss everything from Cold War angst to neural lesions to the current political climate and Murakami. Check it out!
https://trishhopkinson.com/2017/07/02/apocalypse-now-why-are-poets-writing-about-the-end-of-the-world-guest-blog-post-by-jeannine-hall-gailey/
I've started a new Twitter called @literarykittens where my cats Sylvia and Shakespeare pose with literary materials – new books, literary magazines. At some point the cats might even start doing microreviews. Hmm…Here's Sylvia with the new American Poetry Review and Shakespeare with my new load of books from Open Books – Kirsten Kaschock's Confessional Sci-Fi, Scorpionica by Karyna McGlynn, and Kim Yideum's Cheer Up Femme Fatale (with translations by one of my fave writers and translators, Don Mee Choi, as well as Ji Yoon Lee and Johannes Goransson.) I made a less-television-more-reading goal for this summer, and so far, so good!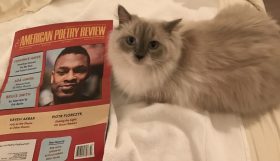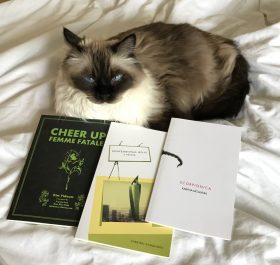 I also got to meet up with charming President of the Science Fiction Poetry Association, Bryan Thao Worra, at Open Books, where we talked all things sci-fi and poetry. It's been so nice to get to meet up with literary friends as they travel through lovely summertime Seattle! Then some local scenes – Seattle's Japanese Garden and some Woodinville scenes of roses and hummingbirds.
Are any of you experiencing summer poetry doldrums? I always, always have a hard time getting motivated during Seattle's three summer months. Maybe the sunshine that lasts til almost 10 PM is part of the problem – it throws off my biorhythms so I'm sleeping in and staying up later. I have been reading more and writing at least a little but sending out? I've been seriously slacking off. Here is a wonderful list of places to send in July: https://entropymag.org/where-to-submit-june-july-3/ It's not an endless list, which makes summertime submitting harder, too – so many lit mags take the summer off! What are your tricks and tips? Ooh, if you're around and not out barbecuing, come share them as the Twitter #poetparty is on tonight at 6 PM!