New Poem about Middle Age in Contrary Magazine, Things Fall Apart in July
I'm so glad Contrary Magazine decided to publish this particular poem this week: "April in Middle Age"
It was a good reminder to me about this feeling of falling apart. This is really the first day I could even think straight for the last week. During the July 4 holiday weekend, I managed to knock out part of my tooth and its filling (no pain), got an emergency dental appointment on the 5th, and then spent about six days in so much nerve pain from the temporary crown that it nearly crossed my eyes (apparently the nerve gets irritated, which can cause enormous pain. I was like, why do I try to do anything to my teeth??) Then my poor husband knocked out one of his crowns! We celebrated our 23rd anniversary – instead of picnicking by the waterfalls like we planned – by eating soft foods and with me generally trying not to complain about the pain. I got vertigo from my TMJ (a side-effect of the dental appointment and two sprained jaw injuries in my past) so bad that I nearly passed out taking a walk on Lake Washington. Nevertheless, we saw two sets of little ducklings on the water, and I got dressed up. This is part of getting older – things start falling apart, literally. Here's a picture of us on our anniversary this year, the ducklings on Lake Washington, and the night we got engaged when I was 20.
It's so frustrating when your body slows you down. I was finally able to get some sleep last night after my physical therapist worked on my jaw and recommended a small dose of a muscle relaxer which I had never thought of before (I can't take many pain drugs, due to the bleeding disorder and allergies.) Therefore my brain is a bit brighter, as is my mood, today. I am still being instructed to take it easy, but I have two packets of poems to look and a review I'm supposed to be working on. Beth Ann Fennelly's Heating & Cooling, as displayed here by my kitten Sylvia: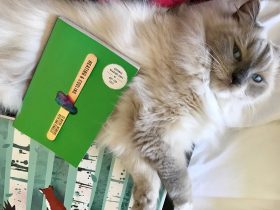 I have noticed that my health usually takes a dive in July for whatever reasons – my autoimmune system doesn't like heat or sun, or just things tend to happen when you have the time to go to doctors and dentists. Anyway, it's a reminder that this is more of a regular than non-regular occurrence, part of getting older, part of me. I am reminded that summer takes its own toll, though it's mostly a time for other Northwesterners to frolic outside, I'm usually stuck indoors, avoiding the sun or heat, but also forced into a closer relationship with my books. This is probably a pattern I've had since I was a kid in Tennessee, avoiding the midday Southern sun and storms, hiding myself in a tree in the shade or a corner of the house where I would be left alone to read. This is why spring and fall feature so strongly in my poems – and not usually summer.