Reading Tonight at Soul Food Books, Entertaining Japanese Friends, and More Spring Storms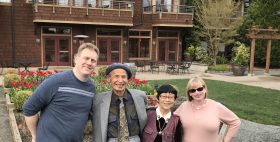 Reading Report:
I'm reading tonight at 7 PM at Soul Food Books with Natasha Moni, Michael Schmeltzer, and Molly Tenenbaum. I hope to see you there! Read more here! 
I'm bringing Dr. Ayako Ogawa and her husband, our friends from Japan who are visiting us and who are always a delight. If you've read She Returns to the Floating World, you know she helped me with the translations and cultural references in that book. She was also my little brother's Japanese professor in college, and has become a good family friend.
We've been having some rough weather here in Seattle this year (see last night's whipping wind and driving rain that got me freezing and soaking wet in about ten seconds of walking) and are really hoping for at least one nice day to get up and around the tulip fields at Skagit! Whenever we have people visit, we always seem to have miserable weather. I swear Seattle has nice days sometimes…just not since last October. Ha! I'm hoping for a bit of a break tonight, too. It's no fun going out in the pouring rain for poetry – but on the other hand, where better to spend a rainy night than in a coffee shop with poet friends?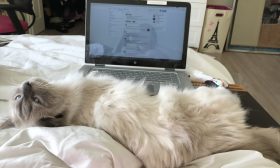 Kitten and National Poetry Month Report:
Here's a picture of our kitten, Sylvia, helping me with my writing this morning, though she prefers social media to poetry. Actually, most of the work I've been doing for National Poetry Month hasn't been about creating new work – it's been about 1. working on my newest poetry manuscript, 2. working on my PR for Poets book for Two Sylvias Press, and 3. going out more and sharing poetry with more audiences. It often happens that April is too busy to get any serious writing done, and that has been the case again this year. But that's okay.
Reading Report:
There hasn't been much time for serious poetry contemplation in the middle of all the busyness, but I did get a chance to write a review of Marie Howe's excellent Magdalene. I also finished Siri Hustvedt's inspiring and thought-provoking book of essays, A Woman Looking at Men Looking at Women, which encompassed the art world, some neurological items, poetry, and philosophy. The first half of the book was much stronger than the second, I thought. (I was also shocked to see a picture of Siri with her daughter in the latest issue of In Style Magazine. Apparently her daughter is a hipster musician of some sort? Worlds colliding!) I'm also almost done with Doris Lessing's daunting Golden Notebook, on communism, feminism, individuality and creativity in a fractured modern world – Lessing is a very smart writer, and there are great moments in the book, but I would not describe this reading as either "fun" or "light." It's taken me a while to get through it, and usually I'm a fast reader. Now, onto my next reading journey!