Snow Days, AWP madness – tips for surviving AWP and surviving NOT going to AWP, TAB literary journal. and More
I'm writing to you from snowy – yes, snowy Seattle!
AWP!
It's AWP week and that means madness for many writers! I'm missing this year's conference, but since this is the first AWP appearance for my latest book…here's where to find it!
Field Guide to the End of the World at Moon City Press at AWP – 125-T
And my previous book from Mayapple Press:
The Robot Scientist's Daughter will be at the SPD/CLMP table at 616/618
Tips for Surviving and Thriving at AWP:
DC is an amazing beautiful city, so I hope you guys will enjoy the city and enjoy hanging out with each other in the scramble. My tips include: leaving the conference at least once to check out DC's amazing museums (most of them free!), shops, and restaurants. Also, drink more water than you think you need to. Pack for emergencies (extra medications, cold/stomach meds, maybe one of those instant ice packs) and leave space for packing books (unless you plan to ship them home – if you carry USPS priority boxes with you, with the printed out labels of your home/office, you can ship books straight back from the hotel instead of lugging them.)  Extra lip balm. Don't be afraid to be spontaneous – if you get invited out with great writers, go! Go to the party you happen to be invited to. Take a break if you need to (and I know a lot of us introvert/extrovert writer types need breaks to stay sane!) Don't schedule out too much stuff, so you can have room for the surprises. Remember you have a responsibility to tell all of us who weren't able to go all the best anecdotes when you get back!
Sandra Beasley has some good tips for you if you're attending the DC AWP here.
http://sbeasley.blogspot.com/2017/02/so-if-youre-going-to-awp.html
TAB
I received the beautiful, design-intensive contributor's copy of the literary journal TAB, edited by Dr. Anna Leahy (which you can also pick up at AWP!) I have two poems in one of the smaller booklets – and there are multiple booklets in this issue. Here's what a sample page looks like, to give you an idea of the intense design elements of this journal: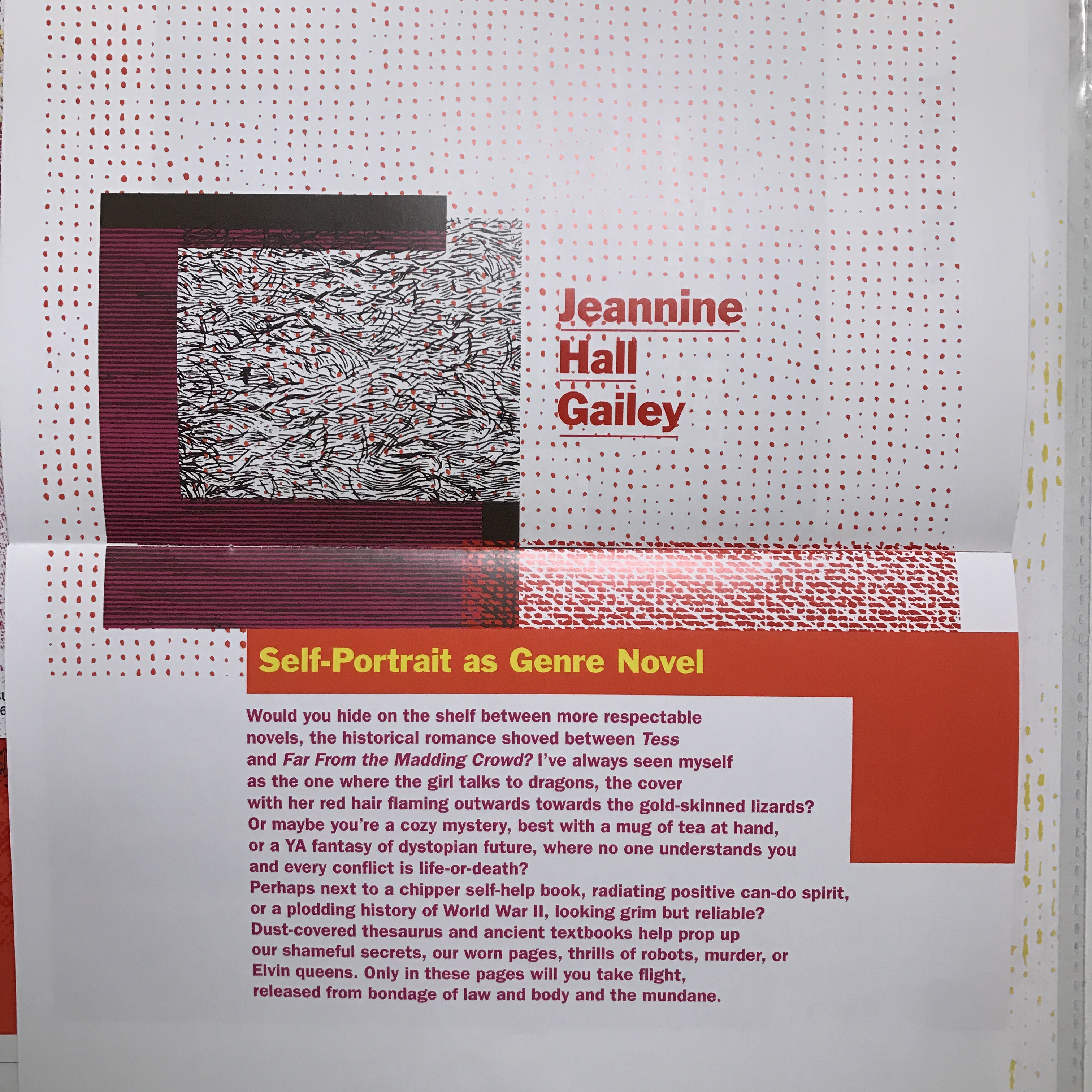 Tips for Surviving NOT Going to AWP
I always like to have tips for people not attending AWP so they don't feel like they're entirely missing out. Of course you can follow #awp17 on Twitter or your friends on Facebook who are attending. But don't sit around wistfully following social media. Here are some ways to build up your literary, community, wherever you are:
–Subscribe to a literary journal that's new to you and read Poets & Writers or The Writer's Chronicle all the way through.
–Go to your local bookstore with a decent poetry section and pick up a book just because you like the cover. Bonus points if it's from a publisher you haven't heard of yet.  I'm planning a visit to our local poetry-only bookstore, Open Books, to get my new book fix.
–Go to a reading. Call a literary friend on the phone or arrange to get coffee. Actual physical interaction for writers can be a wonderful thing! (I was lucky enough to get together with a couple of writer friends over the last week or so, and it was immeasurably cheering!)
–Be a little bit more of a literary activist than usual. It's easy to get stuck in our routines, but dedicate some extra time this week. Write, submit, research, write a review on Amazon or Goodreads or for a literary magazine, and network. Write an enthusiastic e-mail to a writer you admire but have never met. Many of us could be WAY more active in our literary worlds than we are, and make a difference.
And just remember: you can practice eating too little, drinking too much and getting sleep deprived right in the comfort of your own home. and see how it affects your writing 😉 Seriously though, keep up your writing and submitting while you're missing the big conference. You will feel more accomplished at the end of three days!