Spring Flowers, Medical Testing, and Submission Parties
Looking for Spring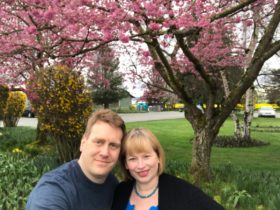 Spring has been late to visit the Pacific Northwest this year, so I've been desperately seeking signs of spring. In this spirit, we took a drive up to La Conner, home of The Tulip Festival, where at this time the last two years all the tulips were already up. This trip, just a few fields of daffodils and a few ornamental trees were in bloom. Around my neck of the woods in Woodinville, I found some plum and cherry blossoms. At this point with all the wet and cold we've had, we need all the flowers we can get!
I'm going in for some more medical testing today, which is always nerve-wracking, especially the tumor marker tests, which can be tricky and misleading and very scary. Wish me luck! I purposefully try to schedule something pleasant afterwards and nothing stressful beforehand. Today involves two different sets of doctor offices in two different systems, which is a bit more complex than usual…

Submission Parties!
No, it's not a sexy thing, it's a poetry submission thing!
Last week I had a "Submission Party" with a few poet friends via Google Hangout, and it was really fun – and three of us had acceptances within a few days! It was a good way to motivate yourself during what can be a dreary time of year and help some of us get our of our usual submission ruts. (I tend to send to the same journals over and over, for instance.) I very much recommend doing this with your friends if you can get them together – we had a few prep rules that helped – preparing a poetry packet in advance, bring at least three places you'd like to send and share, and have your spreadsheet and cover letter templates at the ready!
I am looking forward to April, National Poetry Month, my birthday month, Easter and baby animals! We did see a mother deer with her baby in the grass yesterday while we were stalking flowers in our neighborhood. How about you? What are your plans for April? Anything ambitious? I'm doing a local college visit at Highline College and a reading at Soul Food Books with some other Two Sylvias Press authors on April 20.