A Week of Eagles and Thanksgiving Celebrations
Do you believe that birds can be messengers or signs? We do have a lot of amazing birds in the Pacific Northwest, but my little corner of Woodinville is rarely a place to sight eagles—although this week, we saw as many as five at once and even witnessed (gruesome, but also slightly awe-inspiring in a nature-documentary way) an immature eagle fly away with a Canadian goose. And at twilight one day, we saw a group of…snow geese? tundra swans? With the Canadian geese on the local pond. Amazing sights.
We had a fairly quiet Thanksgiving celebration with just my little brother and Glenn and me, we Facetimed our folks and took a picture, took a walk outside in the sun, and then changed into pajamas to chill out the rest of the day. (My preferred way to spend Thanksgiving.) We all Covid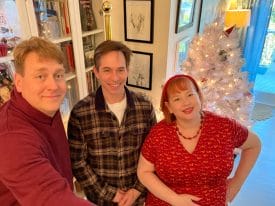 tested before getting together—so many people have covid right now, and we all had allergy symptoms, so we wanted to be safe.  Now, suddenly it is holiday season—Glenn was out hanging Christmas lights yesterday, and it's been unseasonably cold and dry here, maybe that's why all the eagles are showing up? Below, more pictures of eagles, and the mysterious snow geese/tundra swans.
The local wineries and municipalities have started putting up their holiday decorations as well—sparkly deer and lit-up trees—and we hope for peace on earth, good will towards men.
A Poem in JAMA, An Appearance at Washington and Lee University, Holiday Wishes and Year-End Evaluations
It's a busy week this week for me with a poem that's supposed to appear this week in JAMA (I'll put up a link when I get it,) a guest appearance for Lesley Wheeler's class at Washington and Lee University to talk about Flare, Corona, and about ten year-end doctor appointments (somehow, they all stack up at the end of the year, don't they?)
This time of year also brings on my informal year-end evaluations—what went well this year and what didn't, things I want to invite into my life and things I want to do less of. It's easy to forget the accomplishments and successes of the year in cold, stark November—so I try to keep track of those too. On the writing front, I had the book launch for Flare, Corona in May (and a preview of it at AWP, where I connected more than ever with the disabled writing community, which was great), and I turned 50—there were many more family visits than in the past seven years, and I reconnected with friends that I wanted to see again who had sort of slipped out of focus. I'm prioritizing friends and family, my writing work, and my health in 2024 for sure. I also want to make sure that I do less unpaid labor (and look for more paying opportunities) because my financial health is becoming a priority too—especially as my health care becomes more specialized—and more expensive.
I love the poetry world but one thing about it I don't love is how it relies on writers' unpaid labor (and submission fees, etc.)—usually the people who can least afford it—to prop it up.  I've been volunteering as a reviewer, editor, fund-raiser, PR person, etc. for over 20 years. Isn't that crazy? If I acknowledge that I have limited time and energy, then I need to volunteer…less. This also means being pickier about venues for submitting poetry and reviews, as well as maybe trying to write more essays. (And a big thank you to the journals that pay reviewers and writers and the folks who organize paid readings and classroom visits!)
How do you guys balance your art with your finances and your health? It's tricky. I also want to continue to schedule specific times to get together with writer and artist friends, too—and to continue to support local farms and artisans. If I can make it happen, maybe a residency or two and even a little travel (health-dependent, but it would be nice). It's possible my folks may be doing an extended visit out here as well next year, which would be exciting. I'm going to try to continue to promote Flare, Corona (and hopefully help get some more reviews, especially—let me know in the comments if you're interested) into the new year. It's easy to get book fatigue at six months—I definitely feel like everyone has already heard about it from me too much already—so I need to keep at it and not get discouraged.
I hope during these darker, colder, hibernating months that you are taking good care of yourself, and I am sending you good writing energy and light. The holidays can be tough, so I hope they bring you a little bit of joy.