A Friend Wins the National Book Award, the Bittersweetness of being a semifinalist, Thanksgiving Poems and Holiday Decor Weirdness, Struggling with Author Photos
Feeling a Little Better – Good News for a Friend and More
So, if you read last week's blog post, you might have noticed I was a little down, as a result of what? Terrible, gloomy weather, shorter days, perimenopause, MS, a lot of rejections at once? Anyway, I'm feeling better this week, especially because…
A friend of mine, Jason Mott, won the National Book Award for fiction for his latest surreal Hell of a Book, which takes on author book tours, ghosts, racism and colorism, all with wit and grace. And I have an interview with him coming out soon with The Rumpus – watch this space!
He not only won the award, but wowed people with his acceptance speech. This article in the Guardian has a little quote from it. It could literally not have happened to a nicer person. I've been a big fan of his work since his very first poetry book! (He started out as a speculative poet! It gives hope to us all…) I hope you guys check out his book.
The Bittersweetness of Semi-Finalists and Thanksgiving-themed poems
I has some good news of my own this week – a Pushcart nomination (which the journal hasn't announced yet, so I'm waiting to announce it) and two of my  manuscripts were semifinalists in a good book contest.
One of the manuscripts is fairly new, so I was really excited – the other is four years old, and so the semifinalist status felt less like a success. Isn't that interesting? The four-year old manuscript has been a runner-up for the Dorset Prize (so close, but so far) and a close finalist at a few of the bigger publishers, so it's so hard to keep getting "finalist" and "semifinalist" but no one willing to actually publish the damn thing. On the other hand, being a semifinalist with a new manuscript feels better, because it's a sign the manuscript's not totally a messed-up failure, right? So the whole thing felt bittersweet. Isn't being a writer weird? Or it could just be me.
Speaking of cheerful things, I wanted to post my Thanksgiving-themed apocalypse poem, "Calamity," that I wrote in late 2019 and was published in April 2020 in Poetry Magazine. Frankly, I think it's evidence I might be a witch. Or a prophet.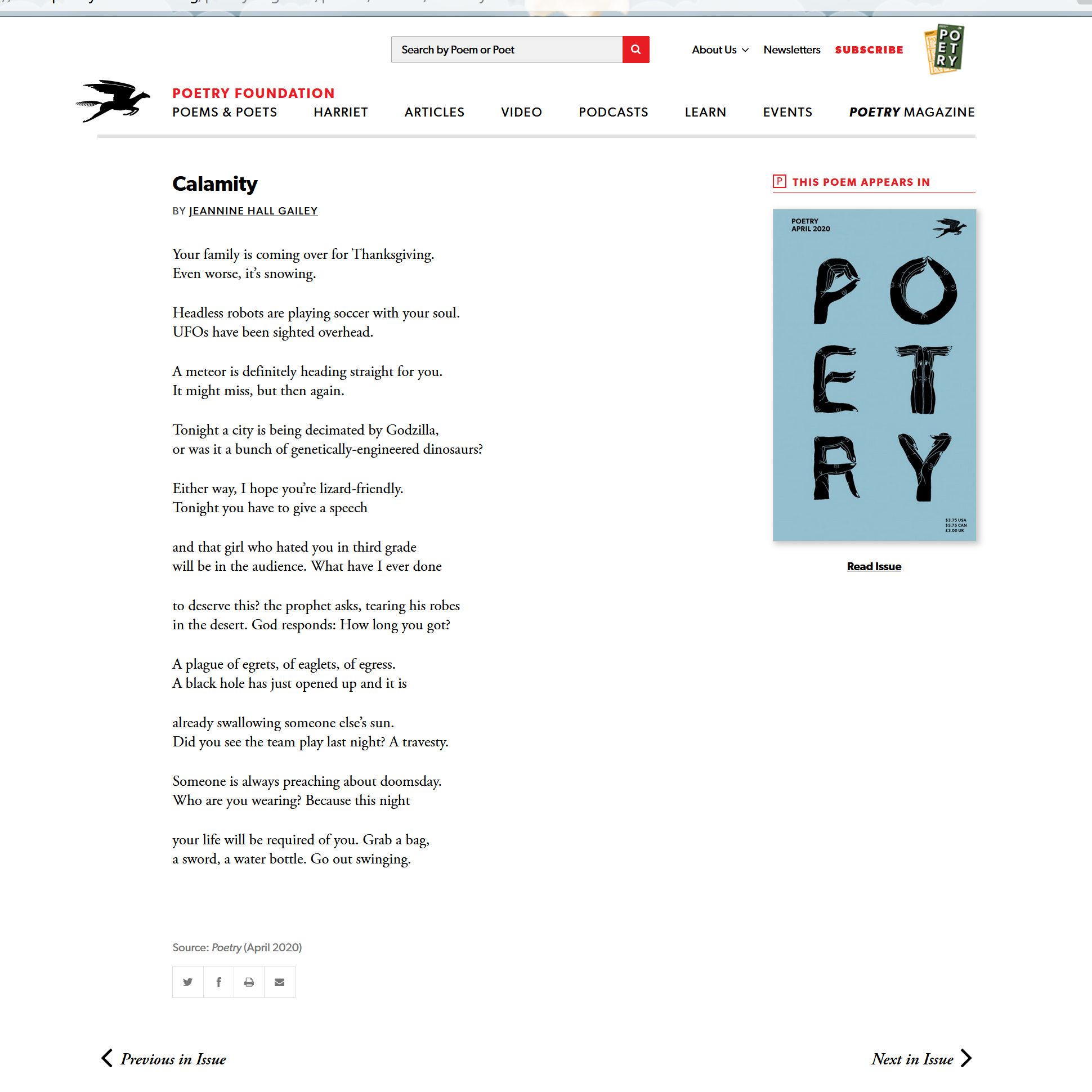 I always get a kick out of holiday decor, and even though it's still a distinctly odd holiday season, I thought I'd cheer you up with some offbeat holiday decor scenes from around Woodinville:
Struggling with Author Photos
So, in trying to figure out things for my next book, Fireproof, with publisher Alternating Current, I am forced to confront something I haven't had to think about for awhile – author photos. Many of my author photos taken by actual photographers are fairly old now, and it feels weird to put a picture out there that doesn't really represent the present "you" – ie the pandemic version of me. Also, I might need to make the photo black and white – a first for me – because Alternating Current usually puts the author photo inside the book instead of the back cover. I'm also thinking about cover art. And honestly, I'm wrestling with my two other manuscripts – where to send them, how to revise them – while I wait for edits for Fireproof from Alternating Current's editor. So I'm looking at using a pandemic-era photo taken by my husband for the author photo, no professional anything – I did my own hair and makeup (probably pretty obviously.) My weight and hair color fluctuated quite a bit during the last two years, which makes picking a photo even more difficult. Here are some of the finalists. Put your opinion in the comments. I considered paying someone to take a photo of me, again. I just don't know yet.
PS if you are doing early holiday shopping, remember that people love poetry, and poets love poetry and books about PR!   And if you want a signed copy, you can get one from me!