A Poem Up at Verse Daily, Rough Week, And On Poets And Prizes
A Poem Up At Verse Daily Today – "They Are Waiting"
It's been a rough week, so I'll start with the good news. A poem of mine published in the latest issue of Boulevard, "They Are Waiting," which I wrote when I was waiting for cancer scan news a few years ago, is featured today on Verse Daily. Thank you to Boulevard and Verse Daily!
Here's a sneak peek: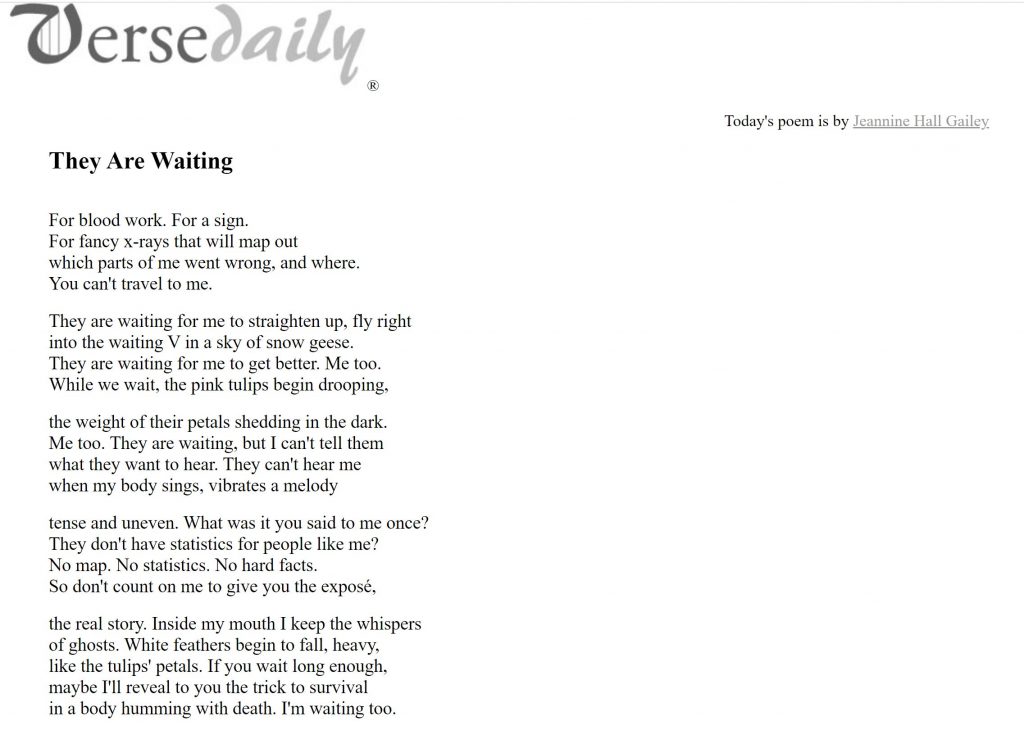 A Rough Week in November
It's been a bit of a rough week for us here in November. My 96-year-old maternal grandmother, Opal, tested positive for Covid and is in isolation at her nursing home. She lost her husband in January, so this has been a hard year for her (and for my mom) already. We are praying she makes it to her birthday at the end of the month. I've already sent her birthday card, and I'm just hoping it makes it in time. Even if we were in the same city, I could not see her. It's a cruel time to be ill.
At the same time, I got hit with another pretty serious stomach infection, requiring massive antibiotics (and sometimes hospitalization and surgery,) so I'll ask for your good thoughts for healing there as well. I definitely am trying to stay out of the hospital. Stressing about the election and rising covid rates, too. The November sunrise picture is to remind us, even on bad days, the rainy cold months, there is always a little beauty.
On Poets and Prizes
There was a very interesting article this week, "On Poets and Prizes," by Juliana Spahr and Stephanie Young, at the ASAP journal. It talked about the fact that, though some of us might prefer to think of the poetry world as a meritocracy, it is mostly a function of a small "in-crowd" of Ivy League types giving prizes to their friends, and only their friends. The charts and graphs alone are worth a look. Data-driven poetry information. Since poetry receives so little attention in America – and so few sales – the poetry prize decides whether a writer is read – or ignored. And most of this is nepotistic – highly nepotistic. More than you thought, if you already thought it was.
It is hard, as I have posted the last two weeks on the blog, to make a living as a poet. If you did not come from a family with money, didn't go to the "right" schools, never ran with the "right" poetry in-crowds, it's going to be even tougher. I mourn having to say this, especially to younger poets with more enthusiasm and optimism than I had (I was always a little cynical.) If you don't go to Iowa for your MFA, you don't go to New York City and the right parties, you are probably never going to get the big prizes or the big fellowships. Which means, you probably won't be read. The data presented in the article is fairly convincing.
But…it does happen – and I know people who it has happened for, who were lucky, who just on the merit of their work and their hustle, did make it. I am so happy to know that such poets exist.  Publishers, from time to time, present terrific work by people from "nowhere," who don't have money or go to prestigious schools, and their work finds not only an audience, but good reviews and accolades and yes, prizes. Am I likely to be one of the lucky ones? Are you? The odds, as the article makes clear, may not be in our favor. But there is something honorable about writing, publishing, continuing to offer the work to the world, isn't there?
If we are Katniss Everdeen and the Poetry World is the Hunger Games, how do we start to break the game, the in-crowd, nepotistic, odd-are-never-in-our-favour  system? Do we want to? How do you choose which poetry books to read, or decide which book is good and worthy of your time? How do you choose which book to review?
I want to be hopeful. What is the message of hope I can find here? I admit to feeling a bit discouraged, poetry-wise, this week. I'm still waiting, for a publisher to pick up one of the two book manuscripts I'm circulating. A lot of living the life of poetry is waiting, isn't it? I am wishing you the best this week.  Some good news. Some luck.