A Poem Up On Verse Daily, AWP News, Hot Air Balloons, Hot Weather and MS, Woodinville Read Between the Vines Book Club,
AWP News and Hot Air Balloons
So I had the good news that three of my AWP panels were accepted, which was the first time that's ever happened to me, but I can only be on two. So I'll be on the panel I'm moderating, "Mutant, Monster, Myself: Writing the Disabled/Chronically Ill Body," and another, "Your Best Book Launch: Publicity for Poets."  So get ready for the Seattle AWP in March! I've got to stay healthy because that will also likely be the setting for the first appearance of my next book Flare, Corona, from BOA Editions. I love hometown AWPs, because you can show your friends around the best coffee shops and bookstores and hang out at the bookfair and still go home and sleep in your own bed. You can drive your own car and bring water to people and take people to offsite readings. It's really much better for those of us who are disabled/chronically ill as well because we don't have to stress out about how to get from point a to point b (at least, we've been to point a and point b before) or where we'll eat or how safe the hotel rooms will be. I'm wondering if by March covid will be less of an issue? I can see it if we get more antivirals and new vaccines…maybe? So, this hot air balloon which rose over my house a few days ago in the late summer heat, a symbol of peace? hope?
A Poem, "When I Try to Write an Elegy," Up on Verse Daily Today!
"When I Try to Write an Elegy" by Jeannine Hall Gailey from REDACTIONS (versedaily.org)
Thank you to Verse Daily and to Redactions for featuring my poem, "When I Try to Write an Elegy," from the latest issue of Redactions, up on Verse Daily today! Link above (and sneak peek below…) This poem is going to be in my upcoming book from BOA Editions, Flare, Corona!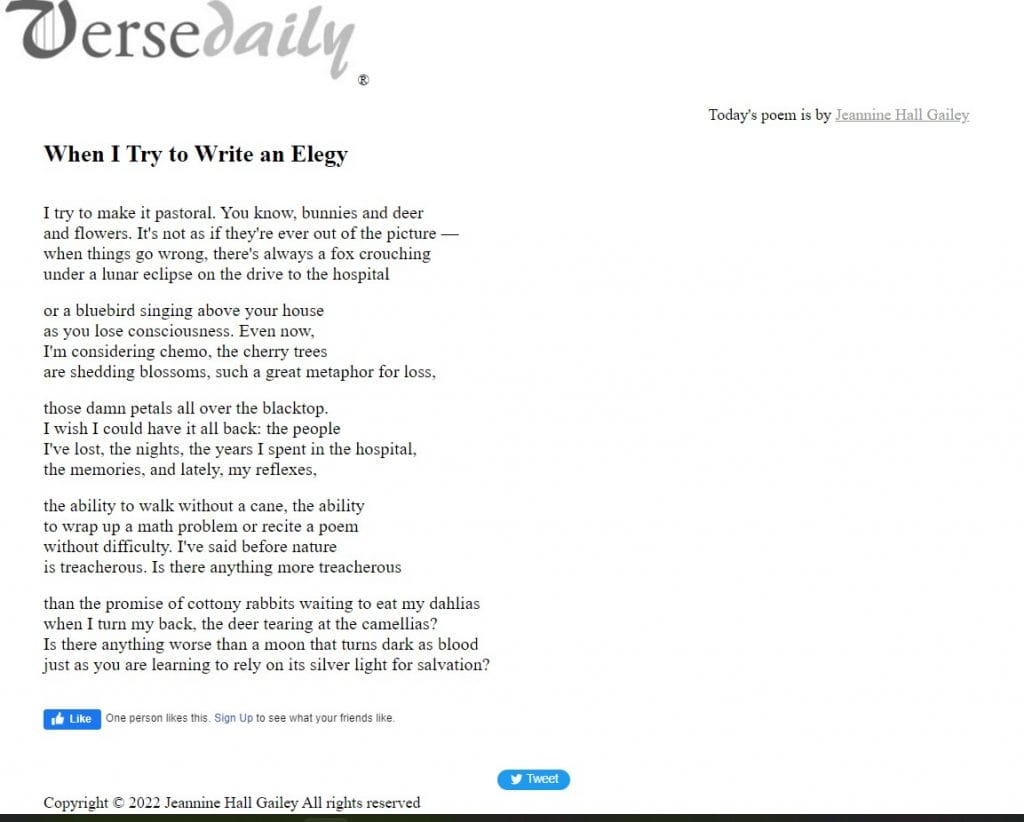 Hot Weather and MS and Dipping My Toes Back in the Working World
I haven't been up to much this week as we had several days of 90 degrees and not-great-air quality, so it was nice today, a slightly cooler day, to get out and about – I got my hair cut (see left,) walked around Kirkland a bit admiring some roses, and stopped by our local garden to pick up sweet corn. Even that much exhausted me – summer is not a great time for MS patients, as you may know if you have any MS folks in your life – the heat and humidity can feel like a nauseating weighted blanket. I haven't had as much energy for writing or submitting as I wanted, but I'm hoping to get back in the groove by September.
I'm also considering starting up an hourly PR coaching business, maybe just a few hours a month to start, to help people get going on their books, small businesses, or projects. What do you think? I feel like I want to do more than just freelance writing, something that helps people, and also something that helps me dip my toes back it the working world. Even with MS, I feel like I have more to give than I've been giving, if you know what I mean.
Here are a few more scenes from late August in Kirkland and Woodinville this week: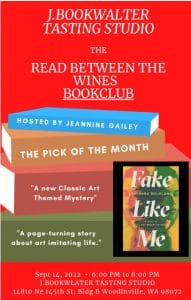 Woodinville "Read Between the Wines" Book Club to Officially Start September 14!
Here's the official graphic for the book club I'll be hosting at J. Bookwalter Tasting Studio in Woodinville. First meet-up will be on September 14, and here's a link to more about the event. 
The book we're discussing Fake Like Me, is an art thriller combined with a clever new take on Daphne du Maurier's Rebecca. It should be fun! The wines at J. Bookwalter all have literary-themed names and both the outdoor and indoor spaces are lovely – I'm going to try to have the first event outdoors if the weather holds up!
Anyway, I hope to see some of you there!