A Week of Insomnia, the Threat of Nuclear War and Ukraine Heartbreak, Spring Approaches but with Record Cold and Snow (plus bobkitten!)
A Week of Insomnia and the Threat of Nuclear War
How are you doing? If the stress of the pandemic was not enough, now we are dealing with the threat of WWIII this week as Putin invades Ukraine. The ghost of nuclear war anxiety – something I was familiar with as a kid in the eighties, where nuclear war with the then-Soviet Union was always on our minds and felt like something that could happen any day – is back. My childhood home, Oak Ridge, Tennessee was always on the bombing risk list because although it is called "the Secret City," the secret is pretty much out that it's a place that the US could – and definitely has in the past – manufacture nuclear weapons.
So all week I have been unable to sleep, perhaps not inexplicably. I've also been running a fever all week, tired, stressed. As mask mandates and vaccine requirements are lifted, the high-risk (like me) are left more vulnerable.
But as the thought of pandemic stress is starting to wane in most American's minds, it's still there for me, and now on top of that, heartbreaking videos of young women preparing to defend their country – teenage girls standing in front of their homes unarmed facing armed Russian soldiers, elderly Ukrainian women offering sunflower seeds to the Russians to help commemorate their dead, a 26-year-old teacher being drafted to defend her home city of Kyiv, the bombings, the black smoke, the air raid sirens – anyone with any amount of empathy must be overwhelmed, and when faced with the inaction of the US and Europe against this dictator's Hitler-like takeover of a country, equally angry and feeling powerless. My brother, who worked extensively in Ukraine in his last job in tech, encouraged me to write to my senators and to send money to Ukrainian charities. If I could become a superhero right this second, I would go and defend the brave citizens of Ukraine.
Spring Approaching and Nuclear Poems
This week was so strange – cold, sunny days, record-breaking below freezing temperatures at night, even snow – and spring flowers. It made me think of the news, the frenetic dives between politics and plague.
In the beginning of the pandemic, I dreamt repeatedly of nuclear war, and wrote this poem in response, which suddenly seems alarmingly prescient. I usually don't post unpublished poems, but this one seemed timely. It may make its way into my newest book.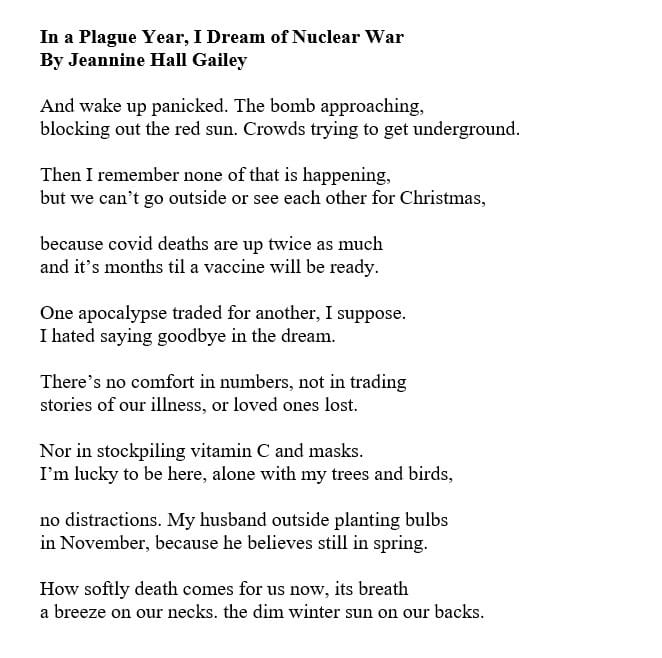 Just a Little Bit of History Repeating
Those of you who are students of history could not be unaware of the parallels to WWI and WWII right now – the financial instability, the crazed dictator and his alliance with an equally sketchy country or two, the global pandemic and war stresses at the very same time, and the stubborn slowness of the US government's response to both pandemic and war. You know Woodrow Wilson never even publicly addressed the 1918 flu, despite the deaths of one out of every ten Americans from it and he actively increased infection by shipping infected young soldiers around in too-close quarters? Did you know most Americans didn't want to help Europe in WWII, despite so much evidence that Hitler was a monster and committing heinous crimes – and that we refused refugees' applications to enter the US, especially of Jewish people, even Anne Frank? (True fact!)
And despite all of this alarming information, the birds are singing louder, the flowers are starting to show their willingness to bloom despite temperamental weather. I feel like I should be tougher, more resilient, like the flowers. My body betrays me – lying awake, uneasy dreams when I do finally get an hour or two of sleep – the fevers, dark circles, nails splitting and a nagging cough. My body knows things are really not okay, no matter what meditation apps I use, or deep breathing exercises I try, or cures of tea, soup, and vitamins.
In the unease of the end of February, let's hope for a better spring – easing up of pandemic death rates, an end to Putin's ambitious power grabs (and China's eyeing of Taiwan in the background) that put the entire globe out of balance – a time when we can once again see our friends and family, that America defends its allies and welcomes refugees from despots. The hope that my doctors can help sort out the haywire immune system problems that keep me from living the life I want. If I can banish the discouragement brought on by plague, and war threats, the political strife in America – maybe I can write more poems. Even if the poems can't bring peace and health to the planet, or even bring an end to my insomnia.
PS: Last night there was a bobkitten sighting on my Ring recorder – a small bobcat, and he was wagging his tiny little bobbed tail! That seems like a good sign!