Fall Trips to the Arboretum and Open Books, Talking about Taboos: Money in Poetry, Poets and Self-Destruction, and the Importance of Community, and Submission Season
Fall Trips to the Arboretum and Open Books, and It's Submission Season
I was feeling a little blue so we took advantage of one of the few non-raining afternoons this week to go out fall foliage hunting in the Seattle Arboretum (yes, they have "looking at trees!") and also made a stop, in person, at my treasured bookstore, Open Books, and I came home with an armload of new reads, some of them inspired by the book I've just finished, The Equivalents.
When fall arrives here it's easy to let the suddenly shorter days and lack of sun (we did need the rain) affect your mood, and I'm not immune to that. One thing my friends and I do to counteract a lack of motivation is give ourselves a month when we write a poem a day (um, not always great at that) and another month where we do a submission a day. It's a reminder that summer is indeed over and writing season has begun, and always helps us actually get some work done. Those book deadlines can creep up on you if you don't pay attention!
It is submission season, after all, that rare time when most poetry journals are open (and you'll probably get some rejections you've been waiting a year for – and hopefully some acceptances as well!)
Talking About Taboos: Money in Poetry, Self-Destructive Tendencies and the Importance of Community
One thing I've been thinking about is something that is often taboo to talk about in the poetryworld: money. Here's a quote from Maggie Doherty's The Equivalents (which I finally finished) I posted on Facebook and Twitter that generated quite a bit of discussion: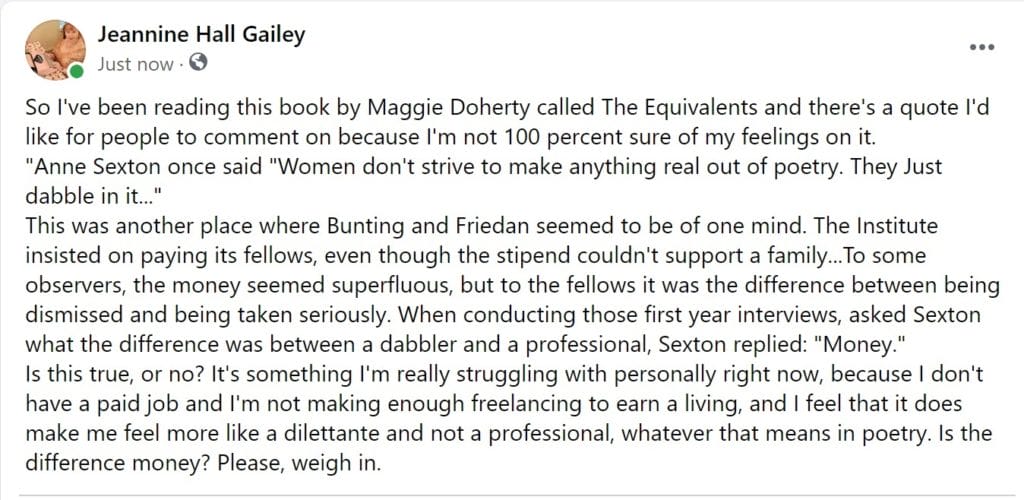 Some vehemently objected to Sexton's quote, saying capitalism's focus on money shouldn't define success for poets, some talked about their own struggles with the lack of money as a marker of success, some defined success for themselves outside the realms of money. Some people rightly pointed out that in Sexton's day there was more money and fewer poets. Some said it was a closed system – money is awarded by the privileged friends to privileged friends. It was very interesting.
I was very happy this week to see Don Mee Choi – whose work I truly have admired for years – win a MacArthur Genius grant – something that can truly alter the quality and nature of a poets' life. Money, time, and a room of one's own – as Virginia Woolf wrote a long time ago – go a long way towards making a writer's life possible. But writers that are overlooked, denied grants, awards, prizes – what happens to them? How do they persevere, or even get in the public's view? It is so easy to give up, to get lost.
Another two quotes I felt was worth putting up here was about poetry and women writer's self-destruction and the importance of community, which is probably more true and less controversial.
From Adrienne Rich, in the book:
that the 'room of one's own' is not enough; we must find community, collectivity…I believe profoundly that the woman artist, even if she can find the space and support herself in it, must not fall into the trap of working, or trying to work, in isolation. But even Woolf implies….that a female community must come into being."
Here's a longer quote (my hands don't type as well as they used to…) about women writers and self-destruction from Adrienne Rich as well: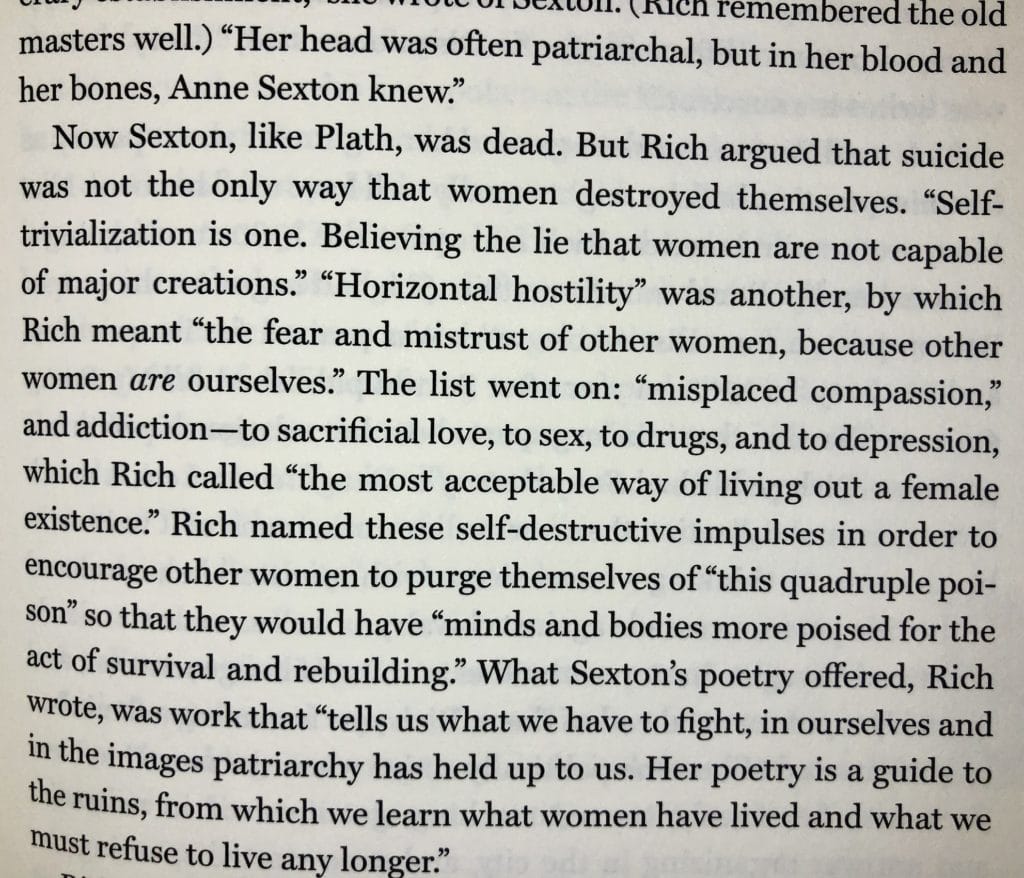 So, when we think about success as poets, maybe money is a part of it, but also what we call our community, how we avoid self-destruction, how we help others. That we continue to write, to create as a kind of rebellion.
I encourage all of you to pick up The Equivalents and give it a read. It's a fascinating account of a tiny community connected over the years, politics, art, friendship, feminism, failure, success.  I started reading it with my mom and could not put the book down. (I also got in on Audiobook so I could listen at night instead of watch tv – much better for my brain!) Sometimes it can feel hard to find a model of success we can follow without being born into money or privilege.
And remember, it's still life during a plague, the changing seasons can be hard on people, so be extra kind to yourself. Give yourself time, seek out moments of joy where you can right now. It's hard to build community when you can't see each other in person, but we do have e-mail, the old-fashioned phone call, and yes, even social media.