Finding My Way with Poetry and Trumpeter Swans in a Week of War and Anxiety, A Change in Perspective
In a Week of War and Anxiety, Finding My Way with Poetry and Trumpeter Swans
It's been another week of war stress, watching the Russians march into and bomb Ukraine and its people and besides that, five people a day in my county, which is highly vaccinated, are still dying of covid but all the restrictions are being lifted anyway, so that's fun. War with Russia trying to take over the world supervillain style and a pandemic? Why are we having a hundred years of history but only the bad parts in two years?
Not only that, everyone, including me, seems more stressed and anxious than usual. I have to remember to be kinder than usual, and my social skills have not improved from being basically isolated in my house for two years. Also, on the road trip, I saw at least three cars driving to try to kill each other. People, the highways are not your anger management strategy.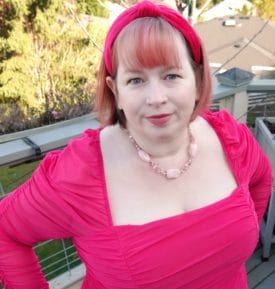 So I was pretty tense and once again, sleepless for most of the week. I tried meditation, deep breathing, exercise, and yes, prayer. I wrote to my senators. I gave to multiple charities trying to help Ukraine. But mostly I felt helpless and kept having war dreams. I dressed up and put on makeup and decided to spend some time outside. (PS This is one of my possible author photo outfits, still deciding, speaking of things that aren't important…)
By the way, you should read this piece on CNN by my friend and poet colleague Ilya Kaminsky about his home country and the place that poetry and humor have in Ukrainian culture. And if you haven't read Ilya's poetry, his first book, Dancing in Odessa, or his second, Deaf Republic, are excellent – and educational – reads.
Poetry Cannot Save Us, But…
As Ilya's piece shows, poetry can stay important even in a time as fraught as ours. I'm currently reading Dana Levin's upcoming book from Copper Canyon, Now Do You Know Where You Are, for a review and her work is apocalyptic in its own way and it delves into her move to St. Louis, where my father grew up. Of course, with the title, I immediately staged a photo picturing Sylvia the kitten going on a road trip with the book as reading material. Ah, some of us have different ways of dealing with stress!
In a way, reading her work was able to transport me and made me think about what poetry is and isn't able to do. I've been writing poems about nuclear war, about the Doomsday clock, about being in a pandemic as a disabled person. Are these poems that will help other people? I can't tell. But I can say they are what I need to write right now.
What are you reading right now?
Spending Time in Nature with Eagles, Swans, and Daffodils
Today it got up to fifty degrees, no rain, and sunset was as late as 6 PM, so we decided to take a short day trip to spend some time in nature. We went up to a famous spot for bird watching, Skagit Valley, Washington, which gets snow geese, Trumpeter swans, tundra swans, who migrate, and eagles and herons year-round.
We saw so many Trumpeter swans, a pair of bald eagles, and a few early blooms – daffodils and a crocus – at Roozengaarde Gardens, which was completely empty of visitors except for us. Getting out of the house and out of my own head helped my thinking, my mood, and my outlook. Sure, looking at eagles and swans can't fix the world's problems – but they do remind us of the good and beauty in life.
A Change in Perspective
One of the good things about both reading and getting into nature is that they both provide a welcome change in perspective. They remind you of the larger world and your place in it. Sometimes we have both an inflated sense of our place in the world AND an inflated sense of our ability to control it. On a micro level, we can do positive things – we can plant a tree, or give money to a charity that helps people who suffer in a war across the world, or write a letter about an issue we care about. On a macro level, we are each part of a much larger system – in which we don't matter all that much, which is both a sobering and a comforting reminder. In the face of evil, we can ignore it or we can resist it. We can be grateful for the instances of beauty all around us. In a time that seems very apocalyptic, we can choose to hope.
Leaving you with a few more shots of swans…