Happy New Year! Snowed-In Seattle, Inspiration Board for 2022, Variant Problems, and Late Celebrations
Have a Safe, Happy, Healthy New Year!
Well, our new year rose sunny and cold (28 when I woke up – brrr) and I've been struggling with keeping my asthma in check – hey, I didn't move to the Northwest for the record cold OR record heat! (We had both this year – 16 degrees this week and 115 this summer. Why is mother nature trying to kill us? )
Glenn and I dressed up and stayed in, popped champagne for the ball drop, ate frozen grapes (supposed to be good luck, but how many grapes to have to eat to keep covid away?) and had mini beef tenderloin and avocado sliders for dinner. (Fancy, but easy – recommend!) Doesn't Glenn look cute in his tie?
Since we stayed in, I got to watch The Thin Man marathon on TCM, midnight celebrations in Paris, London, New Zealand, NYC, and Seattle, and got two poetry submissions out before midnight. Plus we had fancy cocktails with pomegranate seeds floating in them and when Glenn got tipsy he didn't have to drive!
Omicron and Delta are still topping the news as half (!) of tests in King County, where I live, are coming back positive, and hospitals like UW have postponed unnecessary procedures as they are dealing with staff shortages and bed overwhelm. Christmas Eve had our highest covid levels ever during the pandemic.
Our children's hospital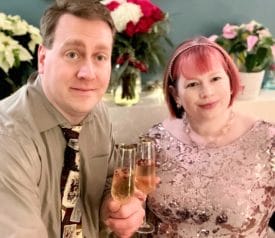 is reporting it is full, with kids with flu, RSV, and covid (often with two of the three), which is the first time since covid began we're really hearing about a lot of hospitalized children. So if you have unvaccinated kiddies, take extra steps to be safe.
We have extra instant tests at the house, thanks to Microsoft, that has been giving them out to employees for the last two weeks, which is good, because both Glenn and I tested when we had low oxygen ourselves (turned out to be cold-related asthma, not covid, but better safe than sorry.)
So happy New Year's to you, happy unrealistic resolutions (watch Pete Davidson and Miley Cyrus sing about this is a funny short video here, like "reading three whole books" and "learning Bosnian."
Snowed-In Seattle
We had a surprise the day after Christmas – about four inches of snow, and record cold temperatures, and then a few days later, another three inches of snow. Needless to say this causes snags – like not getting trash pickup, or not getting to the store, and if you do get to the store, milk, water, and eggs are all gone. It's a weird way to end the year. But my cat still loves the snow, as always!
We had record numbers of cancellations at SeaTac. Meanwhile Boulder just had a devastating wildfire on New Year's Eve. It can't just be a pandemic – it has to be all this other stuff, too? I had five friends diagnosed with cancer just this year. I can't imagine going in for imaging and chemo – things I've had to do myself, though not during a pandemic, and know they are incredibly stressful. A reminder than minor things feel like major things, and major things just feel even more major, more life-shattering. I want to be closer to my friends and family than I feel like I can be – and being snowed in can feel like a very apt metaphor – we are all trapped at home and unable to travel, to see people, to do regular things like shopping. Or maybe that's nonsense.
Inspiration Board for 2022
I know it's a little cheesy, and harder during a pandemic year, but I still went through the steps of doing my yearly inspiration board, and using my hands to cut and glue things makes me feel like a kid again, and there's something innately…optimistic about putting up words and pictures that make you feel happy and hopeful. This year, words like "friends," "inspiration," "magic," and "happiness" made appearances, along with images of foxes, pink typewriters, blooms and butterflies.
Anyway, I encourage you to try it yourself, even if it's just a temporary one on a corkboard, or posting inspiring things on your fridge. What could we look forward to? What are the best possibilities? I'm far too good at looking at the dark side.
Celebrations after the New Year
We hope to see my brother and sister-in-law today for a Christmas/New Year's/birthday get together, and later on this week, a good poet friend and her husband, and I'm hoping we didn't pick the worst possible time for visits given the rising covid levels and weird weather. It's hard not to feel like a prisoner after two years in virtual lockdown because of my immune system problems, even after vaccination, and I just want to be in human presence of someone besides my husband and cats (God bless them) and not just on a Zoom screen. It doesn't really feel like we've had the holidays until we give presents and Glenn cooks for someone.