Happy Solstice/Christmas/Holidays, A Poem in the Climate Issue of Massachusetts Review, Poetry Book Recommendations from 2021, and Things to Remember About the Last Year
Happy Solstice/Christmas/Holidays!
Hope you all are having a safe, healthy, and as happy as possible Solstice/Christmas/Holiday! I know it's hard for many of us, with flights cancelled, Omicron in the news, to feel any kind of holiday cheer, especially if you, like me, are far away from family this year.
But I've been running a steady stream of Christmas movies and music – except for that one panic-inducing day I watched Station Eleven's pilot – and trying my best to feel as cheerful as I can. Glenn made a gluten-free chocolate "Buche de Noel" with fresh cherries which was amazing.
We are expecting 2-5 inches of snow, over the Christmas weekend, then several days below freezing, so we might be stuck on our hill, which would make getting supplies tougher, so we are prepared to eat leftovers and after that, our supply of potatoes and pumpkin seeds. But I love seeing some snow.
But we did have a cherry tree with one branch blossoming, right on Christmas Eve; seems symbolic, like beauty's triumph over death, life over winter, or something like that. We need anything that gives us hope these days.
The generosity and apparent ferocity of nature is always surprising. We should pay closer attention.
New Poem in the Climate Issue of Massachusetts Review
Thank you to the Massachusetts Review who included my poem "Things I Forgot to Tell You About the End of the World" in their end-of-the-year Climate Issue. I feel lucky to be in such a great issue, and the fact that it's the closing poem of the issue.
Here's a sneak peek: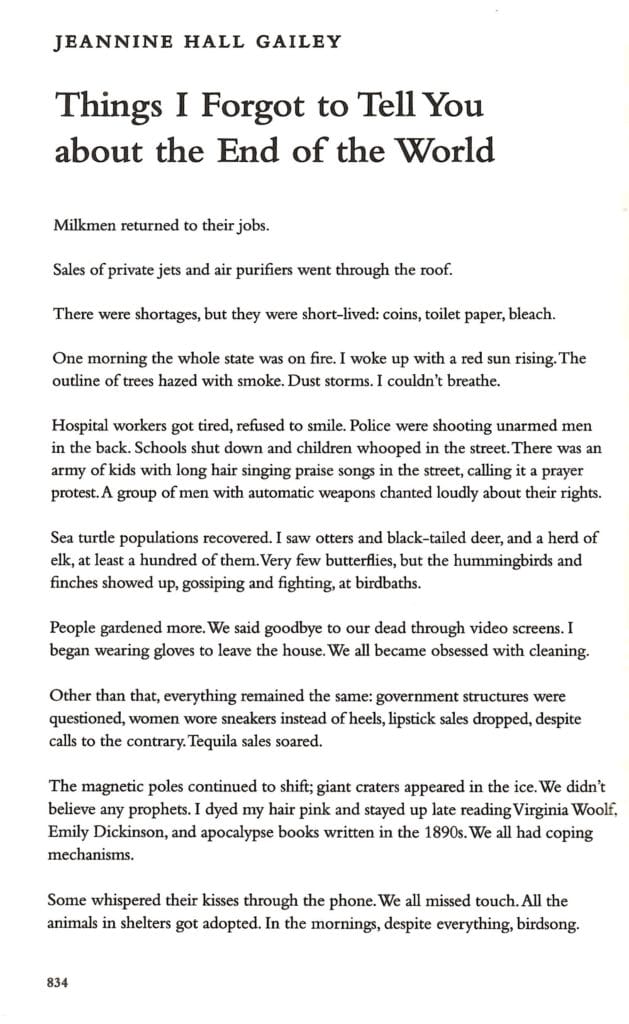 Things to Remember, 2021 Edition
2021 was not just about the pandemic, about loss, isolation, and anxiety. Other things happened, too, remember? I went through my photos and it helped me remember some of the good of 2021. I recommend it! I also went back and re-read some of my blog posts to remind myself of happy times.
I got into some dream journals for the first time: including but not limited to: Fairy Tale Review, Bellevue Literary Journal, Image, and Water~Stone Review
I went to Breadloaf for the first time. Virtually, but still, pretty cool. (I was accepted on scholarship the first time I applied, but could not afford the airfare to get out there. That was many years and books ago.)
Spent a whole week in September (was there a covid lull?) at a writing residency on San Juan Island, where I encountered many foxes and several seals.
Discovered a new Japanese botanical garden, the Kubota Gardens, on the other side of town (wandering is a symptom of the pandemic, right?)
Had a rare visit with my nephew Dustin from Georgia who might move up here.
I managed one weekend during the summer's covid lull up to Port Townsend to see eagles, deer, and my friend Kelli Agodon
I also did two things I couldn't in 2020 because they were cancelled: visited the Skagit Tulip Festival and the Bellevue Botanical Garden Holiday Lights.
Had both my circulating poetry manuscripts accepted for publication: Fireproof from Alternating Current Press in California, and Flare, Corona from BOA Editions in New York. In some blog posts in the past two years, you can read me despairing of ever finding the right homes for these books, but now that they have found the right homes, I'm overjoyed (and relieved!) and looking forward to launching each book. Hopefully in a post-pandemic world.
Poetry Book Recommendations from 2021:
All of these books make great gifts, and also great end-of-the-year reading, with just the right balance of melancholy and hope. I'm probably missing more than a few good ones, but these were my top picks.
Rosebud Ben Oni's If This is the Age We End Discovery Alice James Books – Multiple timelines, string theory, Bunnicula and Rick and Morty? Yes please
Louise Gluck's Winter Recipes from the Collective – Meandering, warm, imaginative – maybe my favorite Gluck book in years
Kelli Russell Agodon's Dialogues with Rising Tides – Kelli's most vulnerable, surprising book, looking at personal tragedy, ecological and political anxieties,
Katie Farris's A Net to Catch my Body In Its Weaving – Heart-wrenching poems that look at mortality and the body
Sandra Beasley's Made to Explode – once again, the political meets the personal in Beasley's latest book
Sally Rosen Kindred's Where the Wolf – Fairy tale poems with an edge
Shade of Blue Trees by Kelly Cressio-Moeller – a melancholy, beautiful book with an elegiac mood