New Poems in Redactions, an Upcoming Reading at Hugo House, Symphonies, Supermoons and Sunsets
Two Poems in the New Issue of Redactions
Thank you to Redactions for publishing two new poems of mine, one of which will be in my upcoming book from BOA Editions! As you can see, all the cool cats are talking about the new issue!
Here's a sneak peek at one of the poems, "When I Try to Write an Elegy:"
Upcoming Reading and Conversation at Hugo House on July 20th
My first reading since February 2020 – and it will be with a group of terrific poets. We're going to talk about the importance of poetry in navigating our lives and then read a few poems. Here's a flyer – fancy, right?
I hope I remember how to dress, speak in public, and talk about poetry with reasonable intelligence. It's been so long! It will not be zoomed or recorded (because the WA State Poet Laureate will be there – some clause in their contract?) but it is free and it will be fun!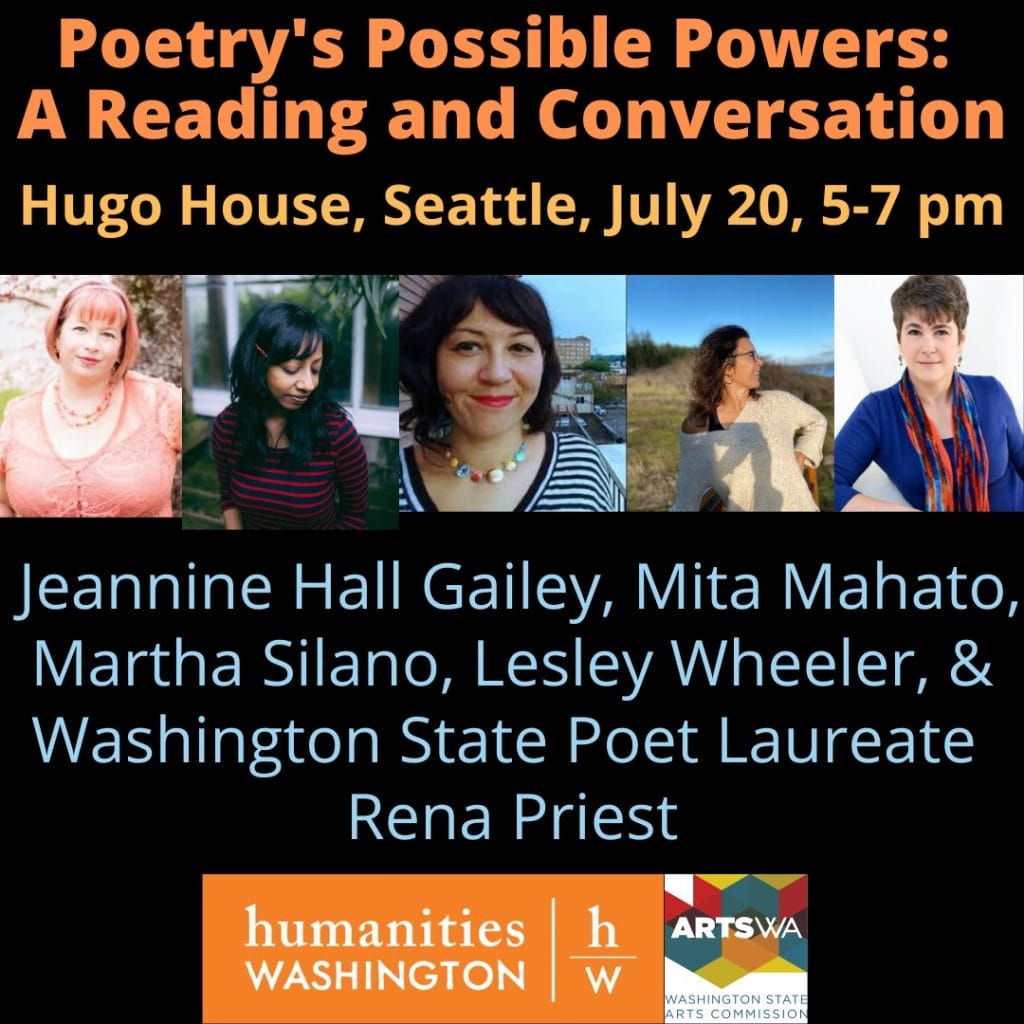 Symphonies, Sunsets, and Supermoons
It's been a busy week! Glenn had a birthday, we visited with my little brother Mike, Glenn tore his rotator cuff, we're getting ready to visit with friends from out of town tomorrow, and we were gifted with tickets to the symphony – something we haven't gone to since way before the pandemic – this one was a Harry Potter themed Symphony! It was nerve-wracking (everyone was masked, but hadn't been indoors with that many people in a long while) but the audience was enthusiastic and full of people dressed in costumes and children so it was pretty uplifting (and a female conductor, which was pretty cool!) We had expensive orchestra seats (once again, we were gifted these – unfortunately, because someone who had bought the tickets caught covid) and we got dressed up, which will mean that's the second time this month I had to put on real clothes, makeup, and real shoes (not slippers!) I mean, that's a lot of socializing for someone who's pretty much been hermiting for two and a half years.
We also had our first dry week in a long time, and already my grass (less of it than there used to be, but still) is crunchy and I'm trying to keep the birds watered with three separate bird baths and fountains. The sun stays up late, the sunsets have been beautiful and we had a clear night to see the brightest supermoon of the year. The garden is still blooming – roses, sunflowers, lilacs (again?), lavender and lots of pollinator-friendly little plants. So here are a few pictures of just how beautiful it is in the Pacific Northwest when summer finally arrives.