Countdown to AWP! Six Tips for Surviving AWP Seattle! Also, Flare, Corona's World Tour Begins, Surprise Snow, Bird Visitors, and a Visit with my Brother
Surprise Snow and a Countdown to AWP Seattle
Yes, winter has decided to push spring aside a little longer, so we are having snow yet again for the next four days. Here is kitten Charlotte in her first snow. But mostly, I just want spring to be here—warmer weather, a few spring blooms, a little more light.
Besides getting ready for my book launch and AWP Seattle, I broke/sprained/bruised my right hand in two places, which slows everything down. I may have mentioned this is my busiest AWP ever, which makes the hand injury very frustrating and inconvenient. Along with some spring flowers, I'm hoping for some speedy healing in the next two weeks!
Seattle AWP is only ten days away! (My AWP appearance calander is on the right side of the page under Events.)
AWP: First Things First
My first AWP event is Thursday's signing at the book fair at the BOA booth at 3:30 PM, which has its own little official graphic. I hope to see you there, because I'll be running around like a madwoman the rest of the conference. I am nervous and excited about meeting my BOA publishing people for the first time, too. I hope I make a good impression! Someone asked me, has having a big publisher (well, relatively big, for poetry) changed your life as a poet? I would say, I'm working harder than usual so I can take advantage of things like better distribution and more marketing support. But I'll know more once the book launches officially in May. I'm so nervous!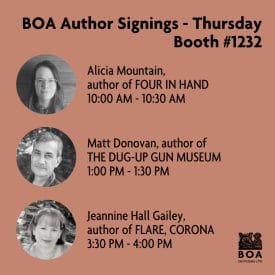 Six Tips for Surviving AWP Seattle (From a Local)
So, I'll go back to my week in a second, but for those of you who are going to AWP for the first time, here are six tips for surviving AWP from a seasoned pro (well, I started going to AWP in the early 2000s, when it was just a couple thousand people.) And this AWP might have a little bit of extra anxiety for those of you, like me, who haven't attended AWP since the pandemic started.
If you are nervous about the pandemic, so am I! Bring masks for high interaction areas, talk to your doctor before you go about an action plan if you do get covid (hey, it happens, and being prepared when you're away from home is safer than not) and practice things like washing your hands during breaks. If you are high risk, consider limiting your time at crowded events and try to get outside a bit in between things. That's what I'll be doing.
Speaking of which, even in non-pandemic years, I always recommend getting outside for a bit! Go meet someone for coffee (hey, we're famous for it!), take an Uber to the Seattle Japanese Garden, Kerry Park or Pike Place Market, stop in at Open Books (our local poetry-only bookstore). If you love surreal pop art, check out the amazing Roq La Rue Gallery or take in more traditional art at the Seattle Art Museum. Check out the architecture at the downtown Seattle Library (I'll be giving an offsite reading there Thursday evening)! I love AWP but stale conference center air and florescent lighting can make anyone feel a little less than their best, and Seattle is a beautiful city to explore, and it seems a shame to miss it. (Safety talk: Do take precautions in the downtown corridor after dark like you would in any downtown area—Seattle used to be very low in crime, but it has ticked up in recent years.)
Hydrate—it's always too hard to find cold water or hot coffee inside the center, so bring your own thermos or water bottle, and don't forget lip balm and maybe even a travel moisturizer. Washing your hands and using hand sanitizer is hard on the hands. I also keep a face spray (like Tower 28 SOS travel spray) in my purse because it feels great after wearing a mask for any length of time.
Arrange to see your friends! Find a time to get together so you can catch up—I see people I sometimes only see every few years, so it's a great opportunity.to build friendships, and sometimes that's more important.
Don't feel guilty about sneaking back to your room for a nap, or just a little alone time. Especially after being pretty isolated for three years, expect to experience some sensory overload. Don't beat yourself up for not being able to be "on" 24/7. Remember to eat and drink at appropriate intervals—this one always gets away from me.
Be kind to others, and to yourselves. A lot of us are feeling awkward, what with real shoes instead of slippers and getting their new glasses prescriptions updated after three years. Have you forgotten how to make small talk or remember what's the exact right way to address your former professor/student/friend from grad school fifteen years ago? Everyone else is probably experiencing those exact same things. Relax, breathe, and try to have some fun—after all, AWP is really about connecting with other writers and people who love writing.
Flare, Corona on Its First Stop on Its World Tour – and a Visit to My Little Brother – with Space Needle
I got this wonderful picture from my friend John Campos who took my book on his vacation to Mexico for a little light reading. Thanks John! The adventure begins! Please send me more pics of my book in different locations if you get a chance. And cats!
Made the trip downtown this week to spend some time with my little brother, where we stopped to have coffee in the lobby of the hip hotel Citizen, gave him a copy of my book and spent some time high up getting pictures on a cold windy night with the Space Needle. I realized there is still a lot of downtown I don't explore on a regular basis (hello strip club across from a Sephora!) and that the Convention Center has been totally redone since the last AWP Seattle so I'll have to relearn some of the layout. Also figuring out cool hotel bars/coffee shops in walking distance to the Convention Center is important. So even though we got blown around a bit (I almost fell over the wind was so strong! I felt like Mary Poppins!) it was great to traverse the streets on foot pre-AWP. Plus, my brother is always fun to hang out with, and I was so excited to share my book with him.