Where I'll Be at AWP, Almost Valentine's, the Poetics of Wrongness, and Flare Corona Makes Its Way into the World – and a First Review
Where I'll Be at AWP
AWP is just around the corner, and I think this must be the busiest AWP I've ever had! The new book is out, I'll be doing signings at the BOA table, I'm doing an offsite reading, and two panels.
What are you doing in preparation for AWP? I just got my eye exam (needed a new prescription, thanks aging!) so I'll have new (properly working) glasses for AWP, I'm trying on clothing and making sure things fit, I've booked a hotel, and am trying to get as healthy as possible beforehand.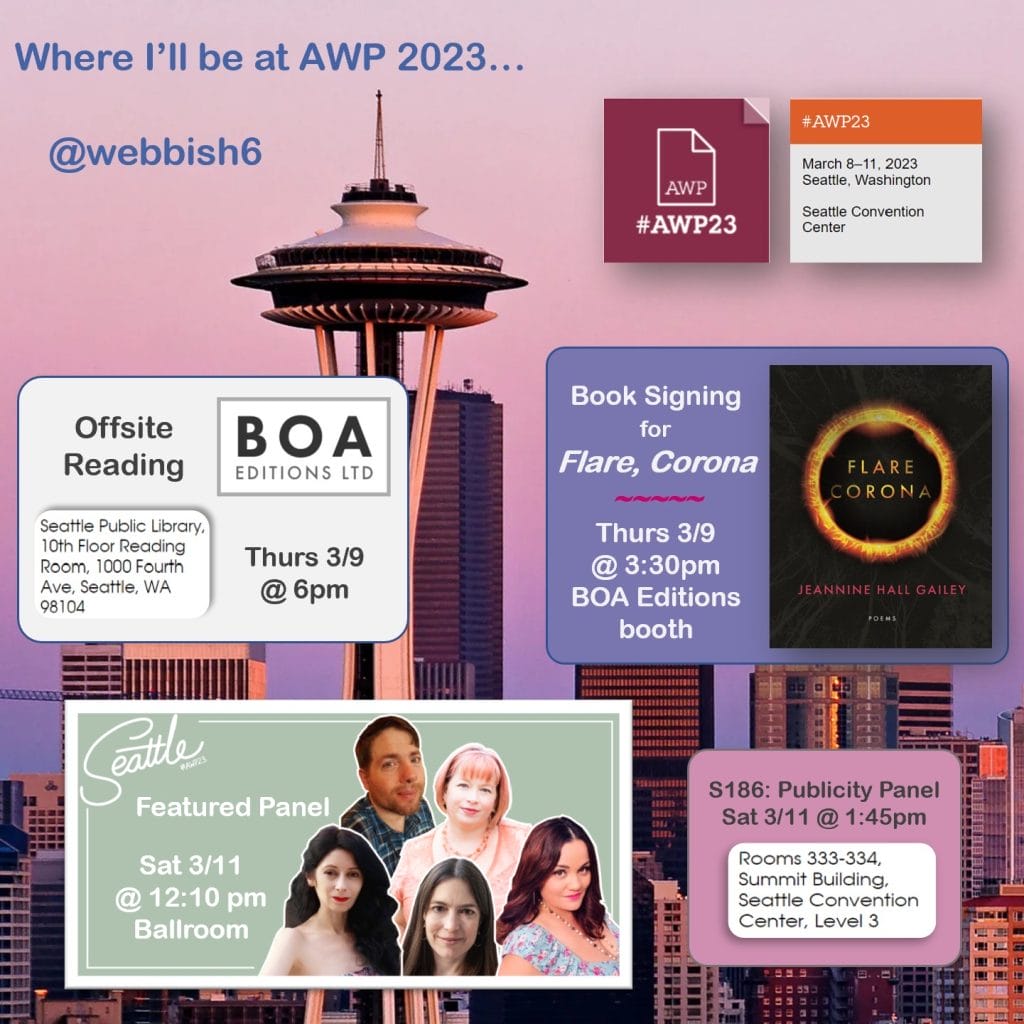 Almost Valentine's Day and the Poetics of Wrongness
It's almost Valentine's Day, which this year will fall on a snowy Tuesday. I am ready for spring, not more snow! Glenn got me some beautiful tulips and put together a little tableau with my new book. Wine, tulips, a good book—what more could I ask for on a winter's day?
Speaking of which, I got an advanced copy of Rachel Zucker's The Poetics of Wrongness, which is a series of essay/lectures about things that are wrong—for instance, even the idea of a lecture! It's thought-provoking and enjoyable reading, especially if you've read some of Zucker's other prose (or follow her podcast).
The cats decided spontaneously to pose with her book and our little tableau, here:
Also upcoming this week: J. Bookwalter's Read Between the Wines Book Club, 6 PM Wednesday the 15th, the Day after Valentine's Day! Prepare to get cozy and discuss this literary spy thriller, The Secrets We Kept, about the origins of Dr. Zhivago! So if you don't have any post-Valentine's plan, come in for some wine and book talk on the 15th.
The Book Makes Its Way into the World
Since I got my author copies early, I was able to send out a few copies pre-AWP, including to my parents in Ohio. You can see my mother (isn't she cute?) holding the book to the left. A few other people let me know they received the book safely as well, so it's making its way all over the place. Here's a lovely early review from my friend Lesley Wheeler: Flares, small and celestial—LESLEY WHEELER!
I'm starting to book readings and things into June! I'm up for virtual class visits (or in person, in the Seattle area) as well. If you want a signed copy, I'll be signing them at the BOA table on the Thursday afternoon of AWP! And you can order your signed copy now here: Flare, Corona @ Webbish6.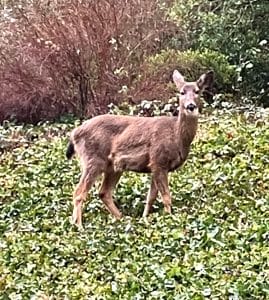 I hope you will have a good week ahead! Stay warm and take good care out there! Here's a deer visitor to our yard to remind you – spring is ahead! Soonish!