2015 Big Poetry Giveaway!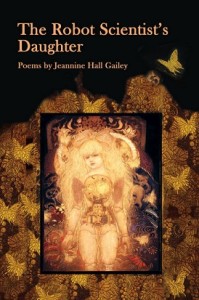 This year, I'm giving away a copy of my fourth book, The Robot Scientist's Daughter, all about growing up in "America's Secret City," Oak Ridge, Tennessee. If you like robots, stories about atomic history, poems based on radioactive elements, then you'll enjoy this book! (See a sample poem here.) In a review in The Rumpus, Mary McMyne called it "her most haunting and masterful book yet!"
---
The second book is a copy of local poet and translator Don Mee Choi's The Morning News is Exciting from Action Books. She's a fierce writer and this book in particular showcases her abilities with both lyric and prose poetry forms.

Both winners will also receive an assortment of literary journals from my collection!

Please enter your name and contact information in the comments section below. If you are new to my web page, please click my About link above. You have until April 30 to leave a comment. I will announce the winners sometime at the start of May.

Thanks for taking part in The 2015 Big Poetry Giveaway! If you want to learn more about it, click here!