A New Review of Flare in New Pages, Pumpkins and Typewriters, Halloween Mystery Parties and Thoughts on the Lyric Essay
Typewriters, Pumpkin Farms, and Spooky Stories
This week has been busy—a new review of Flare, Corona in New Pages, a few visits to pumpkin farms, a Halloween Mystery night at a local winery, and a re-reading of Osamu Dazai's Blue Bamboo for the October winery book club and reading up on the lyric essay form. Plus, typewriters in the wild has a new location—growing in a pumpkin field!
I have been practicing with my new camera some more, this time with typewriters. I love being around farms and farmers—and they are usually people I feel so comfortable with—that sometimes, even with my MS/health stuff, I wonder if I missed my calling to become a farmer. This week, the kind farmer at McMurtrey's Pumpkin and Tree farm invited us to take home handfuls of dahlias and tomatoes. We talked about how to keep our apple trees from catching diseases and how to rotate dahlias and pumpkins. I know people say Seattle has a reputation for unfriendliness, but you won't find it among Woodinville farmers or farm workers. A few pictures from that farm and backyard below.
A Review of Flare, Corona in New Pages
I was pleased and surprised—I'm always surprised to get a new review of a book that's been out more than six months, but I'm also grateful. Here's the link: Book Review :: Flare, Corona by Jeannine Hall Galley – NewPages.com
And a sneak peek of the review below: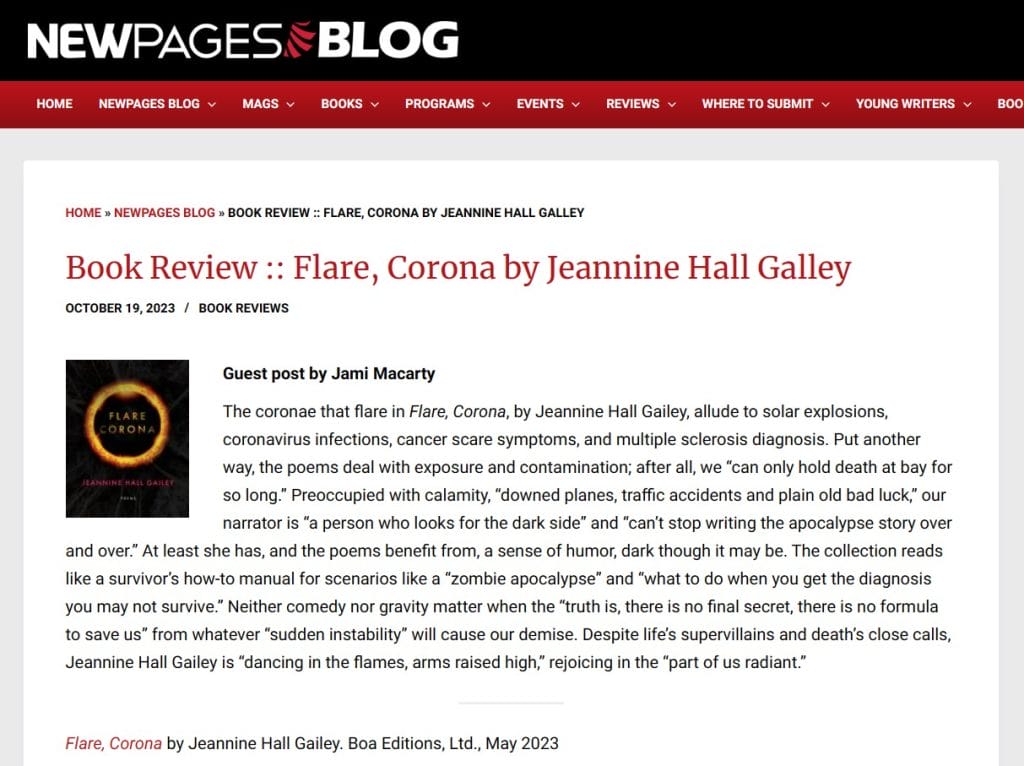 Halloween Mystery Parties
This weekend we did a Halloween mystery night (themed: witches and druids) at J. Bookwalter's Winery in Woodinville (hence the pictures to the left: that is a raven on my head, thanks). A lot of the party was set outside and it was a nice night, thankfully, so we didn't have to worry too much about the dreaded covid.
It was not a typical murder-mystery scenario—more like a sort of goth video game? I'm very competitive so I was sad we didn't win, but the team that won had five people who were way more committed than we were—costume wise AND game-wise. Anyway, it was a good way to shake up our routine date night and it was very on theme for the week before Halloween.
Lyric Essays and More
One of the things I'm working on now is an essay, ironically, on lyric essays, so I've been doing some research, reading some books of lyric essays. It's weird for me, since I've been a journalist, a technical writer, an ad copywriter, a book reviewer, and a poet, but until the pandemic I didn't write personal essays or lyric essays. Even though I've had some essays published I certainly don't consider myself any kind of expert.
But on Facebook I put up a query and got some really interesting answers, from people who definitely are more qualified than me. And as a poet I'm attracted to the idea of an essay that isn't necessarily: theme, point, point, conclusion. That allows for leaps, long parentheticals and ellipses – in short, essays that mimic poetry in a lot of ways.
Here's a little fun read if you, like me, are interested in creative nonfiction and how to define the lyric essay: my friend and fellow poet Julie Marie Wade's lyric essay on defining the lyric essay—funny and useful: What's Missing Here? A Fragmentary, Lyric Essay About Fragmentary, Lyric Essays ‹ Literary Hub (lithub.com)
Anyway, my research has led me to think about experimenting more with the form. Next week, I promise to post a more spooky post with spooky poems!