A Somber Week, Reading Lesley Wheeler's Poetry's Possible Worlds and Diane Johnson, and a Visit to the Japanese Gardens
A Somber Week
It's been a somber week, with a school shooting that broke so many hearts, and also was a reminder of so many previous school shootings in America and yet our elected officials do nothing…and cooler and rainier weather than we're used to, even here in Seattle. I've been sick for so much of May I'm kind of forgetting how it is to feel well, so hopefully this sinus/stomach/bronchitis thing will end when the cold weather does – really soon? Memorial Day Weekend, and constant rain and a high of 54 today – it's enough to make the die-hardest Seattle-ite wish for a weekend somewhere dry and warm.
And no worries – I did get one day of sunshine and warmth and spent some of it at the Seattle Japanese Gardens, so plenty of flowers and birds in this post to counter any gloom.
Reading Report – Diane Johnson and Lesley Wheeler
I did spend more time reading and editing, and I attended a Zoom poetry reading last night that was really amazing (Melissa Studdard, Erika Meitner, and Rosebud Ben-Oni were particularly moving.) In the "mom-and-me pandemic book club" news, we have started a new novel, Lorna Mott Comes Home, by Le Divorce's Diane Johnson, about a sixty-something formerly highly respected art historian who ends her second marriage and comes home from France to California. The passages about trying to promote her book in a post-internet world are particularly appealing – the frustration trying to get back in the game after being out of it for 20 years – her daughter writes her Amazon reviews and she goes to bookstores for signings and they can't find her books. Her adult children and two ex-husbands are in various levels of crisis as well. I might have mentioned I'm fascinated by these newer books that seem to focus on women in academia (or post-academia) going through midlife crises – there are so many about men, so few about women! The last one I really loved was Lesley Wheeler's Unbecoming. (If you have recommendations for others, please leave them in the comments!)
Speaking of Lesley, I finished a new book by Lesley Wheeler that's a fascinating mix of poetry close reading, cultural criticism, and personal essay, called Poetry's Possible Worlds. She navigates difficult subject matter – including the death of a parent and political turbulence – by reading contemporary poems and then connecting them to the wider world.
She talks about how each book of poetry opens up alternate possible worlds for us to inhabit, which can help us deal with life's crises and foibles alike. Like poet-essayist Kelly Davio's It's Just Nerves, which combines personal essay, navigating a mysterious autoimmune illness, and pop culture representations of disability, it's a thought-provoking collection that makes me want to try my hand at this kind of hybrid essay-criticism. Anyway, if want to curl up with a good poetry/criticism/personal essay hybrid book, pick this up. The last essay, about her writing process, was one of my favorites in terms of its descriptions of writing flow and how projects interact with each other.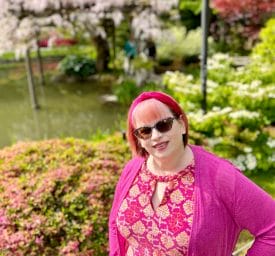 A Visit to Seattle's Japanese Garden, and More Flowers from a Sunnier Day in Woodinville
One of my favorite places to visit in Seattle was the Japanese Gardens, and the one sunny and warm (it got up to 70!) day we had this week, we went down and bought a membership for the first time in two and a half years! With an unusually cold and wet spring, there was a weird combination of blooms – wisteria, which I love, but also azaleas, rhododendrons, hydrangeas.
Although I wasn't well enough to truck around for long, it was long enough to give me a little sun-and-flower boost. An osprey also flew right by us and disappeared in the trees. Some young women were practicing painting with water colors, and others were practicing TikTok dances. Ah, to be young again! Another sign the pandemic might be lifting soonish – the Woodland Park Zoo's Butterfly Exhibit is coming back after two years of being closed.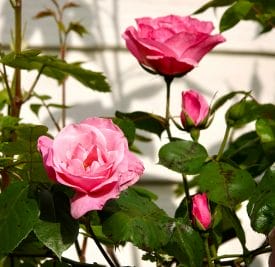 We also visited a new winery in Woodinville during another brief interval of sunshine, and the surroundings were full of beautiful blooms – this time, pink roses, orange honeysuckle and purple irises.
In the summer, they have live music every weekend and these wineries hop. It's good to get in before it gets too crowded. That's the benefit of living down the street.
PS By the time we have a party, we will have so. much. wine. ready to go! And one last shot of Sylvia posing with Lesley's Poetry's Possible Worlds.