A Week of Turmoil, A Poem and Photo in 805 Lit + Art, and reading at the St. Martin Bookfair Saturday Night
A Week of Turmoil
It's been a week. You can tell because a giant Russian oil spill and asteroid hurtling towards earth didn't even make the top five news headlines. Coronavirus, levels of which are still rising in the US, has been knocked out of people's minds by gigantic protests and riots across the country – and even across the world – about police violence against unarmed, innocent African Americans. Police violence isn't a new problem in the US, and it's been remarkably persistent, so we need to think about how reform can makes things better, from sending in social workers and therapists to de-escalate with domestic violence and mental illness and wellness checks instead of police to eliminating the budget for police altogether. It's clear that what we've done before hasn't gotten rid of police corruption, racism, and abuse, so we need to look at new ways to address the issue.
This is a really important time to register to vote, because not only do we vote (hopefully, out) our president in November – which seems crucial to fixing some of America's problems – but local elections like sheriffs and mayors are coming up. We the people have more power in voting than we think, and I hope we use it.
Thanks to 805 Lit + Art – a Poem and Photo
I'm very excited to have both a coronavirus poem and a typewriter photo published at a wonderful art and lit mag. Here's a link to the photo and poem: 805 Lit & Art with photo and poem by Jeannine Hall Gailey.  And it's run by librarians, some of my favorite people! They have a call for submissions open right now.
And a sneak peek: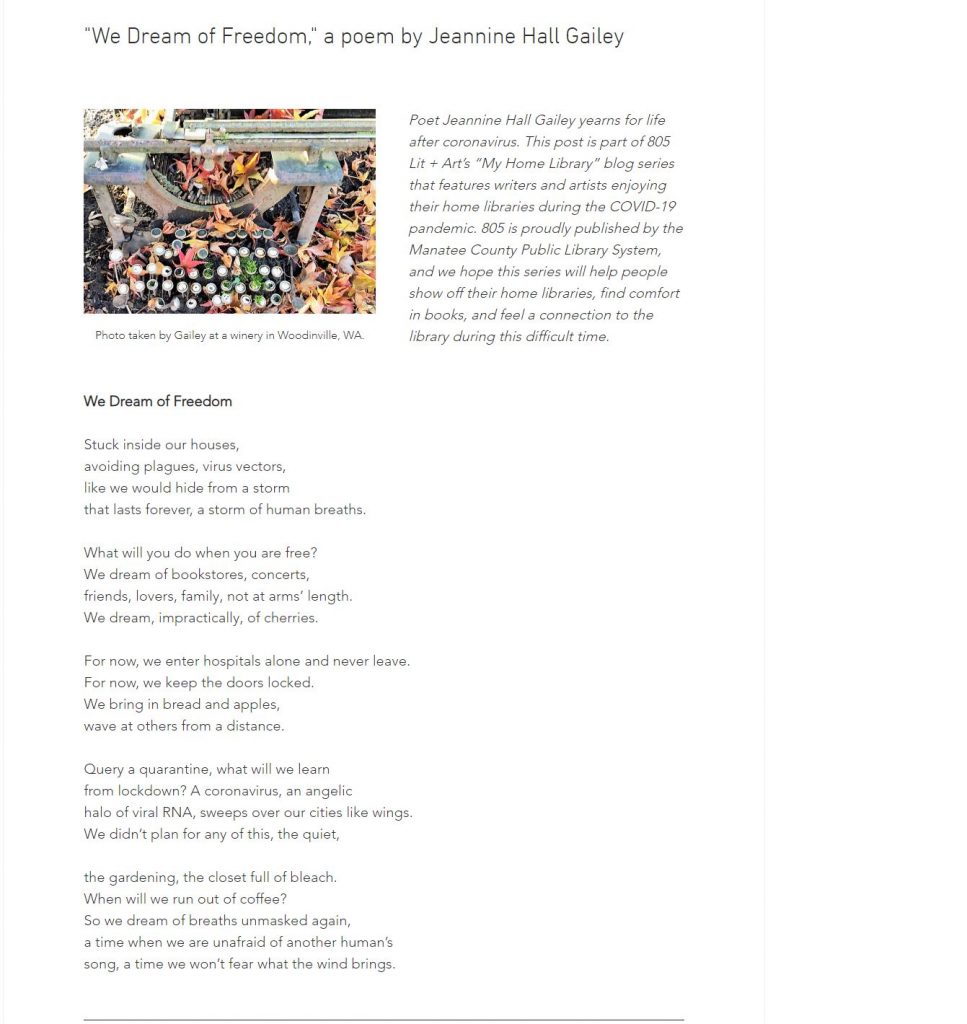 A Reading on Facebook Live and Zoom at the St. Martin Book Fair
I'm so honored that I was asked to be part of this wonderful Caribbean literary tradition, the St. Martin Book Fair, which this year will be help virtually on Facebook Live and Zoom. Here's an article with more about it. (And a link to the St Martin Book Fair on Facebook, where you can watch classes, readings, and performances as they happen.)
https://www.thedailyherald.sx/islands/st-martin-book-fair-live-on-facebook-from-today
I'll be reading Saturday as part of a larger group Zoom reading between 8-10 PM Eastern St. Martin time, which I believe in 5-7 (or 6-8?) PM Pacific. (I'll be prepared either way.)
And a guide to the whole program – I've already watched some of it and it is amazing! It is a wonderful opportunity for American writers to learn more about Caribbean art, music, and literature. I could never have imagined traveling to read in beautiful St. Martin, so I'm very honored that I've been included and can participate virtually this year.