Celebrating Friendships and Art, Spring Fever The Importance of Perseverance in Poetry & Looking Forward to Skagit Poetry Festival…
Spring Fever!
Hello and happy spring from my garden! These are my two rhododendrons and my dwarf lilac in bloom.  This is the time of year when part of me wishes to be outside all the time – I saw my first baby bunny and ducklings on my street this week – and the other part just wants to sleep and feels fuzzy and can't focus. And no part of me wants to work. Oh, no spring fever for you?
One of the less fun parts of May can be the onslaught of rejections and accompanying closing of poetry markets – which always seem to come hand in hand as people are closing up the academic year. I am reminded of one of the hardest truths in poetry – success only comes for most of us after an awful lot of hard work and perseverance. If you believe in your work, you have to do the hard work of researching possible homes for that work, sending it out, waiting for what's most likely a rejection…over and over again.
Celebrating with Friends
As I was too sick to celebrate on my actual birthday, Glenn invited a couple of friends over for coffee and cupcakes on this last beautiful weekend, and it was great to watch up with all of them. Roz is a fiction writer, Natasha is a poet (and she's writing a novel) and Michaela is a visual artist and writer, so we had great discussions about art and publishing and I realized how much it helps us as creative folks to hang out with other creative folks. I am also lucky to have such fun and talented friends, seriously. It helps to remember that each of us is part of a community – we are not actually alone in the artistic universe. It can feel that way sometimes.
Art that Feeds the Soul
I also managed to make it out to Creatura house to their "Le Carnaval Des Animaux" Group Show. Here are two imperfect pictures of pieces that moved me, but here is a link so you can see them all. The peacock/woman is an untitled piece by Jane Kenoyer which I loved and wanted to take home, and the other is a piece by Josie Morway. If you haven't made it out to see this little shop/gallery it's located in walking distance to Elliot Bay Books in downtown Seattle.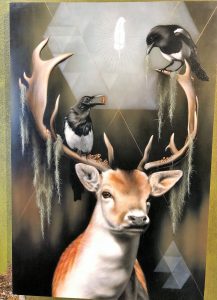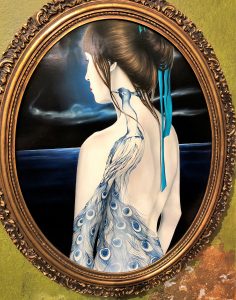 Looking Forward to This Weekend at Skagit Poetry Festival
Lest you think my life is too much fun and games, parties and art galleries and flowers, this last week I also had physical therapy, an increase in MS symptoms (probably due to unseasonably warm and sunny weather, it turns out), an hourlong appointment with a neuropsychologist to talk about how the MS has been affecting me, and I've been working on a workshop/presentation on PR for Poets at this weekend's Skagit Poetry Festival. (Check out all the Sunday workshops here.)
If you've never been to the Skagit Poetry Festival and you live remotely close to La Conner, I recommend making the drive and checking out some of the readings and talks that will be going on all weekend. La Conner is also where we make the pilgrimage of tulips each year, and it's a lovely town, gentle river, tons of otters, seals, herons and eagles on display, some cute shops and restaurants, plus it will be chock-full of poets! Expect an update afterwards with lots of pics of poets and cute animals!
One of the things I've been researching for this talk is new media and how it can connect us to an audience. I studied Rupi Kaur's Instagram account (2.5 million followers) and how some of my friends are using podcasts and Facebook Live. (See Publisher's Weekly's article on how poetry is selling and Rupi's influence.) I definitely don't feel like I've mastered the new world order of publicity in the world of poetry, but I want to at least try to keep up! I'm thinking of trying some Instagram poems and maybe a PR for Poets talk on Facebook Live (if you think people there might be interested!) Anyway, since writing this PR for Poets book, trends have evolved and changed in ways I find fascinating.