Escape Into Life Moon Feature Poems, Autumn Scenes from Seattle
Escape Into Life Moon Feature
Thank you to Escape Into Life for including a  art and poetry feature containing my poems about the moon and some gorgeous art work. And I promise you, these are not your old run of the mill moon poems. There are universes being torn asunder, menacing Blood Moons, magical nightflowers, and some gorgeous art work. Here's the link and a sneek peek:
Escape Into Life Moon Feature by Jeannine Hall Gailey
Here's a sneak peek (and isn't that art beautiful?)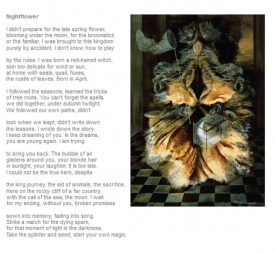 Seattle Autumn Scenes – the Japanese Garden's Turning Leaves
Seattle's warm temps and sunshine have allowed a little more autumn exploration than usual, so we visited the Japanese Garden for the "Maple Festival."
Usually by the time the leaves change, there's a terrible wind gale storm and all the leaves are down, so it's kind of nice to have this unusually sunny warm stretch.
Also, I was describing on Facebook how every time I have a bad stretch (like my long illness and multiple hospitalizations recently) I focus on a list of things that I want to do when I get better – going to the pumpkin farm, visiting the Japanese Garden and Arboretum, visit the zoo to see the new red panda babies (they're not out yet, but I can't wait) and visit La Conner. I was thinking about how focusing on the good things you want to do motivates me to do things like eat healthy, take vitamins, do my physical therapy exercises so I can get well enough to walk in aforesaid places.
Think good thoughts for me as I'm on this road to recovery. I was in the hospital again last night after 1. eating something I was allergic to and having a pretty violent reaction or 2. having food poisoning or 3. overdoing it with the sunshine and then the MS acting up but anyway it was a pretty miserable night and I am once again on a liquid diet for safekeeping. Ugh. I hate the up and down nature on my health stuff, some days feeling fine and then slam! A hammer reminder that my body isn't always going to cooperate with me and my lofty goals of walking through parks with pumpkins etc. I hope you are all taking good care of yourselves. Take a little joy in the good days.