First Snow (with Power Outages, Haircuts and Holiday Things), Pushcart Nominations, Notes from a Manuscript Reader
First Snow in Seattle (with Power Outages, Haircuts and Holiday Things)
Well, Seattle had a series of snowstorms, below freezing temperatures, and a bunch of power outages this week—early winter after a late fall. After the first snow, we lost power at our house for seven hours, and I know people who had it out longer. So, the romance of the first snow, and the inconvenience and stress (and cold!) of the power outage go hand in hand. We tried to keep our wild birds alive (you'll see a lot of bird pictures this week). The snow prevented me from attending several medical appointments downtown, but you know what? I was sick of doctor appointments anyway. I'm taking a break…at least until next week.
Because of the Evusheld shots I had a few weeks ago, I felt a little more courageous about going out in public than I might have otherwise. Of course, it doesn't protect me and my weak immune system from flu and RSV and even some covid variants, but it's better than nothing, so I did a couple of holiday traditions—Glenn and I both got haircuts, we checked out Redmond's night of lights, and went to Willows Lodge to see their holiday decorations, listen to live music and have boozy coffees and cocktails. When you think about it, for those of us with immune problems, this is really our third holiday season with covid. I thought this thing would last max two years—and I keep saying it's got to be almost over. I don't know how stressful going to AWP will be. Maybe by then things will be better?
Pushcart Nominations (May the Odds Be Ever in Our Favor)
After a week of rejection last week, this week I had two poems nominated for the Pushcart Prize—Bourgeon nominated "A Woman Turns Fifty with Cherry Blossoms" and Jet Fuel Review nominated "In a Plague Year, I Find Foxes." The odds of actually getting in the Pushcart anthology in any year—no matter how many times I've been nominated—are very small, but it's still a nice nod from the editors.
Here's a look at one of the poems itself, from Jet Fuel Review's Spring issue (It will also appear in my upcoming book, Flare, Corona):
Notes from a Manuscript Reader
As it is poetry manuscript contest season, and I'm once again finding myself reading manuscripts, I thought I'd offer some "notes from a manuscript reader." These are all just my opinions, and your mileage may vary.
If you've never heard this before, make sure your first five poems are doing a lot of heavy lifting for the book—and then the last final poems. Because you know what? Tired and (mostly) unpaid readers are probably not going to sift through every single poem unless you've already hooked them.
This is for contests that allow acknowledgements (some do not, so just ignore this if that is the case.) Do acknowledgements matter? Well, if you have none, it might. I think if you haven't done the work of submitting individual poems for publication, you're probably not ready for the work of publishing and publicizing a book. I don't really pay attention to number or the names of the publications, but having none or only one or two acknowledgements kind of puts you in the danger zone. Now, if I still loved the poetry, I might still put it through. Just know that getting individual poems published shows you're trying, you're part of the literary world, and you're trying to build an audience—all things I'd care about as a publisher, and as an extension, a reader.
For books leaning heavily on one historical period or incident—this can work for or against you. I've read terrific books done in this way, but also a lot of boring ones. If you choose this route, make sure you vary voices, styles, and forms to keep the reader's interest.
There is a weird sameness of tone in the manuscripts I've read this year—and granted, it's just a portion of submissions from one publisher—but there's a monotone in the manuscripts. They're not poorly written, but they lack emotion, power, passion. I wonder if this is possibly the effect of pandemic fatigue—it's flattened out our voices, our writing? Anyway, don't be afraid to be a little weird, out there, or show you care about something or someone. It'll likely jolt the readers – which is usually a good thing.
Good titles never hurt you. Once again, don't be afraid to be a little weird.
I hope this was helpful! (And not too cranky! Anyway, as I said, this is just one person's opinion.)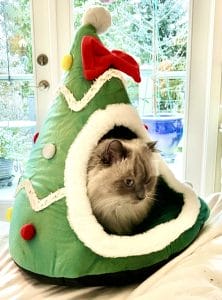 To leave you, this picture of Sylvia in her holiday tree cat bed, with snowy background. Wishing you as happy, safe, and healthy a December as possible.