Flower Supermoons, the Art and Science of Birdwatching, and Mother's Day with Social Distancing
Have you Forgotten what Day it is? What Month? It's Time for Flower Supermoons…
Time has no meaning, I read, in quarantine, but it is May, nonetheless, and tomorrow is Mother's Day. Picture to the left represents my new quarantine-imagined job: giving up the writer's life to take pictures of vintage typewriters in odd locations.
I like to observe the seasons, the cycles. They do not change, although they may be altered; snow in upstate New York, 85 here in Woodinville today.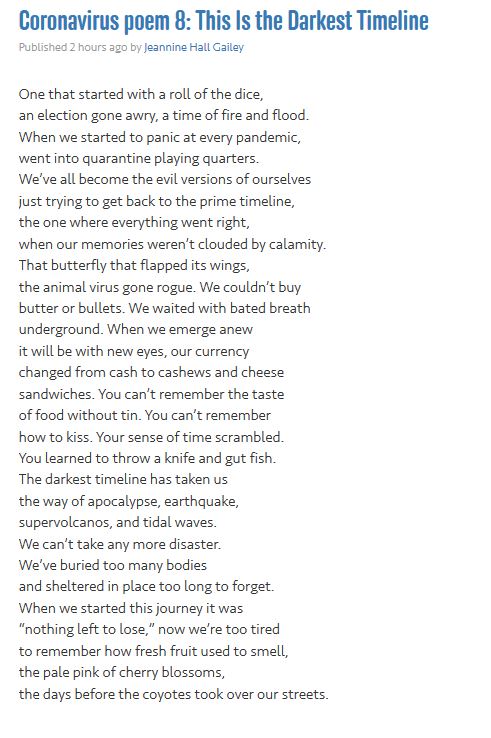 A quick addendum to the post: a big thank-you to Seattle Review of Books for publishing my coronavirus poem, "This is the Darkest Timeline."
This week we had the last supermoon of 2020, the Flower Supermoon. Aptly named, as everything seems to be in bloom at once: azaleas, rhododendrons, lilacs, wisteria. I tend my garden, despite deer coming through and eating my apple blossoms and lily buds, I watch the strawberries start to flower and enjoy the lilac on the breeze.
I try to document the change of seasons, the flowers, the birds. With quarantine I've become a better documentarian of local birds; I notice species I could swear I've never seen before. I glimpse an osprey overhead with a fish, a red house finch lands briefly on my balcony while I water flowers. I see my first ever black-headed grosbeak. Paying attention to something, taking your time, staying quiet, that's birdwatching, and gardening, paying attention to something outside yourself. It is surprisingly rewarding. This seems like a metaphor, doesn't it? If we just stay quiet, and still, we can much better observe the world around us, in all its surprise and beauty. Woodpecker and hummingbird were there the whole time; we just don't usually notice them.
Mother's Day, with Social Distancing
It's an odd celebration of Mother's Day, with no brunches, no in-person visits. My father and I are both people considered especially "vulnerable" to covid-19, so we can't go out carefree even to the park, without masks or worry, or the drug store for a card. I'm happy both my parents are doing as well as they are in Ohio, and we can share little celebrations and worries over the phone and through the mail. Here's my mom with their copies of April's issue of Poetry and the Spring issue of Ploughshares, which have my poems in them. Objectively, I think, she is pretty cute. Happy Mother's Day, mom!
Wherever you are in the world, whether you are a mother or not, times are tough, and you deserve some flowers. Here are the flowers in my neighborhood this week.
I hope May treats you kindly. We will wake up soon, like the princess in an enchanted forest where everyone has been under a spell. We will try not to take everything for granted after this apocalypse: birds, flowers, loved ones, bookstores, drinking coffee with friends, laughing. We will probably fail.