Goldfinch and Sunflowers, Thanks to the Coil, and Celebrations
July, the Season of Goldfinch and Sunflowers, The Coil, and Revelations
Happy Mid-July! It's the season of sunflowers and goldfinch appearances, my 24th anniversary, my husband's birthday, and a summer bug that kept me down a bit last week.
But I am happy to thank The Coil and Leah Angstman for including my poem "When It All Falls Apart" in this week's literary roundup (which includes many amazing literary stars.) Check it out!
Late edition: Thank you to Colleen Anderson for including my poem Revelations in the latest issue of Eye to the Telescope. (You'll need to scroll down a little bit to find it.)
In other news, we had a low-key celebration of our anniversary, but I wanted to post a picture. Glenn and I bought a "poetry chandelier" a few years ago and every time he puts up poems from my newest manuscript, the book seems to get taken.
Poetry Chandeliers, Anniversaries and Birthdays, Taking a Little Time to Celebrate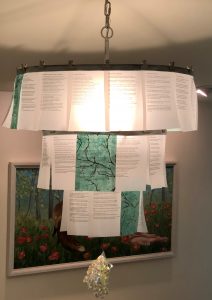 So for our anniversary this year, he put up poems from my latest manuscript along with fancy cherry blossom paper. It casts a blueish glow over the room which is nice when it's 90 degrees (whew!) outside. Now it's only a matter of magic and time til a publisher picks it up, I'm certain!
Here's what it looks like.
So I've been mostly resting, avoiding the heat, and writing and submitting (painstakingly slowly) and working on revising my book manuscript. Summer always seems to go by too quickly and at the same time too slowly? How is it already mid-July?
July is a good time to get together one-on-one with friends, to appreciate the little beauties around us, to maybe make peach ice cream or learn one more grill-out recipe to share. We just celebrated Glenn's birthday with my little brother and sister in law drinking cider, eating grilled-duck tacos and spent the end of a warm evening watching the hot air balloons going up in Woodinville. The goldfinch showed himself off too.
So, be sure to enjoy your summer, be sure to enjoy the little things, take advantage of downtime to do things you forget to do during the rest of the year – watch the birds, water your garden, drink something cold outside. Read some poetry and be kind to your little poems as you revise and refresh. It's a good time to go a little easier on ourselves.