Happy Halloween, Midlife Musings on Sylvia Plath and Why I Still Blog, and Spooky Poems and Art at Roq La Rue
Happy Halloween!
Are you a fan of Halloween? I like dressing up (this year I'm the Violet Witch with raven and Glenn is going as a Steampunk chemist) and seeing all the kids in their costumes and handing out candy. I like watching Buffy the Vampire Slayer, It's the Great Pumpkin, Charlie Brown, and the greatest horror movie of all time, Killer Shrews (MST3K edition, of course). I like making pumpkin bread and some kind of soup for Halloween dinner, with lots of hot cider
I think most horror movies are predicable and therefore, comforting in a weird way, more so than all those Hallmark Christmas movies that have already started airing (!), I like things that go bump in the night. I like ghost stories. I mean, if you know me, you know I write horror poetry, so, none of this is a surprise.
I know a lot of my friends in California are having a hard time celebrating with huge winds and dangerous wildfires raging in both north and southern California right now. It's just horrifying (and not in a good way) and I am wishing you all safety and health.
Spooky Poems and Art at Roq La Rue
One of my favorite galleries in Seattle, Roq La Rue, always has Halloween-appropriate goth-y art (their brand is "pop surrealism" and it is always surprising and awesome). I was excited to finally (after being down with a mean bug for the opening) get down to their show, "Acquired Tastes," by an artist I already admired, Josie Morway, who does wonderful true-to-life animal paintings, always with something a bit off about them. There was also an amazing mural of hummingbirds (surreal hummingbirds) by Jeff Jacobsen. I just love being around such fantastic art. It brings me great writing ideas, and makes me appreciate being in a unique city like Seattle. And seeing art cheers me up, even dark-symbolist art.
And if you're feeling in the mood for some spooky poems, check out this poem that was published earlier this year in Star*Line, "Self-Portrait as Pretty Monster." This is part of the manuscript I'm shopping around (which will hopefully be taken soon by a great publisher!)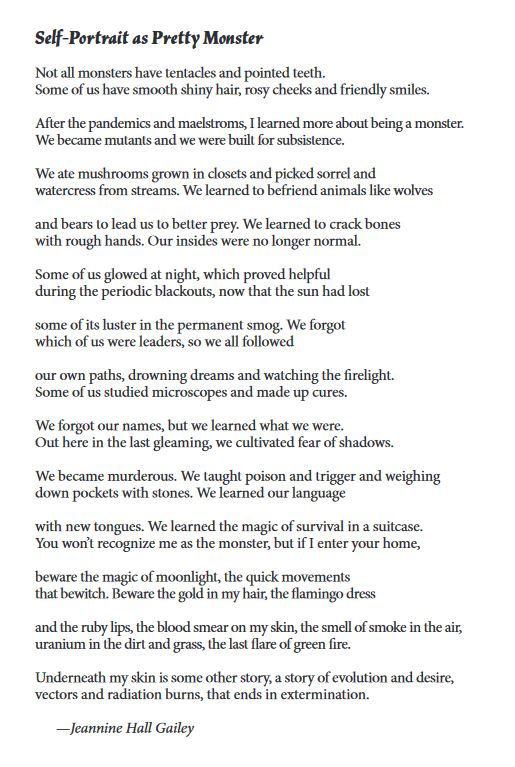 Midlife Musings on Sylvia Plath and Why I Still Blog
It was Sylvia Plath's birthday this week and this got me thinking about women's age, midlife goals and stresses, and the publishing world. Reading Plath's complete letters and journals in the last couple of years, you really get a sense of Plath's ambition – and a lot of thwarted ambition at that. She felt closed in by the expectations on her of women, of mothers, and some of that was well-founded (see: Marianne Moore's letter refusing her Guggenheim because she reproduced. True story. She also hurt Gwendolyn Brooks' career advancement. Dang.)
The question is: is a middle-aged woman today better off than in Sylvia Plath's day? Well, we have birth control (though of course some politicians and states would prefer that we not have it), and we have slightly better mental health care. We don't have better financial support of writers – she didn't want to teach, so made her living freelance writing and winning contests and getting scholarships and fellowships, and therefore was pretty much always struggling. I know a lot of women writers in her position (and that's what I try to do too, although I'm a much worse grant-writer).
We are still held to weird levels of examination over our looks, morals, and the way we navigate social mores in ways that men aren't. I can say as a woman over forty – and having lots of friends in that group as well – that you have to shout a bit harder to be heard in a crowd as a female after 40, in the literary world, especially if you aren't "connected," the "hot new thing," don't live in NYC, etc. I am currently shopping around two manuscripts and it feels hard. I have five published books, and it still feels like I'm banging at a wall that says "no girls allowed" or "only the right girls allowed," perhaps. It feels hard to get blurbs and reviews, it feels hard to get books out in front of readers, it feels easier sometimes to just…give up.  Sylvia Plath was sixteen years younger than me when she died. If she had made it to 46, would she have produced wonderful books that we can only imagine, or perhaps had the opportunity to mentor other women writers or be mentored, or become only more and more frustrated by the way she couldn't seem to achieve the things she thought she needed to achieve?
One of the reasons I review books is to bring attention to women writers, writers of color and writers with disabilities. It's a small way to keep those groups in the spotlight.  One of the reasons why I still blog despite the overwhelming advances of Facebook, Twitter, and Instagram to destroy it is because I like having a long-form place to talk about writing, life, books, inspiration, discouragement, etc. It just doesn't exist in those other places. Also, as a sort of sickly and disabled writer (what with the immune system deficiency and multiple sclerosis and all), it provides a much-needed way to connect to friends, family, and readers when I can't make it out to various towns across the country to see them personally, to do as many readings or conferences, and also, for some, just an update on how I'm doing. It's also a way to keep memories or a record of things I care about (birds, flowers, etc.). Hey, we can't rely on Facebook to provide all our memories for us – I'm convinced Facebook is headed for obsolescence faster than we think.
Sylvia was an obsessive journal keeper and letter-writer – way more pages by the time she was 30 than I've written in my entire life – and we have that information because she left a written record. By the way, I hope you enjoy the linked radio interview with Plath I included below – just hearing her odd accent and her obvious desire to impress with her intelligence rather than her looks – is very revealing.
Happy birthday, Sylvia. I hope you can see now how you made a difference, how you earned not only respect, but an admiring following. You were not allowed to go extinct. And for the rest of us, let's celebrate this holiday and try to be brave as we face November's scary drear!