Happy Halloween, Spooky Poetry RattleCast This Sunday, More Health Scares, and A New Blurb for Flare, Corona
Happy Halloween! Scary Poetry, Podcasts, and Health Stuff
Wishing you all a happy Halloween! Tomorrow is supposed to be drenched in rain, so we visited the pumpkin farm for the last time today. Glenn wore a raven, I wore a witch's hat, you know, the same old. Our house has an appropriate number of pumpkins, we have plenty of candy for trick or treaters who brave the rain, and we have plenty of reading material to enjoy during a rainy Halloween.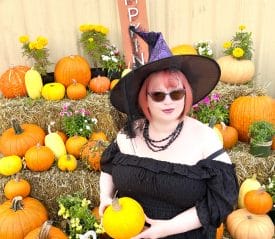 I have some poems coming out online soon to share and a spooky poetry podcast tomorrow, and I've had a bit of a health scare (at least it's scary at the appropriate time of year!)
I'll be reading some poems from the new book for the first time and some poems from Flare, Corona. I'm so appreciate of Rattle for giving me the opportunity! I'm also getting ready for our Read Between the Wines book club meeting on November 9 at J. Bookwalter winery, where we'll be discussing poetry! This time, Melissa Studdard's Dear Selection Committee, which I think is a great book for introducing people who might not usually read poetry to some fun, sexy, satirical poems.
Spooky Poetry – I'm featured on Rattle's Podcast This Sunday, 5 PM Pacific/8 Eastern
I'll be reading on the RattleCast live this Sunday at 5 PM Pacific- this is the YouTube live link and there's an open mic after if you want to join in – and I'll be reading a Halloween-appropriate few poems from Field Guide to the End of the World and a few from the upcoming Flare, Corona, as well as making some reading recommendations. Hope to see you there!
It will also be archived at this link: Rattlecast | Rattle: Poetry
Hope to see you there! Woooooooo – spooky!
More Health Scares
Among more normal Halloween activities, I've also had a bit of a health scare – my thyroid, this time. Think good thoughts for me. They're also informing me about an updated scan of my liver tumors, which have been increasing in number over the last few years. All my scary doctor appointments are in November, for some reason – 10 doctor appointments, all important, all un-reschedulable, in November. Not my idea of a good time. So, if I'm behind on something or don't get back to you as fast as usual, you'll know why. I'll be trying to counter the stress of all these doctor's appointments with some fun November things – maybe a zoo visit (the holiday lights start fairly early), or the Bellevue Botanical Gardens, or Japanese Gardens – all weather dependent, of course. And I have the book club to look forward to! And maybe a new book cover reveal next week!
More blurbs!
Did I mention I'm showing a new blurb for Flare, Corona, this time from another poetry superhero, Dana Levin, truly a dream blurber of mine!